Sports
Dino Beganovic Biography: Meet a Swedish-Bosnian Racing Driver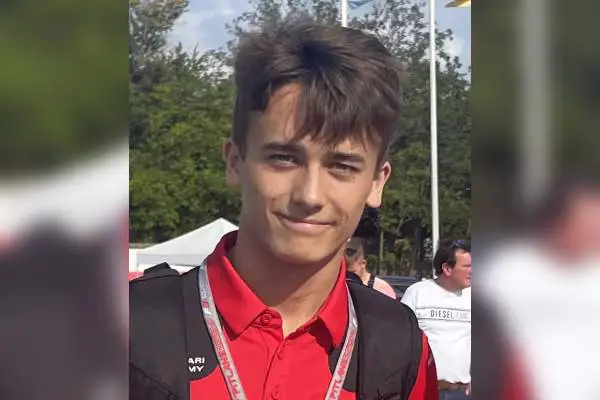 Dino Beganovic Biography. Image Credit: Wikimedia Commons.
Full Name

Dino Beganovic

Age

19 yrs

Birth Date

January 19, 2004

Country

Sweden

Relationship Status

In a relationship

Nationality

Swedish

Profession

Racing Driver

Awards and honors

2019 Swedish Champion

Height

5 feet 10 inch
Once you have raced, you never forget it, and you never get over it. From a young age, Dino Beganovic had a distinctive love for speed and excitement. Now, the whole world is watching his extraordinary adventure as he makes his imprint on the racing track. The Swedish native showed promising potential after rising through karting and single-seater racing.
Through Dino Beganovic biography, we will be more familiar with the 2019 Swedish Champion. So, join us in tracing his journey from karting to the competitive world of single-seater racing. Get to know more about the Swedish-Bosnian racing driver, who currently competes in the 2023 FIA Formula 3 Championship with Prema Racing.
In the fiercely competitive world of motorsports, Beganovic is a potential candidate for Formula 1. With victories falling on his lap, Dino definitely has a bright future ahead. Not only does he have a successful career, but the young force has a supportive family and fans, along with a loving girlfriend.
Born to Swedish Immigrant Parents, How Did Dino Beganovic Start Racing?
People don't often understand the context of doubts killing more dreams than failure. Dino Beganovic was born to parents who emigrated to Sweden from their homecountry, Bosnia. Before he was born, Dino's father, Fikret Beganovic, and mother, Mirnesa Beganovic, settled down in the Swedish city of Linkoping. So, Dino and his younger brother, Emir Beganovic, grew up in Landeryd, Linkoping, Sweden.
Born on January 19, 2004, Dino Beganovic started racing at 7 years old when his father brought him a kart for practicing. Thus, he began his career with karting in 2011. Moreover, one of Dino's early racing memories is that of him and his father watching Formula 1 on television before he started karting.
Apparently, Beganovic's father also liked racing, and the father-son duo were watching their hero, Michael Schumacher, win a tournament. Afterward, Dino got inspired, and luckily, he got the chance to try our karting. What started as fun got quite serious quickly, and Dino recalls that moment as one of his good memories because it began as a family thing.
ALSO READ: British Racing driver Olli Caldwell Biography, Girlfriend, Net Worth And Early Life
Dino Beganovic Parents, Brother, and Early Karting Career
After a few years of karting, Dino began competing in local tournaments, including OK-Junior, which is a kart racing for top drivers aged 11 to 15. Beginning in 2018, Beganovic won multiple national championships, such as the Swedish OK Junior Karting category. Similarly, in 2019, he became the Swedish and Italian champion in the OK category and finished second in the WSK Euro Series.
For his early success in karting from 2011 until 2019, Dino Beganovic's parents helped him find sponsors. They provided him with foundational support balancing their profession as well. Having said that, Dino's younger brother, Emir, who was born in February 2008, is also on his way to becoming an athlete. He is a junior champion in his school's football team, and he often plays indoor hockey.
Did you know? Dino Beganovic is a polyglot who can speak English and Italian besides his native Swedish and Bosnian languages.
Transition to Single-Seater Racing and Rising Through Formula 3
After the breakthrough winning moment in the Swedish Junior Karting Championship, Dino's success in karting provided the foundation for his transition into single-seater racing. He debuted his single-seater racing in 2020, competing in the Italian Formula 4 Championship with Prema Racing. Meanwhile, Dino finished the season in third place with four podium finishes. The same year, he competed at the ADAC Formula 4 Championship.
In 2021, Beganovic debuted at Formula 3 and moved up to the F3 Asian Championship and Formula Regional European Championship, where he finished the season in 13th place with one podium finish.
The year 2022 came as an opportunity for Beganovic as he showed a remarkable improvement on the track. Furthermore, he became the 2022 champion of the Formula Regional European Championship. Likewise, he also participated in the Formula Regional Asian Championship.
Ferrari Driver Academy: A Turning Point in Beganovic's Career
One of the most significant factors in Dino Beganovic's career is his affiliation with the Ferrari Driver Academy (FDA). For those who don't know, the FDA is known for nurturing and developing young talents with a track record of producing Formula 1 drivers.
On January 16, 2020, Dino expressed his happiness and wrote a sweet message on Instagram. He wrote how happy he was to join the Ferrari Driver Academy. Similarly, the 2022 junior star was equally happy to announce his involvement with Prema Power Team.
As a member of the FDA, Beganovic has access to world-class facilities, coaching, and resources, further enhancing his development as a racing driver. It has also given him the opportunity to learn from some of the most experienced and successful figures in motorsport.
Dino Beganovic Girlfriend and Facts About His Net Worth
Off the field, Dino Beganovic's fans admire him a lot. However, the junior racing star is already taken. Dino Beganovic's girlfriend, Elvira Hallqvist, is an aspiring model and an entrepreneur. The couple has been dating since early 2022.
Elvira first revealed Dino as her boyfriend on Instagram back in September 2022. She is currently in her third year of the business program at Thoren Business School, and her course specifically focuses on Young entrepreneurship. As the couple is in their teenage years, Dino and Elvira are happy with their romantic relationship. So, the talk of weddings and nuptials can wait for some more years.
Now, let's talk about Dino Beganovic's net worth. Although the young racing driver is yet to earn big earnings, Beganovic receives additional earnings from different events. Meanwhile, he was the recipient of the Rydell Special Award in December 2019. Besides the award, he also received over $4,500 (50,000 Swedish Krona). Likewise, he earns a decent sum of money from his sponsors/partners, which include Volito, DPS, ER-HO Bygg, Arwidsro, Pop Lanas, Billsport, Gudruns Kott, and Charkuterier.
In 2023, Beganovic is competing full-time in the FIA Formula 3 Championship with Prema Racing. He has finished on the podium once so far this season, with a third-place finish at Barcelona. Meanwhile, he is among the top 10 drivers with two third places in his lap. The Ferrari Driver Academy is showing his excellent track accomplishments, catapulting him into the limelight.
In conclusion, Dino Beganovic biography is a story of a young and talented racing driver whose transition from karting to single-seater racing to Formula 3 has been marked by success and promise. There is no doubt that Dino is undoubtedly a name to watch in the world of motorsport.
As Dino continues his journey in motorsport, it will be fascinating to see how far his talent and dedication take him. Whether he reaches the pinnacle of Formula 1 or achieves success in other racing series, one thing is certain: Dino Beganovic has a bright future in the world of motorsport.
References
Did you notice an error ?
Please help us make corrections by submitting a suggestion. Your help is greatly appreciated!