Sports
Lanto Griffin Biography: From Dreamer to PGA Tour Winner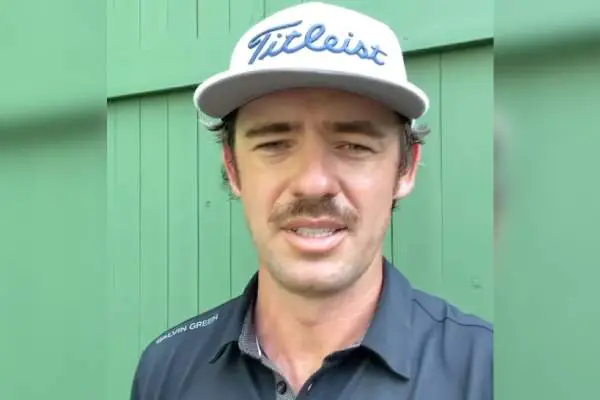 Lanto Griffin Biography. Image Credit: Instagram.
Full Name

Lanto Maitreya Griffin

Age

35 yrs

Birth Date

June 15, 1988

Country

America

Relationship Status

Married

Spouse

Maya Elizabeth Brown

Nationality

American

Profession

Golfer

Education

Virginia Commonwealth University

Height

6 feet 3.5 inch
How far can you go to make your dream into a reality and your passion into a profession? Well, Lanto Griffin spent all his childhood and adult years to become a professional golfer. Since 2010, Griffin has been a professional golfer, and since 2017, he has been on the PGA Tour.
Dear readers, life is just like a pendulum swinging back and forth, but a golfer's swing has to be fluid and effortless yet powerful and precise. Through Lanto Griffin biography, we will get to know about the golfer and his swing, which was born of years of practice and dedication. So, we suggest you stay with us till the end.
In October 2019, Griffin earned his first PGA Tour victory by winning the Houston Open. Previously, he won the 2015 Virginia Open and played on the PGA Tour Latinoamerica in 2015 and 2016, respectively. With his strong work ethic, Griffin has attracted what he needs to achieve in life.
Early Life And Golf Pretension
Lanto Maitreya Griffin was born on June 15, 1988, in Mount Shasta, California, U.S., to father Michael Griffin and mother Julie Griffin. Later, the family moved to Virginia, and Lanto grew up with his brothers and sisters in a Virginian Town called Blacksburg. As per Lanto, his parents were big hippies and were strict vegetarians. His father, who managed a health food store, died from brain cancer when Griffin was just 12 years old. Meanwhile, Griffin is very close to his mother to this day and often cares for her.
From an early age, Lanto and his siblings, Allian Griffin (sister) and three brothers, Micha, Clarion, and Maitra Griffin, learned the life basics from their parents, who taught them the importance of meditation and a healthy lifestyle. As a result, Lanto, who was named after a spiritual master, Lord Lanto, maintains a healthy and balanced life.
When Griffin was around 4 or 5, his family moved to Blacksburg, and there he developed a deep interest in golf. As a kid, he himself built a nine-hole course around the house, from tree roots to digging holes with his mom's garden equipment. Similarly, he used his father's clubs and practiced the sport for hours in the backyard.
While attending Blacksburg High School, Lanto played golf for four years. After the demise of his father, Griffin attended free golf lessons with the help of his junior coach/mentor, Steve Prater, at Blacksburg Country Club. Further, he attended Virginia Commonwealth University and played golf all four years. In 2010, he graduated with a degree in marketing and became a pro golfer.
ALSO READ: Jeff Maggert Biography: A Professional Golfer's Legacy.
From VCU Rams To PGA Tour
Lanto Griffin's golf journey took a memorable step forward during his college years. While playing for VCU Rams, Griffin was placed third at the CAA Championship in 2009, and for the season, he posted four top-five finishes and a team-best 72.69 stroke average. Well, his success at VCU provided him with valuable experience and a strong amateur golf foundation.
Right after graduating college, Griffin turned professional and embarked on a challenging journey through the ranks of professional golf. From 2010 to 2015, he competed on several mini-tours and worked tirelessly to improve his game and gain the experience needed to succeed at the highest level. In 2015, Griffin's fortune shone as he got the opportunity to play on the PGA Tour Latinoamerica, and he also won the Virginia Open championships. Likewise, Lanto won the Roberto De Vicenzo Punta del Este Open Copa NEC as well.
It was 2017 when Griffin's breakthrough on the professional scene came when he secured his first victory on the Korn Ferry Tour (formerly known as the Web.com Tour). This victory earned him his PGA Tour card for the 2017-2018 season, marking a significant milestone in his career. Moreover, Lanto's first PGA Tour victory came in October 2019 when he won the Houston Open, a momentous achievement that solidified his status as a rising star in the golfing world.
Over the years, Lanto Griffin continued to make steady progress in the world of professional golf. His dedication, work ethic, and mental toughness helped him overcome challenges and establish himself as a consistent competitor on the PGA Tour.
Similarly, you might want to look at famous Canadian golfer Taylor Pendrith Biography.
Married Life: Gorgeous Wife And A Very Special Member In The Family
Not only is he a lucky golfer, but Lanto Griffin is quite lucky in the romance department as well. He has a beautiful wife and a supporting family by his side. Moreover, Lanto and his wife have a super cute family member about whom we will talk later.
Lanto Griffin's wife, Maya Elizabeth Brown, is a lawyer who has been working as an associate attorney at Nelson Mullins Riley and Scarborough since 2018. Talking about their wedding, the couple had an elegant golf course wedding on September 3, 2022. Their wedding ceremony took place at Dormie Golf Club in West End, North Carolina, which is one of Lanto's sponsors.
While he was finding a proper victory moment at the golf course, Lanto was searching for a proper romantic partner in the vast world of the internet. Yes, he began dating Maya after getting matched on Bumble, an online dating app. At the time, Lanto was playing a tour in Greensboro, North Carolina, and, for the first time, met Brown for drinks. The couple instantly hit it off and later reconnected in Nashville when Maya flew out to see Lanto play in a golf tournament.
After a few years of dating, Lanto chose to drop the bomb during a Christmas photo shoot in November 2021. While they were posing with their rescue shar-pei labrador, Troy, the photographer, asked for the props, and it was then Lanto took out a new collar and dog tag for Troy that had written Will You marry my dad?
In March 20209, Lanto Griffin's partner received a letter of confirmation from the Supreme Court of the State of Florida as an attorney and counselor at law in all the courts of the state.
In 2020, he founded The Lanto Griffin Charitable Gift Trust, which assists families battling devastating or terminal illnesses that cannot afford to support their needs. In addition, the Trust looks to provide support for disadvantaged youth so they can excel in sports with the goal of receiving college scholarships.
Net Worth: Journey From Nothing To Everything
For many people, lack of wealth acts as a motivating factor, while for some, it might be a devastating situation. So, before knowing about Lanto Griffin's net worth, let us go through his hardships. For Lanto, his childhood dream was falling apart when the early years of his professional career were marked by the typical struggles and setbacks faced by many aspiring golfers.
After struggling for a few years on mini-tours, Griffin began to pick up a lot of debt, around $30,000, and his mom was paying for his health insurance. Similarly, throughout this burdensome time, he even considered quitting golf many times. However, good fortune was waiting for him to come at the right moment.
One such lucky moment happened in 2014 when Griffin caddied for Will Wilcox, his friend from the mini-tours at The Greenbrier Classic. He made a decent winning from Will's fourth-place win and once again gained the confidence to play professional golf.
By 2017, Lanto made just around $5,000 through ten events and was on the verge of quitting golf. However, once again, his good fortune struck again when he won the Nashville Golf Open. At the end of the 2017 season, Lanto placed 22nd on the Regular Season money list to secure a PGA TOUR card for the 2017-18 season. After another year on the Korn Ferry Tour, he achieved PGA Tour status for the 2019-20 season. Fate works in mysterious ways, isn't it?
| | | | | |
| --- | --- | --- | --- | --- |
| Year | Official Payouts | Unofficial Payouts | Tour Championship Bonus | Earnings |
| 2018 | $358,380 | | | $358,380 |
| 2020 | $3,188,586 | | $527,500 | $3,716,086 |
| 2021 | $1,612,446 | $195,000 | | $1,807,446 |
| 2022 | $1,717,566 | | | $1,717,566 |
| 2023 | $271,548 | | | $271,548 |
Table Source: Spotrac
At the 2020 Zozo championship, Griffin made $184,000 in the prize money. Similarly, at the PGA Championship, he received $134,000. At the 2021-2022 PGA Tour Tournaments, Griffin earned $402,800 at the American Express in Pete Dye Stadium Course. Likewise, his victory at the Houston Open landed him a check of $1.3 million in first-place prize money along with a two-year PGA Tour exemption through 2022.
These are a few of his achievements, and the time of being broke was long gone for Lanto Griffin, as he has earned $7 million from 2018 until the 2023 season. Therefore, Griffin's net worth is in solid seven figures. Further, the man who was once in debt now owns a luxurious home in Ponte Vedra Beach, Florida.
In the end, Lanto Griffin biography is a testament to the fact that a bad attitude is worse than a bad swing. His journey from a young golf enthusiast in California to a successful professional golfer inspires aspiring golfers and fans around the world with his talent and determination.
References
Did you notice an error ?
Please help us make corrections by submitting a suggestion. Your help is greatly appreciated!