Celebrities
Maximilian Lee Piazza Biography: Sets Sail as Young Zoro in Netflix's Live-Action One Piece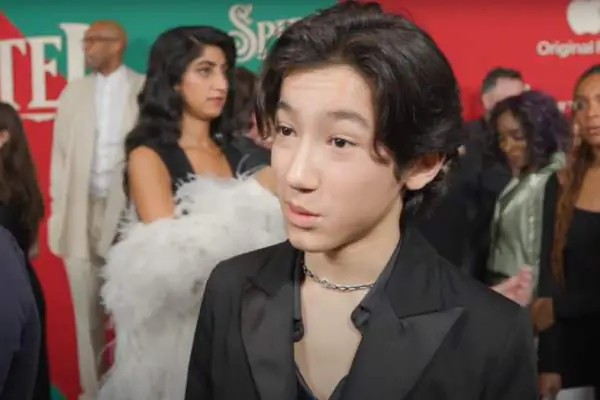 Maximilian Lee Piazza biography. Image Credit: Instagram.
Full Name

Maximilian Lee Piazza

Age

14 yrs

Birth Date

December 23, 2008

Country

America

Relationship Status

Not Confirmed

Nationality

American

Ethnicity

Asian-Italian

Profession

Child Actor
In the captivating realm of entertainment exist individuals blessed with an innate talent that exudes brilliance from a tender age. With their exceptional abilities and enchanting performances, child actors possess the power to touch audiences worldwide deeply.
Maximilian Lee Piazza biography delves into the extraordinary journey of a child actor whose ascent from humble beginnings to the dazzling lights of stage and screen is genuinely awe-inspiring.
Through his remarkable skill, unwavering dedication, and unforgettable portrayals, this young star has made an indelible impression on the world of entertainment by mesmerizing audiences across generations and establishing himself as one of acting's brightest stars. Join us as we embark on an exploration of this incredible child actor's life, achievements, and promising future in Hollywood and beyond.
Started Modelling at a Young Age
Ever since Maximilian was born, his mother consistently chose Ralph Lauren clothing for him. As time went on, people close to him began referring to Maximilian as 'the Ralph Lauren kid' because nearly everything he wore sported the distinctive polo logo.
Although talent agents approached his parents with offers of representation when Max was still relatively young, they believed it best to decline these opportunities due to their concerns about his age.
It wasn't until a few months later that Max's parents finally decided to let him pursue a modeling career. However, just as he was getting started in this new endeavor, the world was hit by an unexpected pandemic, and both the fashion industry and much of society came to a grinding halt.
Fortunately for Lee Piazza, though, he had already begun working with Ralph Lauren prior to this unforeseen turn of events—a collaboration that would endure over several years alongside other esteemed brands.
Max has gained experience working with renowned brands such as Levi's, Puma, Air Jordan, Converse, Tommy Hilfiger, and Hurley. In addition to these notable collaborations, he has also enjoyed partnering with French Toast and Free Assembly.
While Max initially found success in modeling for Ralph Lauren during those early years, he gradually realized another passion within himself—that of acting. His parents fondly recounted how they always sensed that their child possessed an innate flair for performance, even from a very young age, through countless moments where Max delighted them with impromptu displays of entertaining talent.
Journey Into Hollywood
Maximilian's impressive acting career began with his portrayal of the young 'Tim Kono' in Hulu's critically acclaimed series Only Murders in the Building opposite Selena Gomez, Martin Short, and Steve Martin. He later showcased his talent as 'Henry Von Biedermeyer' in Paramount Plus' iCarly reboot.
In 2022, Maximilian made his film debut as 'Josh Hubbins' in Spirited, a highly anticipated remake of the beloved Christmas Carol. Collaborating with esteemed talents such as Ryan Reynolds, Will Ferrell, and Oscar-winner Octavia Spencer was a remarkable experience for him.
Currently, fans are eagerly awaiting Maximilain's captivating performance as young 'Zoro' in Netflix's live-action adaptation of Eiichiro Oda's iconic manga One Piece – truly one of the best-selling manga series worldwide, having sold over 510 million copies to date! This much-anticipated show features talented actors like Iñaki Godoy as Luffy, Emily Rudd as Nami, Mackenyu Arata as Zoro, Jacob Romero Gibson as Usopp's actor, Taz Skylar as Sanji, Peter Gadiot as Shanks, and Craig Fairbrass as Chef Zeff.
Playing Young Zoro
Maximilian Lee Piazza, the highly-anticipated young actor in the OP Live Action series cast, brings his immense talent to the role of 'Zoro.'
Each crew member's backstory in this adaptation is explored, and 'Zoro's' past intertwines deeply with his present aspirations. The narrative delves into young 'Zoro's' journey as he undergoes rigorous training to become a formidable swordsman and forms a significant bond with an important character named 'Kuina.'
Piazza, hailing from New York, possesses exceptional artistic abilities. Alongside his acting career, he is also skilled in the traditional Japanese sword-fighting technique known as "Iaijutsu." Therefore, casting Maximilian as a youthful swordsman like 'Zoro' seems an ideal choice that perfectly aligns with their respective qualities.
Best and Worst Parts of Being an Actor
Maximilian finds great joy in his career as an actor, as it allows him to fully express himself and immerse into various characters, gaining unique perspectives on the world.
However, like all actors, Piazza also faces the challenge of dealing with rejections that inevitably come their way. While most often he handles these setbacks gracefully, there have been instances where he felt disheartened after coming so close to landing a coveted role only for someone else to be chosen instead.
Fortunately, Max is fortunate enough to have incredibly supportive parents who serve as a constant source of reassurance and guidance during difficult times. In one particular instance, when Max was feeling especially demoralized after losing out on a role opportunity, his mother sent him an insightful article detailing how many accomplished actors had faced similar experiences and contemplated quitting acting before achieving breakthrough success.
These real-life stories provided Max with renewed inspiration by transforming his perspective on rejection.
ALSO READ: Walker Scobell Biography: A Child Acting Prodigy
Personal Life
Maximilian is a passionate advocate for animal welfare and social justice. He generously supports multiple charitable organizations, such as Charity Water and 4Oceans, which provide clean water and remove plastic pollution from the ocean, respectively. In addition to his financial contributions, he donates proceeds from his various projects to Cornell Skop Wildlife Sanctuary, which provides a safe haven for animals in need.
Maximilian is also an active speaker and advocate for the rights of Asian Americans. He has spoken out against racism and discrimination on numerous occasions, and he has worked to raise awareness of the challenges faced by this community. Maximilian's commitment to animal welfare and social justice is deeply rooted in his personal values. The actor believes that all animals deserve to be treated with respect and kindness and that everyone should have the opportunity to live a life free from discrimination.
Maximilian is a tireless advocate for these causes, and his work has made a significant difference in the lives of many animals and people. He is an inspiration to us all, and we are grateful for his dedication and commitment.
Maximilian Lee Piazza biography is proof that you don't have to be a huge superstar to make a difference. Having trust in oneself is the most important lesson that all people must believe in.
Trivia and Facts
Maximilian Lee Piazza is an accomplished New York actor and martial artist specializing in 

Iaijutsu

, a revered Japanese sword martial art called 

Ryushin Shouchi Ryu

.

He greatly admires actors like 

Leonardo DiCaprio, Joaquin Phoenix,

 and 

Gary Oldman

.

Atomic Habits

 is one of his personal favorite self-help books. 

One of the young actor's favorite snacks is sweet potato fries prepared in an air fryer.

His favorite song to listen to on repeat is 

Born to Run

 by 

Bruce Springsteen

 because it brings back memories of cruising with his father in one of his vintage muscle cars. 
Did you notice an error ?
Please help us make corrections by submitting a suggestion. Your help is greatly appreciated!