Sports
Ralph Boschung Biography: Swiss Professional Racing Driver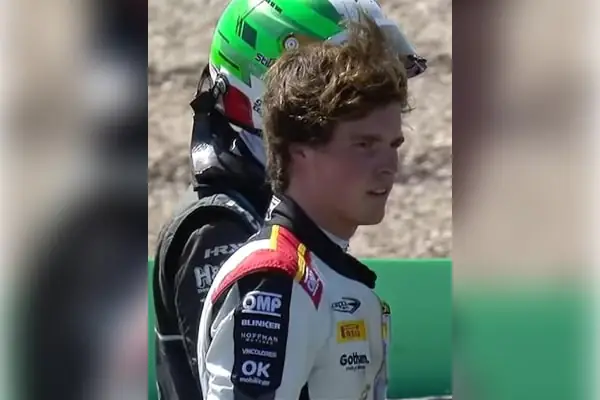 Ralph Boschung biography. Image Credit: Izzlex94 verstappenchamp.
Full Name

Ralph Boschung

Age

26 yrs

Birth Date

September 23, 1997

Country

Switzerland

Relationship Status

Not Confirmed

Nationality

Swiss

Profession

Racing Driver

Height

6 feet 1 inches
Ralph Boschung, a highly skilled and accomplished racing driver hailing from Switzerland, has risen to prominence in the exhilarating realm of motorsports.
Renowned for his exceptional velocity, unwavering expertise, and resolute determination, Boschung has etched an indelible mark across different racing championships by exemplifying extraordinary prowess and an unbridled enthusiasm towards this adrenaline-fueled sport.
Within Ralph Boschung biography lies a profound exploration into the Swiss racer's remarkable life trajectory, tracing his humble origins as he embarked on an arduous path that ultimately led him to emerge as a consummate professional within the captivating world of high-speed competitions.
Journey alongside us as we unravel his myriad accomplishments, gracing countless race tracks with unparalleled distinction.
Early Life and Introduction to Motorsports
Ralph Boschung, born on September 23, 1997, in Monthey, Switzerland, harbored a profound fascination for motorsports from an early age. His ardor for speed and competition kindled this interest as he set his sights on pursuing a career in racing.
Encouraged by his family's unwavering support and recognition of his passion, Boschung commenced his journey towards becoming a professional driver.
Commencing with karting as the foundation of his training regimen allowed him to refine his skills swiftly while unveiling an innate talent behind the wheel. Embarking upon the realm of karting marked Ralph Boschung's initiation into motorsports. Signaling not only invaluable experience but also acting as a platform through which he showcased immense potential as an emerging racing driver.
Testing mood 😄 pic.twitter.com/cg6b3MRRpj

— Ralph Boschung (@BoschungRalph) May 11, 2023
Challenging competitors across national and international championships enabled Boschung to garner noteworthy victories alongside securing podium placements—thus solidifying both admiration and attention within the world of karting enthusiasts worldwide.
These achievements served Ralph admirably when transitioning toward inevitably loftier tiers within motorsport disciplines.
Stepping Up to GP3 and GP2
Expanding upon his accomplishments in karting, Ralph Boschung embarked on a new chapter in his racing career by transitioning to single-seater competition in 2013. He set his sights on the ADAC Formel Masters series, where he faced formidable opponents from across the globe.
Through sheer adaptability and unwavering perseverance, Boschung seamlessly adapted to the demands of this higher level of racing. His remarkable abilities quickly manifested as he consistently achieved podium placements and established himself as a force that demanded attention.
In an impressive turn of events during 2016, Ralph Boschung made a noteworthy foray into one of motorsport's most esteemed championships – The GP3 Series – renowned for its role in nurturing emerging talents within the industry.
Despite being considered a rookie within these competitive ranks at first glance, it was evident that Boschung possessed exceptional skill coupled with unyielding determination, which propelled him forward tirelessly towards success, securing notable finishes yielding valuable points, all whilst captivating audiences through performances marked by resolute consistency throughout each race.
It is worth noting that such commendable achievements paved an illustrious path toward further recognition when Ralph Boschung catapulted into yet another prestigious series- now known as Formula 2 (previously referred to as GP2).
Challenges and Growth
Throughout his professional journey, Ralph Boschung has encountered various obstacles and setbacks that have tested his resilience and determination. From technical malfunctions to on-track incidents, he has faced adversity with a constructive mindset.
Notably, an incident occurred during the F2 race wherein Kush Maini collided with Ralph at the start of the event. The commencement of the F2 race was halted due to a severe accident occurring on only the second lap. Kush Maini lost control of his vehicle, leading it to land on Ralph Boschung's car, who happened to be his teammate under Campos Racing.
Fortunately, all drivers emerged unharmed from this distressing occurrence while exclusively encountering damage solely confined within their vehicles
Crucially, Boschung's capacity to learn from these challenges and rebound stronger has played a significant role in his development as a racing driver. He consistently exhibits dedication towards enhancing his skills, critically evaluating his performances, and collaborating closely with his team to optimize his potential.
Ralph's Last F2 Season: What Next?
Boschung extended his contract with Campos Racing for the 2023 season, marking his third consecutive year with the team. The start of the season proved to be a breakthrough for Boschung as he secured an unprecedented victory in Formula 2 during the sprint race in Bahrain.
Taking advantage of his pole position from the reverse grid, Boschung held onto his lead and clinched first place after competing in 96 races. Continuing on to Jeddah, Boschung performed well by qualifying ninth and gaining momentum with a strong fourth-place finish in the sprint race that propelled him into first place overall.
However, over the following eight rounds, the racer struggled to score points. It wasn't until Spa-Francorchamps that unpredictable rainy conditions allowed him to make a successful comeback by qualifying seventh and achieving both eighth and tenth-place finishes.
This fifth F2 season is set to be Boschung's final one as he concludes his extensive participation in this championship spanning five years. Notably, he holds special distinction as being the sole driver who has competed every year since its inception within modern times under the "FIA Formula 2 Championship".
Future Aspirations and Retirement
Although still in the preliminary stages, Boschung expresses uncertainty regarding his plans for 2024. He acknowledges that these plans are contingent upon his current year's performance. However, should he be unable to continue racing, he is open to exploring opportunities within the realm of management.
Driven by his remarkable talent, unyielding determination, and unwavering commitment to excellence, Boschung seeks ever-evolving opportunities that will enable him to compete among the most formidable drivers on the esteemed Formula 1 grid.
With an ambition that knows no bounds and a relentless pursuit of greatness, Ralph emerges as a driver with immense potential to make an indelible mark in the realm of motorsports.
ALSO READ: Richard Verschoor Biography: Making A Name in Formula Race
Ralph Boschung Net Worth And Earnings
The Swiss professional race car driver has actively participated in multiple racing competitions since the early 2010s. His impressive track record includes numerous victories, podium finishes, and significant earnings. Consequently, it is reasonable to assume that Ralph Boschung's net worth has experienced substantial growth in recent years.
In relation to Ralph's achievements in the Formula BMW Talent Cup of 2012, where he secured a commendable 5th place finish, it can be inferred that Ralph would have received considerable financial support through sponsorships and prize winnings.
Selected participants from various regions were granted awards valued at $40K, $50K, and £35,000 ($49,665). Furthermore, the prize money for the Asian Championship in 2005 was a notable sum of $200K for its champion racer. Henceforth, one could speculate that Ralph likely obtained a similar amount for finishing fourth at this event back in 2012.
View this post on Instagram
Moreover, Ralph has participated in various prestigious racing competitions such as GP3 Series, ADAC Formel Masters, and FIA Formula 2. These experiences have contributed to the growth of his financial status. Although he has competed in more than fifty races in the FIA F2 Championship without securing a victory thus far, it is likely that he has earned a substantial amount by being part of this series.
In addition to his racing income, Ralph Boschung's net worth also encompasses sponsorship earnings. Currently affiliated with Campos Racing, he enjoys support from notable companies, including Casa Andrea, L by Raphaëlle, and The Moon. The financial contributions from these partnerships undoubtedly play a crucial role in augmenting the driver's wealth.
Similarly, you might want to read about Luol Deng, a professional basketball player.
Relationship and Love Life
While Ralph Boschung has attracted attention from a young age, he maintains an air of privacy regarding his personal life. Though there may have been romantic involvement in the Swiss race car driver's past, details about these relationships remain undisclosed.
Whether or not to disclose information about his love life is solely at the discretion of this skilled racer. Despite limited knowledge about Ralph Boschung's relationship status, we extend our well wishes for both fulfillment and prosperity in his personal affairs, with hopes that he may experience happiness and potentially build a family in future endeavors.
As he continues to chase his dreams of reaching Formula 1, Ralph Boschung serves as an inspiration to aspiring drivers, emphasizing the importance of hard work, resilience, and unwavering commitment to achieving success in the highly competitive world of motorsports.
We hope you found what you were looking for in Ralph Boschung biography. Visit us again to check whether Ralph has something more to share. We will be sure to update if any new information is available.
Did you notice an error ?
Please help us make corrections by submitting a suggestion. Your help is greatly appreciated!