Top Lists
Everything About David Moinina Sengeh Wife and Children: A Look Into His Personal Life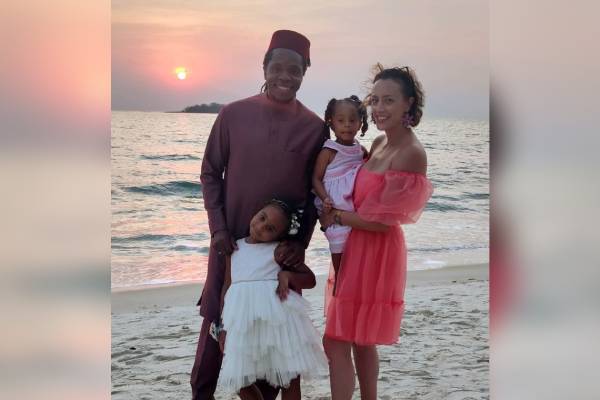 David Moinina Sengeh Wife. Image Credit: Instagram.
David Moinina Sengeh is a Sierra Leonean politician who is currently serving as the chief minister of Sierra Leone since July 2023. The man's journey from the small town of Bo to one of the prominent figures in the country is inspiring and motivating. He is the embodiment of success and has been active as a humanitarian and politician since August 2018.
In this article, however, we are going to take a look at his personal life and find out what drives him to do something good for the people of Sierra Leone. Thus, stay with us until the end to quench your queries regarding David Moinina Sengeh wife and children.
Some Facts About the Chief Minister
David earned his master's and doctorate from the Massachusetts Institute of Technology, where he also served as an instructor and DLab mentor for developing global prostheses.
Sengeh has worked for organizations like IBM and received the Lamelson-MIT Prize worth $500,000. He was also chosen as one of Forbes' 30 Under 30 in 2014, and in the same year, he received the Young Africans Committed to Excellence award.
Moinina's grandfather, David Solomon Moinina Lahai, served as a civil servant in the Ministry of Education of Sierra Leone. Similarly, his mother also worked at the ministry as a daily wage secretary.
Sengeh established the non-profit organization Global Minimum Inc. while pursuing his doctorate. This organization supports the Innovate Salone entrepreneurship program in Kenya, Sierra Leone, and Cape Town.
Meet David Moinina Sengeh Wife: Who is She?
The Chief Minister of Sierra Leone is the proud husband of a wonderful woman. She has been his supporter and pillar ever since they vowed to be with each other for the rest of their lives. So, who is David Moinina Sengeh wife? Keep reading to find out.
David is married to his beautiful wife, Kate Krontiris. Kate was born and raised in the United States of America and holds American citizenship. She graduated from Colombia University with a Bachelor of Arts in Sociology.
Basic Info About David Sengeh's Wife
| | |
| --- | --- |
| Name | Kate Krontiris |
| Spouse | David Moinina Sengeh |
| Nationality | American |
| Alma Mater | MIT, Harvard, Columbia University |
Similarly, Krontiris attended the prestigious Harvard University and obtained a Master's degree in Public Policy from Harvard's Kennedy School of Government. Furthermore, she received an MBA from Massachusetts Institute of Technology's Sloan School and Management.
Also, the wife of the Chief Minister of Sierra Leone is an alumnus of the AmeriCorps National Service Program. Kate has worked as a consultant to some of the prestigious companies in the world, including Facebook, Google, Mobius Executive Leadership, Luminate, and many more.
Further, the American national worked under the former President of the United States of America, Barack Obama, as a consulting user researcher for the United States Digital Service.
Musician Wife of a Politician Husband
David Moinina Sengeh wife is not only a scholar and experienced in the field of business, she can also write songs, hold a mic, and sing. Yes, Kate is also a musician and has composed multiple songs available on Spotify.
Layered vocal harmonies and honest lyrics about the human condition are combined in Kate's folk symphonic style. These styles combine elements from funk, brass bands, and afro beats in some of her songs. Her style of music is frequently compared to that of Tracy Chapman, Fela Kuti, and Joni Mitchell.
Below is the list of songs recorded by Kate.
| | |
| --- | --- |
| Songs | Year |
| Ghost Trees | 2023 |
| When the Rain Comes | 2022 |
| Got One Life | 2022 |
| Hero's Journey | 2022 |
| CROWN | 2021 |
| Birth Story | 2021 |
| Being Belonging | 2021 |
| Get Out of Your Way | 2021 |
| Memories You Didn't Know You'd Forgotten | 2021 |
| Forceful Breathing: The Story of 2020 | 2021 |
Table Source: Apple Music
Furthermore, David Moinina Sengeh's spouse is also the founder of Telem Freetown, which is a platform for experimental music in Freetown, Sierra Leone, featuring the uncommon sounds of the city. Most recently, she organized Telem Tour 2023 to promote the music of Sierra Leone's natives.
ALSO READ: Get To Know Jack Antonoff Fiancee Turned Wife: Road To Happily Ever After
How Many Children Does the Couple Have?
David and Kate's marital life became more fulfilled when they became parents of two wonderful children. Yes, the lovely couple is blessed with two daughters. David and Kate live happily with them in Freetown, Sierra Leone.
The couple's first daughter, Nyaanina Sophia Sengeh, was born in 2016. Kate shared a lovely picture with her daughter on her seventh birthday in January 2023. Similarly, David Moinina Sengeh's second daughter, Peynina Athena Sengeh, was born in 2019.
Also, during the COVID-19 pandemic, David was seen parenting his second daughter, who was ten months old, during a Zoom video call. It made international headlines, and Sengeh commented that he wanted to set an example for other men. The happy family of four can frequently be seen enjoying Sierra Leonian holidays and festivals together in their house.
FAQs
Q: Who is David Moinina Sengeh?
A: David Moinina Sengeh is the Chief Minister of Sierra Leone.
Q: Who is David Moinina Sengeh's wife?
A: David is married to American musician Kate Krontiris.
Q: How many children does David Moinina Sengeh have?
A: David is the father of two daughters.
Q: Who are David Moinina Sengeh's parents?
A: David was born to Paul Sengeh and Elizabeth Sengeh.
Q: What is David Moinina Sengeh's place of birth?
A: David was born in a little town called Bo in Sierra Leone.
Did you notice an error ?
Please help us make corrections by submitting a suggestion. Your help is greatly appreciated!