Sports
Tierna Davidson Biography: From Aspiring Astronaut to Pro Soccer Player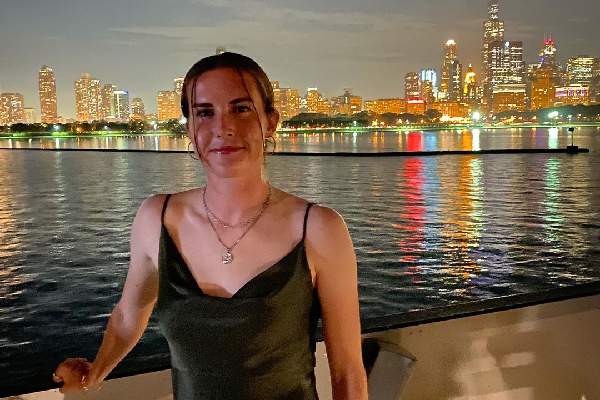 Tierna Davidson biography. Image Credit: Instagram.
Full Name

Tierna Lillis Davidson

Age

25 yrs

Birth Date

September 19, 1998

Country

America

Relationship Status

In a relationship

Nationality

American

Ethnicity

White

Profession

American Football Player

Awards and honors

FIFA Women's World Cup: 2019

Height

5 feet 10 inches
Tierna Davidson is an exceptional athlete who has achieved remarkable success in the world of professional soccer. Her journey from aspiring astronaut to an accomplished defender on both the club and international stage is truly inspiring.
In Tierna Davidson biography, we will delve into the different phases of her life, from her early aspirations of space exploration to her notable contributions to women's soccer.
Early Life and Passion for Soccer
Tierna Lillis Davidson, a native of Menlo Park, California, was born on September 19, 1998. Her early years were marked by an unwavering enthusiasm for sports and, in particular, soccer.
Davidson's upbringing instilled in her a deep appreciation for education. Her parents, Greg and Helen Wilmot, both Stanford alumni, emphasized the value of knowledge. It wasn't until high school that she realized the potential soccer held for her. She vividly remembers witnessing her De Anza Force teammates receive opportunities with the national-team youth program, which highlighted their talent and dedication.
At the time, Davidson didn't receive such recognition herself and assumed that she lacked what it took to compete at an elite level. Even when Stanford expressed interest in recruiting her during her sophomore year at Sacred Heart Prep in Atherton, she approached it cautiously.
It was through encouragement from Force coach Andres Deza that Davidson started considering accepting Stanford's offer as a genuine opportunity worth pursuing seriously.
Coming from a family that prioritized physical activity and cooperation, Davidson's passion for the sport flourished under their guidance. As she honed her abilities with dedication and determination, it became evident to those around her that she possessed exceptional talent as an athlete.
Pursuing Dreams of Space Exploration
Despite her strong affinity for soccer, Davidson harbored a childhood dream of becoming an astronaut. Initially, Davidson's primary interest lied in universities offering aerospace majors such as Army, Cal Tech, and Navy.
From a young age, she had harbored a strong desire to become an astronaut–with NASA aircraft posters adorning her room walls and eagerly watching space shuttle launches. Her fondness for aviation led her to frequent the local aviation museum, where she would explore cockpit interiors and enthusiastically engage with their controls.
Tierna also cherished the collection of maps provided by her aunt, who worked as a pilot at Boeing; this passion drove her to persistently request permission from her parents to pursue obtaining a pilot's license.
However, amidst the growing success of Davidson's soccer career emerged another aspiration that began overshadowing her dream of becoming an astronaut: playing for the U.S. Women's National Team.
Stellar Collegiate Career at Stanford
Davidson's impressive skills in soccer attracted the interest of recruiters from various colleges across the United States. Eventually, she made the decision to enroll at Stanford University, where she continued to thrive both academically and athletically.
During Davidson's freshman year in 2016, she played all 21 games for the Cardinal and received recognition as a member of the Pac-12 All-Freshman Team and the All-Pac-12 Second Team. In 2017, she was honored with the title of Pac-12 Defensive Player of the Year. Her contributions were instrumental in Stanford's victory at the NCAA Division I Women's Soccer Tournament that same year, where she was also named as the Most Outstanding Defensive Player in College Cup.
Unfortunately, her playing time decreased significantly in 2018 due to a fractured ankle sustained during a match against North Carolina on September 9th. This injury marked her final appearance for Stanford, as she decided to forego her remaining college eligibility by entering into the NWSL College Draft for the 2019 season selection.
As a member of Stanford Cardinal's team, Davidson demonstrated her importance as a center-back by playing an integral part in their accomplishments. Her outstanding defensive talents, ability to lead, and composed ball-handling skills led to her being considered one of the nation's top college soccer players.
International Breakthrough
Davidson caught the attention of national team selectors with her impressive performances in college. At just 18 years old, she made a remarkable debut for the United States Women's National Team in 2018. Her poised playing style, adaptability, and strategic expertise quickly earned her recognition as a valuable asset to the team.
Davidson's keen game-reading abilities and crucial interceptions revealed her immense talent, ultimately securing a consistent spot in the USWNT lineup.
Davidson achieved her first international goal on August 31, 2018, against Chile. However, she was unable to participate in the 2018 CONCACAF Championship due to a fractured ankle injury sustained while playing for Stanford. In December of that year, she received recognition as the U.S. Soccer Young Female Player of the Year.
Following her recovery from injury, Davidson rejoined the USWNT in January 2019 and was selected for the roster of the February 2019 SheBelieves Cup. She earned a spot on the final 23-player squad for the May 2019 FIFA World Cup, making her not only one of its youngest players but also an integral member.
In June 2021, Davidson secured her place in the limited-sized squad representing Team USA at the Tokyo Summer Olympics held in 2020. Unfortunately, due to an injury, Tierna Davidson was left out of the squad for the recently concluded Women's World Cup 2023, which was a massive blow for the defender.
Tierna had wished that her teammates, including Aubrey Kingsbury, Alyssa Thompson, Emily Sonnet, Kristie Mewis, and the rest of the squad, would bring the prestigious cup back, but unfortunately, the USNWT was knocked out by Sweden in the Round of 16.
Professional Career and Challenges
In January 2019, Tierna Davidson made the decision to forego her senior year at Stanford University in order to pursue a professional career in soccer. She was chosen as the top pick in the National Women's Soccer League draft by the Chicago Red Stars.
Transitioning to the professional level presented new opportunities for growth and challenges that Davidson tackled with ease. Her seamless adjustment from college soccer to professional play proved invaluable for the Red Stars' defensive line.
Like all athletes, Tierna has encountered obstacles throughout her journey. Various injuries have tested her resilience and determination, but she has consistently demonstrated an unwavering commitment to her craft and an ability to bounce back stronger than before.
Notably, the defender played a vital role in securing victory for USWNT during their successful 2019 FIFA Women's World Cup campaign – further solidifying her status as an emerging talent within women's soccer.
ALSO READ: Enith Salon Biography: A Goalkeeper's Journey To Guarding World Cup 2023 Victory
A Look Into Her Personal Life
Talking about Davidson's sexuality, she is openly lesbian. As mentioned above, she started her professional journey at Stanford University, that's also a place where her journey of love began.
That's right! The soccer player met her girlfriend, Alison Jahansouz, at the university. Tierna Davidson's girlfriend, Jahansouz, served as the goalkeeper for the Cardinals. The pair started dating in 2017, and it's heartwarming to see how their relationship has blossomed over the years.
The pair got engaged back in March 2023 when Tierna proposed to which Alison obviously said yes. On a side note, Alison's Instagram is dedicated to Tierna and the love that they share. How cute!
The story of teammates turned lovers is truly special, and it's equally delightful to witness the bond between college sweethearts.
We hope that Tierna Davidson biography has been insightful and you enjoyed reading it as much as we enjoyed writing it. Check back with us regularly, as we will be sure to update you guys if any new developments surface.
References
Did you notice an error ?
Please help us make corrections by submitting a suggestion. Your help is greatly appreciated!