Sports
Laia Codina Biography: From Dreams to World Cup Triumph in 2023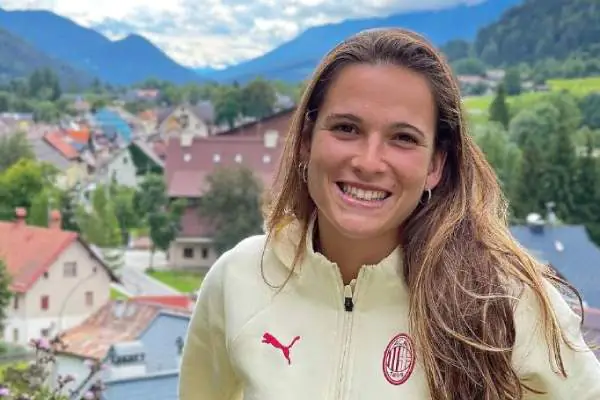 Laia Codina Biography. Image Credit: Instagram.
Full Name

Laia Codina Panedas

Age

23 yrs

Birth Date

January 22, 2000

Country

Spain

Relationship Status

Not Confirmed

Nationality

Spanish

Profession

Footballer

Awards and honors

FIFA Women's World Cup: 2023

Education

Journalism, University of Vic

Height

5 feet 4 inch
Laia Codina is a Spanish professional footballer who plays center-back for Liga F club FC Barcelona. One of the promising young talents in the Spain women's national team. Laia has represented Spain in multiple youth national teams. Her good performances have not gone unnoticed by the scouts of the Premier.
So dear reader, stay with us till the end as through the narrative of Laia Codina biography, we will be familiar with the trajectory from her dreams to her world cup triumph. Her story unfolds as a testament to unwavering dedication and relentless pursuit of excellence.
Codina's journey encapsulates the essence of chasing one's aspirations with an unyielding spirit, propelling her from a realm of dreams to the pinnacle of achievement on the grand stage of the World Cup.
Family Background: One of A Kind Relationship
Laia Codina Panedas was born on January 22, 2000, in Campllong, Spain. From an early age, Codina got inspired by Spain's big names in football despite coming from a non-sports background. At the early age of 4, she began playing football and later played in the lower categories of the Unio Deportiva Cassa. Likewise, Laia played on the boys' team until the age of 14.
Not only is Laia a loved player, but she is also a beloved daughter and sibling. During the ongoing 2023 World Cup, Laia's mother, Nuria Panedas, along with her sister Mariona Panedas traveled from Campllong to New Zealand to see Laia's game. Afterward, they returned home, and after a couple of weeks and again flew from Madrid to Australia, almost 75,000 kilometers. Well, they wanted to watch their beloved Laia represent their country in the World Cup.
Laia Codina, in addition to being a defender for the team, is also a journalism student at the Faculty of Business and Communication at the University of Vic, which she combines with the demands of the training and competition calendar.
ALSO READ: Enith Salon Biography: A Goalkeeper's Journey To Guarding World Cup 2023 Victory
Move to FC Barcelona
When she was looking for a way to continue playing football, Laia received an email in November 2014. The email was from Barca, who invited her with an opportunity to train for two days at their facilities on December 3rd and 10th. Due to her skill and passion, the club offered her to continue her playing career with the youth-cadet section in January 2015.
Laia spent more time establishing herself with the team as a player who can play in any defensive position. Likewise, her arrival in the 2015-2016 season gave the youth cadet section much-needed qualities beyond her young age.
Nothing is presented quickly in football, and it must be earned. Laia eventually fit Barca's style. Additionally, she values humility, which is an essential trait to have when you play for Barcelona.
Laia has the colors of Barca in her heart and carries the fight as something internal. So her reward for hard work and the recognition of her emerging quality came with a first-team contract at the end of the season. After making herself an unquestionable piece in the ranks of Barca B Femeni, Laia began her next season with the first team.
While FC Barcelona Femini has the most recent generation of youth team graduates who have garnered much attention for their attacking firepower, the club has also given much-needed defensive security to the team's senior side. The versatility and confidence of the promising center-back Laia Codina Panedas at 20 years old have been the perfect substitute for the complications caused by injuries at the club.
Renewal for FC Barcelona
Codina came to the first team squad after being captain of the Barcelona B team. In the summer of 2018, she was part of the European Championship-winning U19 squad. Her role as a senior player helped the FCB Femini grow consistently. Step by step with her feet, she draws a path in which she will undoubtedly leave her mark. Moreover, Codina received the award as one of the young promises of Girona Football in 2018.
On October 13, 2019, Laia made her debut in Primera Iberdrola. After a few days, Codian debuted in the 2019 UEFA Women's Champions League against ZFK Minsk. No doubt, her versatility and sharpness made her a unique player and a valuable part of the Barcelona team. Versatility, forcefulness, and agility are the three characteristics that define her and make her unique and essential at the core of the Barcelona defense.
Further, after a year on loan at AC Milan in the 2021/2022 season, Laia Codina returned to Barca for the 2022/23 campaign. Previously, she extended her agreement with FC Barcelona in June 2020 for further two more years advancing her to the first team's squad from the 2020-2021 season.
Similarly, AC Milan announced their agreement with FC Barcelona to sign Laia Codina for the 2021/2022 season. The Spanish defender won the UEFA Women's U-19 championship in 2018 with the Spanish U-19 national team. With Barcelona, the center defender eagerly awaited the moment when she would have the chance to showcase her potential with the first team.
Historic Win At The 2023 FIFA Women's World Cup
As England failed in their bid to claim their women's world cup title after Spain won in a narrow 1-0 victory. Olga Carmona's first-half strike in precisely 29 minutes at Sydney Stadium Australia was enough to win the tie. With players like Ona Batlle, Rocio Galvez, and Oihane Hernandez repeatedly defending Spain's team, the Lionesses failed to repeat their heroics.
For the information, both the Spain and England teams were playing in their first World Cup final, but the Spaniards produced in the crucial moments. Spain became the first European country to win the Women's World Cup since Germany won the title in 2007.
Spain's national women's team tasted their first victory at the 2023 FIFA Women's World Cup over England's Lionesses. Captain Olga Carmona's first-half strike passing England's goalkeeper, Mary Earps, at 29 minutes was enough to secure Spain's first women's world cup. Meanwhile, top players like Chloe Kelly, Jordan Nobbs, and Lucy Bronze couldn't stop their opposite team from becoming the title champion.
Spain's triumph is justified for Jorge Vilda and the Spanish football federation, who stuck with the coach even after 15 players said they no longer wanted to represent their country under him last year. During the round of 16, defender Laia Codina experienced emotions in the game against Switzerland. Her misguided back-pass from the near center circle flew past goalkeeper Cata Coll and gave Switzerland an equalizer. However, she quickly recovered from the shock and scored Spain's fourth goal just before half-time en route to a 5-1 victory.
Later Laia explained to FIFA how she swiftly turned negative thoughts into positive ones. Similarly, the support of the vastly experienced Irene Paredes also motivated Codina to move on from the mistake and focus on helping Spain through to a quarter-final clash with the Netherlands.
Know Laia Codina Net Worth And Relationship Status
It is difficult to estimate women's footballers' earnings and net worth. However, some factors, such as brand endorsement deals, sponsorships, investments, and club payments, decide a player's fortune. Now, as a Barcelona defender, Laia Codina net worth is a topic of concern among her hardcore fans. By estimation, we can say that Codina earns a desirable six-figure income from her professional football career.
As part of their first World Cup title, Spain will be taking home a historic prize pool. With FIFA increasing prize money totals throughout the tournament, Spain will receive $10.5 million after defeating England 1-0 in the final on August 20, 2023.
| | | | |
| --- | --- | --- | --- |
| Positions | Country | Total Prize | Amount Each Player Will Receive |
| Winner | Spain | $10.5 million | $270,000 |
| 2nd | England | $7.51 million | $195,000 |
| 3rd | Sweden | $6.75 million | $180,000 |
Table Source: justwomenssports
Having said that, each player of the winning team takes $270,000, and they might receive additional sponsor deals and partnerships. With such opportunities waiting, it will surely elevate Laia Codina's wealth and fortune.
Now talking about the beautiful player's relationship status, Laia Codina doesn't have a boyfriend or a partner. She prefers not to share much about her personal life and is solely focused on her football career.
Personal Setbacks and Overcoming Anxiety
During her early days when she was playing for the Catalan U12 team, she had a terrible time as she was very nervous, had a lot of anxiety, and had to go to specialists to overcome them. She suffered the same during her first year with Youth-Cadet, because of the pressure of playing for a club like Barcelona.
While in her second-third season in Barcelona, Laia spent three or four years going to be a specialist, which improved her mental health. Afterward, she began to grow as a player, and all those anxiety and fear have now been eased to make her become the fearless player she is today.
Relentless from behind, the Catalan is immersed in one of the sweetest moments of her career. We hope this article about Laia Codina biography gave you an insight into her remarkable transformation that embodied the power of perseverance as she navigated through challenges and setbacks to stand victorious, holding the coveted trophy ultimately.
Codina's story resonates as a beacon of hope, reminding us that with passion, hard work, and an unshakable belief in oneself, the loftiest dreams can be transformed into tangible, awe-inspiring realities globally.
References
Did you notice an error ?
Please help us make corrections by submitting a suggestion. Your help is greatly appreciated!