Net Worth
Explore The Astounding Riches of Doug Burgum Net Worth: Is He A Billionaire?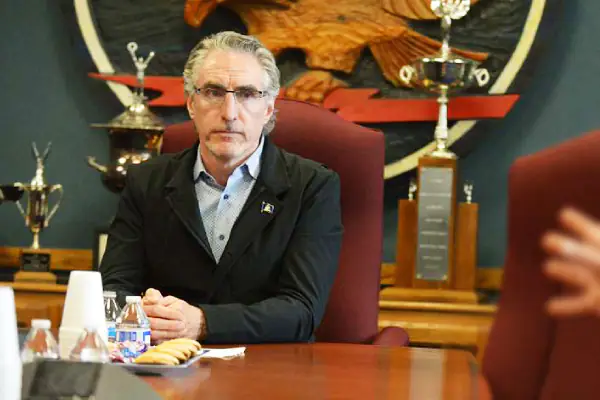 Doug Burgum Net Worth. Image Credit: PicRyl.
Doug Burgum is North Dakota's 33rd governor and is also a candidate in the 2024 United States presidential election. The Republican Party's member has a unique background in software and venture capital.
Many are curious about Doug Burgum net worth. In this article, we'll delve into his career and various sources of income and estimate his financial status.
Burgum has made significant strides in both the corporate world and public service. He is widely recognized for co-founding Arthur Ventures and founding Kilbourne Group.
Comes from a Pioneer Ancestry
Born as Douglas James Burgum, the American businessman and investor grew up in Arthur, North Dakota.
Doug's parents were Katherine Kilbourne Burgum and Joseph Boyd Burgum. Both of whom were well-educated and extremely giving to the community.
Burgum's father, a North Dakota State graduate, fought in World War II after Pearl Harbor's attack. He passed away when Doug was a freshman in high school.
Meanwhile, Doug's mother, Katherine, was a well-educated woman. She worked as an instructor/assistant professor at Wayne State University in Michigan.
The youngest child of the Burgums, Doug has two older siblings: a brother named Bradley (b:1952) and a sister named Barbara (b:1953).
Preface of a Wealthy Career
Doug Burgum graduated from North Dakota State University in 1978. Afterward, he started his first business, chimney sweeping. Burgum became famous, appearing in local newspapers for his entrepreneurial spirit. Similarly, he attended Stanford Graduate School of Business. There, he became friends with Steve Ballmer, who would later become a billionaire businessman.
After graduating with an MBA in 1980, Doug then moved to Chicago. He worked as a management consultant with McKinsey & Company until 1983. Burgum's journey to wealth began when he joined Great Plains Software in March 1983. It was a Fargo, North Dakota-based accounting software company.
Burgum joined the company as a shareholder, providing seed capital of $250,000. Additionally, he brought in his family members to buy the rest of the company. As a result, Doug became Great Plains Software's new president in 1984. However, its founder, Joseph Larson, continued to serve as a director until its acquisition in 2000.
Microsoft Acquisition: A Sudden Expansion of Fortune
A significant rise in Doug Burgum's net worth occurred when he was associated with Microsoft. But his company, Great Plains Software, also enjoyed its fair share of financial success. In the 1980s, Fortune magazine frequently ranked his company among the country's top 100 companies to work for.
Under his leadership, Burgum led the company to about $300 million in annual sales by the early 1990s. Similarly, a 1997 IPO helped the company's expansion beyond North Dakota with a small use of the Internet. In 1999, Doug's company acquired Match Data Systems, a development team in the Philippines.
Two years later, Burgum sold Great Plains Software to Microsoft for a staggering $1.1  billion. Afterward, he became a senior vice president at Microsoft and continued to play a key role in the company. Following the acquisition in 2001, Doug Burgum's wealth saw a peak. He took the role of Microsoft's vice president until 2007.
Investments, Ventures, and Family Business
While Doug Burgum's tenure at Microsoft was notable, he also diversified his investments. He invested in various businesses, including technology startups and real estate ventures, further contributing to his wealth. In between, Doug served as an investor and a member of the BOD on healthcare and software companies.
Since selling Great Plains Software, Burgum founded two more businesses. In September 2007, he founded Kilbourne Group, a real estate development firm in Fargo. Similarly, in July 2008, he co-founded Arthur Ventures, an investment firm that invests in software companies.
For information, Doug's paternal grandfather, Joseph Burgum, started Arthur Grain Elevator in 1906, which is still in the family. Since 2003, Doug has been serving on the board of directors for Arthur Companies, Inc.
ALSO READ: 5 Shocking Facts About Vivek Ramaswamy Net Worth: A Billionaire in The Making
Doug Burgum Salary As a Governor
Since December 2016, Doug Burgum has been serving as North Dakota's governor. The governor's second term began in December 2020 and ends in December 2024. As a governor, Burgum earns an annual salary of $135,360 with additional benefits.
Meanwhile, the salaries and benefits available to state governors vary considerably across the 50 states. Also, they receive a desirable amount of pension multiplied by the number of years they have served as a governor.
| | |
| --- | --- |
| States | Salaries |
| New York | $225,000 |
| California | $209,747 |
| Pennsylvania | $201,729 |
Table Source: Chron
Doug Burgum has earned over $7 million in salaries as a North Dakota governor. The typical state governor earns between $147,000 and $150,000.
In March 2018, Burgum and his wife, First Lady Kathryn Burgum, moved into the 13,700-square-foot home on the state Capitol grounds in Bismarck. For the governor's house, the state Legislature approved the use of $4-$5 million from special funds.
Doug Burgum Net Worth: Is He a Billionaire?
North Dakota's 33rd governor, Doug Burgum net worth is over $1 billion, as per sources. However, most of his fortune comes from his previous business, which was acquired by Microsoft. Additionally, Burgum has over 35 years of software industry experience. Furthermore, he is one of the wealthiest governors of the U.S.
Burgum's career in the technology sector, coupled with his political endeavors, has undoubtedly made him a wealthy individual. He is among the 14 Republican candidates who are running for the 2024 Presidential election.
Some of the popular names include Ryan Binkley, Nikki Haley, Vivek Ramaswamy, Donald Trump, etc. Recently, Burgum controversially offered $20 gift cards to 50,000 people who donated $1 to his campaign.
Whether he wins or loses the 2024 Presidential election, Doug Burgum net worth doesn't seem to be affected. In conclusion, his journey from a software industry veteran to a governor has been nothing short of remarkable.
Did you notice an error ?
Please help us make corrections by submitting a suggestion. Your help is greatly appreciated!