Top Lists
5 Things To Know About 2024 Presidential Candidate Nikki Haley Daughter Rena Haley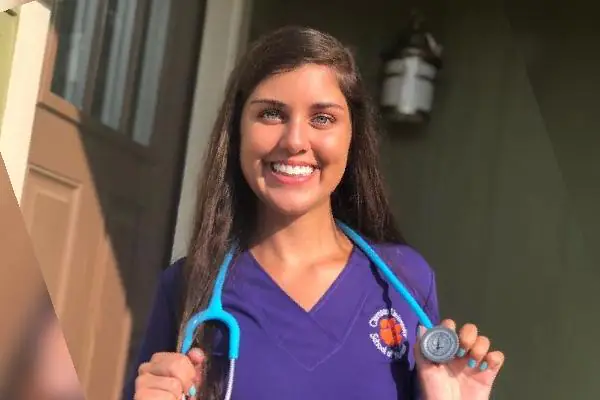 Nikki Haley Daughter Rena. Image Credit: Instagram.
Former South Carolina governor Nikki Haley is a Republican primary candidate for president of the U.S. in the 2024 U.S. presidential election. Since the day she announced her candidacy, her family has been actively supporting the former United Nations ambassador.
Besides her husband, Nikki Haley daughter Rena Haley, and son, Nalin Haley, never miss a chance to promote their mother's political agendas across the public. Meanwhile, Haley took a short break to celebrate her daughter's wedding in April 2023. Who is Rena Haley married to? Scroll down to know the details.
With the 2024 U.S presidential election approaching at the doors, candidates have been putting their lives into their campaigns. Nikki, who ran for the 2004 South Carolina House of Representatives, became the first Indian-American to hold the office.
5. Nikki Haley Daughter Rena is a Registered Nurse
Rena Haley, as a registered nurse, works in the Pediatrics department in South Carolina. From an early age, she wanted to become a nurse. In May 2021, her mom, Nikki, tweeted a beautiful picture of Rena in a nurse uniform. Moreover, in July 2021, Nikki announced that Rena had passed the nursing board exam. She tweeted a congratulatory message on her Twitter (now X) account.
Rena Haley was born on June 8, 1998, in South Carolina, United States, to parents Nikki Haley and Michael Haley. She grew up in Lexington, South Carolina, with her younger brother, Nalin. In 2016, Rena was accepted into Clemson University's Nursing program.
Haley graduated with a Bachelor's degree with a major in Nursing and a minor in psychology with senior grades in 2021. Previously, she attended River Bluff High School, where she was honored at Palmetto Girls State in June 2015.
4. Early Works and Path to Nursing
A hard-working kid since childhood, Rena Haley, before going to college, worked three summers at the State House Gift Shop in 2012, 2013, and 2017. Her job included answering the phone, doing inventories, cleaning, and organizing the retail shop.
After a month's internship at Lexington Medical Center, Rena started doing an internship at Midlands Internal Medicine from August 2015 until May 2016. Haley is a certified first aid, health, and safety coach. Likewise, she is a Basic Life Support (BLS) certified nurse with approval from the American Heart Association.
Through Clemson Hope, she mentored fifth-grade students at several schools. In February 2019, Rena was one of the honorees at the White Coat Ceremony, and her journey into nursing began.
ALSO READ: 5 Facts About Aiden Caohman Vieques Kennedy: Robert F. Kennedy Jr.'s Hidden Son
3. Married to College Sweetheart
Nikki Haley's daughter, Rena Haley, got married to her longtime boyfriend, Joshua Jackson. Their wedding was held on April 15, 2023, at Kiawah Island Golf Resort on Kiawah Island off the coast of Charleston, South Carolina.
Rena Haley's wedding dress featured a mermaid silhouette with a deep neckline and side cutouts, while her mom, Nikki Haley, wore a cream one-shoulder gown with decorative draping along one side. Nikki stirred quite a controversy for her dress at her daughter's wedding. Meanwhile, Joshua wore a navy tuxedo with black lapels, as did Haley's husband, Michael, and son, Nalin.
At the reception, a Clemson Tigers mascot took to the dance floor, a tribute to where the couple attended college. The newlyweds made their exit in a vintage white Cadillac flanked by sparklers.
Rena Haley and Joshua Jackson got engaged in July 2022 after three and a half years of dating. Likewise, Nikki tweeted with the hashtag ClemsonLove after Rena said yes to Joshua.
Rena Haley's husband, Jackson, is a math teacher and high school football coach who played on Clemson's college football team. Both Rena and Joshua stood with Nikki Haley when she announced her candidacy for president in February, along with Haley's husband and son.
2. Supporting Mother's Presidential Candidacy
Since Nikki Haley announced her candidacy for the 2024 U.S. Presidential election, her children have been actively supporting their mom's hectic campaigns. They are seen standing beside Haley on numerous occasions.
Nikki Haley is one of the candidates in the Republican primaries alongside Donald Trump, Vivek Ramaswamy, Mike Pence, etc. There are three Democratic candidates this year, including Joe Biden, Robert F. Kennedy Jr. and Marianne Williamson.
1. Know about Rena Haley's Father
Nikki Haley's husband, Michael Haley, is a commissioned officer in the South Carolina Army National Guard. The father of two kids, Michael was the first person to serve as the first gentleman of South Carolina from 2011 to 2017 as the husband of a former South Carolina governor.
Rena Haley's father served as a captain in the South Carolina Army National Guard after being deployed on a yearlong tour of duty in Afghanistan in January 2012. Michael and Nikki Haley married in 1996 in two ceremonies, a Sikh ceremony and a ceremony at St. Andrew's church in Hilton Head.
As per reports, Michael will soon begin a yearlong deployment in Africa with the South Carolina Army National Guard. Therefore, minus Michael, Nikki Haley daughter Rena Haley and son Nalin will be throughout their mother's 2024 presidential campaign.
References
Did you notice an error ?
Please help us make corrections by submitting a suggestion. Your help is greatly appreciated!