Politicians
Gabrielle Giffords Biography: An Inspiring Story of A Retired Politician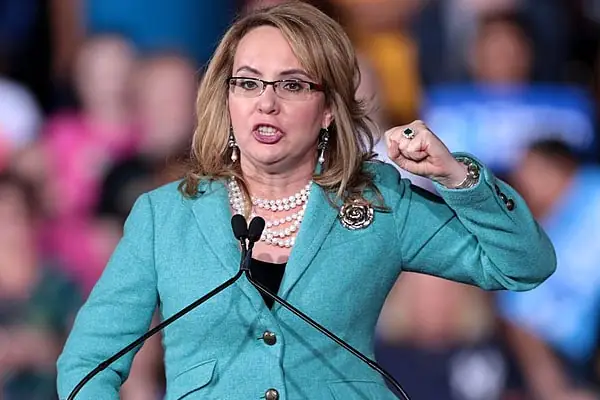 Gabrielle Giffords biography. Image Credit: Wikimedia Commons.
Full Name

Gabrielle Dee Giffords

Age

53 yrs

Birth Date

June 8, 1970

Country

America

Relationship Status

Married

Spouse

Mark Kelly

Nationality

American

Ethnicity

White

Profession

Politician

Awards and honors

Presidential Medal of Freedom

Education

Scripps College (BA); Cornell University (MRP)

Net Worth

$20 Million

Height

5 feet 8 inches
Gabrielle "Gabby" Giffords is a retired American politician, member of the Democratic Party, and an inspiring figure in contemporary history. Despite a traumatic event that almost took her life, she has become a resilient icon of perseverance and hope.
The following article will describe Gifford's personal background, political career, assassination attempt, and subsequent activism. Gabrielle Giffords biography dives into the life and career of the remarkable retired female politician, whose journey exemplifies resilience, determination, and a steadfast commitment to public service.
From her early beginnings to the pinnacle of her political career, this biography explores the triumphs, challenges, and lasting impact of a woman who dedicated her life to making a difference in the political landscape.
Early Life and Education
Gabrielle Dee Giffords was born on 8 June 1970 in Tucson, Arizona, to parents Gloria Kay Fraser and Spencer J. Giffords. She attended Tucson's University High School before pursuing a Bachelor of Arts degree in Sociology and Latin American history from Scripps College in Claremont, California. Later, she received her Master's degree in Regional Planning from Cornell University.
Before joining politics, Giffords gained professional experience in the field of regional economic development while working as an associate at Price Waterhouse, located in New York City. In 1996, she assumed leadership roles as president and CEO of El Campo Tire Warehouses, a reputable local chain of automotive service centers that was originally established by her grandfather, Akiba Hornstein.
Subsequently, the business was purchased by Goodyear Tire in 2000. During this period, Giffords acknowledged the challenges posed to small businesses when they are pitted against larger national corporations. At the age of 30, Gabrielle was inspired to dive into politics by becoming involved with various organizations and serving on numerous boards dedicated to community development.
A Look Into Her Political Career
Giffords embarked on her political journey as a member of the Arizona House of Representatives from 2001 to 2003 and subsequently served in the Arizona State Senate from 2003 to 2005. Throughout this period, she earned admiration for her pragmatic approach to tackling public policy challenges and displayed an unwavering dedication to fostering bipartisan cooperation.
In pursuit of greater impact, Giffords ventured into national politics in 2006 by successfully running for and securing a seat in the United States House of Representatives representing Arizona's 8th congressional district. Her constituents showed their unwavering support by re-electing her twice more in both the years 2008 and then again in 2010.
During Giffords' tenure in Congress chambers, she championed various significant issues, including exploring alternative energy prospects, fortifying border security measures, advocating for healthcare reform initiatives, securing funding for scientific research endeavors, and prioritizing the overall welfare of military veterans. Service was not merely confined to one aspect but covered multiple areas that significantly impacted citizens' lives at large.
ALSO READ: Al Franken Biography: Get To Know The Satirical Senator
Assassination Attempt And Survived Miraculously
On January 8, 2011, a gunman, later identified as Jared Lee Loughner, opened fire at Giffords' "Congress on Your Corner" event near Tucson. Tragically, six people were killed in the attack, and 13 others, including Giffords, were injured.
Giffords was shot in the head at near point-blank range but miraculously survived the attack. Giffords was critically injured but miraculously survived. She was placed in an induced coma to protect her brain from further swelling and underwent multiple surgeries before being transferred to a rehabilitation facility in Houston, Texas.
After being wounded, Congresswoman Gabrielle Giffords received immediate first-aid assistance from her intern, Daniel Hernández Jr., who is credited with saving her life. She was promptly transported to the University Medical Center of Tucson in critical condition, although she remained conscious and responsive at that time.
Similarly, you might want to know about Nikki Haley's son, Nalin Haley.
Insights On Her Recovery and Life After Politics
Giffords suffered a severe injury that led medical professionals to anticipate lasting disabilities. However, she defied expectations and achieved an extraordinary recovery through rigorous therapy programs.
In May 2011, Giffords made the journey to Cape Canaveral in order to spectate her husband's command of the final flight of Space Shuttle Endeavour, marking a significant milestone in her rehabilitation process.
Later that same year, Gabrielle displayed immense determination by returning to the House of Representatives chamber and casting her vote in favor of raising the debt ceiling.
In January 2012, Gabrielle Giffords announced her resignation from Congress as part of her commitment to prioritizing personal healing and advancing advocacy efforts.
Dedicated to making positive change on issues surrounding firearms ownership and reducing gun violence within America's borders, the congresswoman became one of the co-founders behind " super PAC Americans for Responsible Solutions," an organization with aims aligned with fostering responsible gun usage while curbing instances of firearm-related harm throughout the country.
In recognition of her contributions, Giffords was presented with the distinguished Presidential Medal of Freedom at the White House on July 7, 2022. Additionally, she had the honor of serving as Grand Marshal for the esteemed Rose Parade in 2023 and oversaw both its procession and the accompanying Rose Bowl game.
Naming Honors
On February 10, 2012, the Secretary of the Navy, Ray Mabus, made an announcement regarding the naming of the U.S. Navy littoral combat ship as USS Gabrielle Giffords.
Despite still recovering from injuries sustained in a tragic assassination attempt in 2011, Giffords actively participated in the ship's keel-laying ceremony by inscribing her initials onto a plate that was then incorporated into the vessel.
The christening of USS Gabrielle Giffords took place at the Austal USA shipyard located in Mobile, Alabama, on June 13, 2015. The event brought together notable figures such as Second Lady of United States Jill Biden, who acted as the sponsor for this esteemed naval endeavor.
Finally commissioned on June 12, 2017, at Port of Galveston in Texas, this remarkable vessel officially joined the fleet.
Personal Life and Net Worth
Giffords entered into matrimony with Mark Kelly, a distinguished U.S. Navy captain and NASA astronaut, in the year 2007. Notably, Kelly executed the role of pilot for the STS-108 and STS-121 missions on board the Space Shuttle.
Furthermore, Gabrielle Giffords' husband ascended to prominence as commander for both STS-124 and STS-134 ventures before assuming office as a U.S. Senator representing Arizona in 2020.
While Gabrielle and Mark do not have children together, Mark has two daughters from his previous marriage named Claudia Kelly and Claire Kelly.
Now, let's talk about Gabby Giffords' net worth. Based on financial disclosures from 2011 and 2019, it can be seen that Gabby Giffords and Mark experienced a substantial increase in their net worth.
Previously valued at $2 million, their combined wealth now ranges at $20 million. This significant growth can be attributed to Mark's success as a sought-after public speaker, commanding high fees for his engagements.
Additionally, the couple has generated income through book deals, business consulting, and corporate board positions. From January 2019 onwards, Mark has earned up to $8 million from various professional pursuits while accumulating $1.9 million specifically from delivering paid speeches since January 2018.
Gabrielle Giffords biography serves as a powerful reminder of the importance of perseverance and determination. Her commitment to public service, even in the face of personal tragedy, is truly inspiring. Despite the challenges she has faced, Giffords has remained devoted to making a difference in the lives of others.
In conclusion, Gabrielle Giffords is an inspiring figure who has left a lasting impact on the world of politics and advocacy. Her story is one of resilience, courage, and unwavering commitment to making positive change.
FAQs
Q: Who is Gabrielle Giffords related to?
A: Through her father, Giffords is a second cousin of director Jake Paltrow and actress Gwyneth Paltrow.
Q: What religion does Gabrielle follow?
A: Since 2001, Gabrielle has been actively practicing the Jewish faith and is a member of Congregation Chaverim. This particular congregation follows Reform Judaism and is located in Tucson.
Q: What happened to Jared Lee Loughner after he shot Gabrielle Giffords?
A: Jared Lee Loughner was apprehended by bystanders and taken into police custody. To avoid capital punishment, Loughner entered into a plea bargain where he pleaded guilty to 19 out of over 50 federal criminal charges.
Q: What books has she written?
A: Giffords has written 6 books: Gabby: A Story of Courage and Hope, Gabby's Shit List: Personalized Name Journal and Funny Writing Notebook for Women, I'm Gabby Doing Gabby Things: Personalized Name Journal Writing Notebook for Girls and Women, Enough: Our Fight to Keep America Safe from Gun Violence, Gabby: Personalized Name Journal Writing Notebook for Girls and Women, and Gabby: Personalized Name Journal Unicorn Farting Rainbow Writing Notebook for Girls and Women.
Did you notice an error ?
Please help us make corrections by submitting a suggestion. Your help is greatly appreciated!