Top Lists
5 Unknown Facts About Spanish Supermodel Esther Canadas : Who is She Dating Now?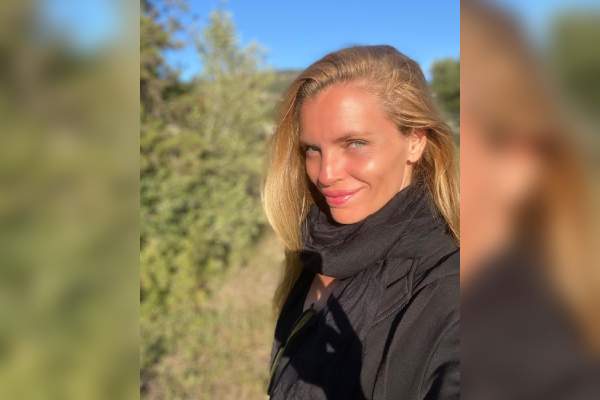 Supermodel Esther Canadas. Image Source: Instagram.
Esther Canadas is widely known in the fashion industry and has achieved great success as a model for more than twenty years. She has collaborated with renowned names in the fashion world, further solidifying her reputation.
Although she enjoys considerable fame, there are still lesser-known details about supermodel Esther Canadas that may surprise many individuals.
This article will delve deeper into various aspects of Esther Canadas' life, including her upbringing, professional journey, and personal relationships.
5. Modelling Was Never Esther's Goal
Esther Canadas was born in Albacete, Spain, on March 1, 1977. Her introduction to the modeling world occurred when she was just 14 years old. Esther revealed that she never wanted to be a model as a child and instead preferred to be a private detective, but her mom convinced her otherwise.
Upon turning 18 and embarking on a new chapter in New York City, Esther's journey in the modeling industry bloomed with extraordinary growth. She found herself embraced by the warm embrace of recognition and esteem from fashion enthusiasts around the globe.
The runway became her playground, where she formed delightful connections with renowned icons like Chanel, Versace, and Valentino; they welcomed her with open arms and praised her innate charm that shone through every step.
View this post on Instagram
In addition to her successful appearances on the runway, Esther Canadas has also been featured in various fashion campaigns and graced numerous magazine covers. She has collaborated with esteemed photographers, including Steven Meisel, Richard Avedon, and Peter Lindbergh.
The Spanish model Esther Canadas' exceptional beauty and distinctive characteristics have established her as a beloved figure among fashion designers and photographers.
4. The Model Has Worked With Victoria's Secret 
Esther Canadas is a rare Spanish model who had the opportunity to collaborate with Victoria's Secret. She graced the renowned fashion show hosted by the brand in 1997, solidifying her position as a revered figure in the modeling industry.
The exposure she received from participating in these shows boosted her visibility within the United States and opened doors for additional lucrative modeling opportunities to come her way.
esther cañadas for yves saint laurent ss99 pic.twitter.com/Vp7uN4daEh

— maría (@MOSSYVIBES) June 3, 2022
Through it all, from humble beginnings rooted in family support to unforgettable experiences among elite fashion circles, Esther kept true to herself: maintaining a lightheartedness that mirrored friendly conversations between cherished friends at each milestone along this incredible journey.
3. Esther Was Taken To Court By Her Ex-fiancé
Apart from her very successful career, the Spanish model was also involved in some scandals.
Hotel magnate Vikram Chatwal took legal action against Spanish model Esther Cañadas after she refused to return the $300,000 (£182,000) engagement ring he had given her.
The wealthy hotelier filed a lawsuit at the Manhattan Supreme Court in an attempt to retrieve the eight-carat emerald and diamond ring that symbolized their commitment.
The court documents stated that Vikram Chatwal, the plaintiff, thought his fantasies came true when Esther Cañadas accepted his marriage proposal. However, his dreams became a nightmare when she left the United States with the engagement ring as a token of their former romance.
The reason for the split was not revealed to the public.
ALSO READ: 6 Intriguing Facts About Natalie Dormer's Net Worth
2. The Stunning Beauty Has Been Married Two Times
Esther has been married twice and subsequently separated from both of her spouses.
The actress Esther Cañadas encountered her first husband, model Mark Vanderloo while working on a DKNY photo shoot in 1997. They got married in 1999 but divorced the following year.
Mark Vanderloo is a renowned Dutch model and actor who gained recognition for his collaborations with Hugo Boss as a model. As an actor, he became the iconic face of Commander Shepard in the trilogy Mass Effect.
In the 90s and early 2000s, Vanderloo achieved great international success, earning him supermodel status.
Later, she tied the knot with MotoGP rider Sete Gibernau, but their relationship only lasted a short while.
Esther Canadas' second husband, Manuel "Sete" Gibernau Bultó, is a Spanish former professional road racer known for participating in Grand Prix motorcycle races where he secured victory nine times across various categories, including MotoGP/500cc races.
Additionally, Gibernau enjoyed substantial triumph as runner-up overall during two consecutive years – first in 2003, followed by an achievement again in 2004.
1. Supermodel Esther Canadas is a Proud Single Mother
Esther is a loving and friendly mother to two beautiful daughters. Her first daughter, Maxine Cañadas, was adopted when Sete and Esther were together.
The baby girl became an essential part of their warm and welcoming family. After the divorce, Maxine was left in the custody of Esther.
The arrival of her second daughter, Galia Santina, brought even more joy to her life in December 2014.
Despite the mystery surrounding Galia's biological father, the supermodel Esther Canadas remains open-hearted and has chosen not to reveal his name.
Let's hope more details regarding the father will come to light in the coming days.
References
IMDb. (n.d.-b). Esther Cañadas. IMDb.
Ruetir. (2023). Esther Cañadas reveals how her first casting was: "I never wanted to be a model" Ruetir.
Top model Esther Canadas sued over $300,000 engagement ring – Telegraph. (n.d.).
AskMen.com – Esther Canadas pics. (n.d.).
Milligan, L. (2014, March 24). Esther Canadas In Court – Vikram Chatwal Sues Model Over Engagement Ring | British Vogue. British Vogue. 
Did you notice an error ?
Please help us make corrections by submitting a suggestion. Your help is greatly appreciated!