Net Worth
What is John Tolkin Salary Per Week? How Rich is The RBNY Defender?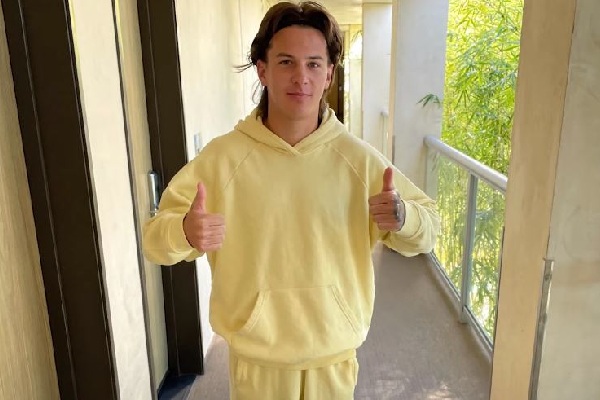 John Tolkin salary. Image Credit: Social Media.
In Major League Soccer (MLS), John Tolkin is widely considered one of the best left-backs. He is one of those few players whose skills are excellent at playing both defense and offense. From an amateur soccer player to appearing alongside his idol, Lionel Messi, Tolkin has come a long way.
No doubt the young left-back player is talented, but today, we will know the reality of John Tolkin salary and his net worth. Also, his longtime association with the New York Red Bulls has made him a fan favorite. Meanwhile, John has played crucial roles in leading his team to win several tournaments.
Dream, Denial, and Destiny: John Tolkin's Early Years
Born on July 31, 2002, John Michael "JMi" Tolkin grew up in Chatham, New Jersey, United States. Since his childhood, Tolkin wanted to become a basketball player. However, he also had a soft corner for soccer.
During his school, John revealed his dream was to play basketball, own a bakery, and be a soccer player. Luckily, the third option proved beneficial for Tolkin's career.
Growing up, Tolkin was torn between choosing basketball or soccer for his professional career. But it was his destiny to become a star soccer player.
John was born to parents Chris Tolkin and Sara Tolkin, who have always been supporting their son's dream. When he was 14, John was approached by NY Red Bulls Academy to go play for them. Initially, he denied the offer, but his father's advice came in handy.
Before joining the Red Bulls academy in 2015, Tolkin was a standout athlete at Ironbound Soccer Club in New Jersey.
From RBNY Academy to MLS: Contracts and Fame
The RBNY signed the New Jersey native and Academy product defender to an MLS Homegrown contract on January 12, 2020. As per reports, John Tolkin's salary (base) was $63,547, with a guaranteed amount of $68,547.
At 17, John was regarded as a top young talent in the NY Red Bulls academy and the U.S. Youth National Team pool. After joining the academy group in 2015, Tolkin made 79 appearances during the regular games and recorded 15 goals. Likewise, he also participated in the Under-17 U.S Men's Youth National squad eight times.
Tolkin made his Major League Soccer (MLS) debut on May 8, 2021, appearing as a substitute against Toronto FC. Three months later, he scored his first professional goal against Columbus Crew on August 18, 2021. In 2021, John received a base salary of $85,444 and a guaranteed salary of $90,444.
| | | |
| --- | --- | --- |
| Year | Base Salary | Guaranteed Salary |
| 2020 | $63,547 | $68,547 |
| 2021 | $85,444 | $90,444 |
| 2022 | $100,000 | $105,000 |
Table Source: Spotrac
At such a young age, John Tolkin has a solid passing range, smart defense, and intelligent reading of the game. With each championship, Tolkin continued to improve and take the right steps in his career. Also, he was one of the players who led his club to the 2022 U.S. Open Cup's round of 16. In 2022, Tolkin's base salary was $100,000, with an additional $5,000 guaranteed.
Tolkin's International Debut and the 2023 MLS Cup Playoffs
On January 18, 2023, the U.S. squad's interim coach, Anthony Hudson, announced the team members for the friendly match against Serbia and Colombia as part of the team's annual January camp. John Tolkin was among the 13 players who earned their first international caps. Unfortunately, the United States Men's National Team (USMNT) did not secure a victory in the matches against Serbia and Colombia.
During the game against Charlotte FC on October 25, 2023, Tolkin scored an amazing free kick after Elias Manoel opened the score in the 10th minute. The team advanced with a 5-2 score to the first round of the 2023 MLS Cup Playoffs. Manoel completed a hat-trick, while John and Tom Barlow contributed one goal each.
ALSO READ: Jordan Nobbs Biography: A Soccer Prodigy's Journey To The World Cup 2023
Reality Behind MLS Players' Earnings
As per reports, the average salary for MLS players ranges somewhere between $512,287-$530,262. Now, talking about the highest-paying club in MLS, Toronto FC has the highest salary spend, with a total guaranteed compensation of $25,741,930.
As per data, the New York Red Bulls paid $11,708,027 in guaranteed salaries. Meanwhile, CF Montreal is the lowest-paying club, with $10,511,926 in compensation. If looking at the RYNB senior roster's earnings, Dante Vanzeir took home a guaranteed salary of $1,459,767. While Lewis Morgan is the second-highest-earning player with a guaranteed salary of $1,375,000.
What is John Tolkin Salary? Revealing his Net Worth
In late 2022, Tolkin's contract was extended until 2027 with an optional additional year up to 2078. Hence, John Tolkin earnings are estimated at $700,000, reports suggest. In 2022, he was also named New York Red Bulls' Defender of the Year and was voted #6 for MLS' 22 Under 22, presented by BODYARMOR.
| | | |
| --- | --- | --- |
| Year | Weekly Salary | Yearly Salary |
| 2023 | $7,692 | $400,000 |
| 2024 | $7,692 | $400,000 |
| 2025 | $7,692 | $400,000 |
| 2026 | $7,692 | $400,000 |
| 2027 | $7,692 | $400,000 |
| 2023-2027 (Total earnings) | $38,460 | $2 million |
Table Source: Spotrac
From 2023 until 2027, John Tolkin, who signed a contract worth $2 million, will earn a weekly salary of $7,692 and an annual salary of $400,000. Therefore, it is safe to say that Tolkin's wealth will increase more in the near future.
For the 2023 senior roster, John Tolkin received a $400,000 base salary with a guaranteed amount of $435,500.
FAQs
Q: What is John Tolkin salary?
A: John Tolkin's weekly wage is $7,692.
Q: Who are John Tolkin's Parents?
A: John Tolkin's parents are Chris Tolkin and Sara Tolkin.
Q: What is John Tolkin height?
A: John Tolkin's height is 5 feet 7 inches.
Q: Why is John Tolkin called JMi?
A: John JMi Tolkin got his nickname JMi from his uncle when he was young. Since then, John's teammates and family have called him JMi.
Q: Why is John Tolkin number 47?
A: John Tolkin wears a 47-number jersey on the NY Red Bulls. He got stuck with 47 since the first game, and he doesn't plan on changing it.
Did you notice an error ?
Please help us make corrections by submitting a suggestion. Your help is greatly appreciated!