Net Worth
How Does Ellie Roebuck Salary Compares To That of Mary Earps Salary?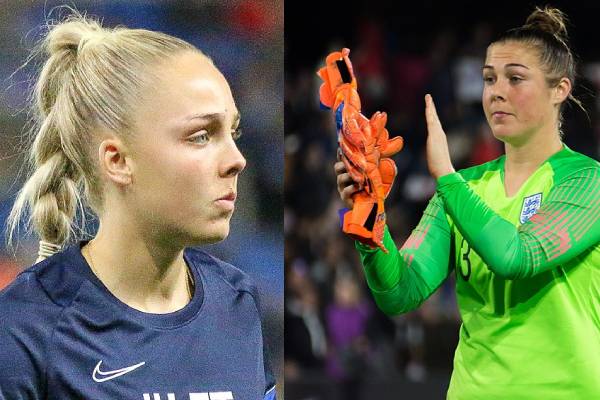 Ellie Roebuck Salary. Image Credit: James Boyes and EL Loko.
Over the years, women's football has grown exponentially in terms of popularity and overall earnings. Ellie Roebuck and Mary Earps are the rising stars of women's soccer today.
Both goalkeepers represent the England National Team and play in the Women's Super League. While Ellie is a member of Manchester City, Mary, on the other hand, plays for Manchester United. Both players were part of the England team that won the runner-up position in the 2023 FIFA World Cup.
In this article, we are going to compare Ellie Roebuck salary to that of Mary Earps and find out the differences in their earnings as English football players. Therefore, stay with us until the end to find out the exact figures of these amazing athletes' income. First, let's get to know them a little.
A Brief Overview of the Women Soccer Stars
Ellie was born on 23 September 1999 in Sheffield, England, and grew up supporting her home team, Sheffield United. She completed a sports qualification from Connell Sixth Form College.
At the age of 15, Roebuck began her career at Sheffield United's Center of Excellence before moving on to Manchester City. She had played for Sheffield's Beighton Magpies in youth football.
Similarly, Mary was born Mary Alexandra Earps on 7 March 1993 in Nottingham, England, and began her football journey at the West Bridgford Colts at the age of ten.
Earps attended Loughborough University between 2012 and 2016 and graduated with a degree in Business Studies and Information Management.
Ellie Roebuck Salary Compared to That of Mary Earps
Even though the salaries between men's football and women's football have a huge gap, the popularity of the sport is equal at both ends. Still, women soccer players earn a significant amount of money, and the pay scale has also increased immensely in the past few years.
Ellie Roebuck and Mary Earps are the future of the England National Football team. They have contributed highly to the national team and the domestic clubs they were part of. So, how much do they earn? Let's find out.
Ellie is a goalkeeper for the Women's Super League team Manchester City. According to various sources, the average salary of Manchester City women players is estimated to be around $90,000 annually. Even though Ellie Roebuck salary is not disclosed, her earnings must revolve around $90,000 yearly.
Further, the Manchester City goalkeeper signed a three-year contract extension with City. Thus, it is possible that her pay scale might have increased some more after the extension.
By contrast, the Manchester United star Mary Earps' salary is around $300,000 per year, which is nearly triple what Ellie might receive from Manchester City. Still, Mary is a senior player and served as the National team's vice-captain in the 2023 World Cup. So, she is entitled to thousands of dollars in salary.
ALSO READ: A Look Into Dominik Koepfer Career Earnings: How Wealthy is He?
Role of Brand Endorsements – Enhancing the Income
Brand endorsements play a crucial role in any sportsperson's income. Salaries and tournament wins tuck a decent amount of money into the player's bank account. However, lucrative brand deals have the power to enhance income to a significant height.
View this post on Instagram
Ellie is the recipient of multiple sponsorships, starting with the footwear giant Puma. She promotes the brand on her Instagram handle and can be seen wearing its apparel while playing matches.
Similarly, Roebuck is also promoted by a football agency called REPT Sports. These deals must come with a decent amount of money, which gathers some extra income outside Ellie Roebuck salary from football.
On the other hand, Mary receives sponsorship from Adidas and also owns her own clothing business called MAE27. Therefore, her income is also increasing significantly outside the football ground.
Similarly, you might be interested in actress Jaclyn Matfus' Husband.
Explore Ellie Roebuck's Net Worth – How Rich Is She?
English football player Ellie Roebuck's exact wealth is still to be determined. Even though she is a star player for England and Manchester City, her bank balance is still behind the curtains. The same is true for her fellow goalkeeper as well.
However, Ellie must have accumulated a decent amount as she was the runner-up in the 2023 FIFA World Cup, won a bronze medal in the 2018 U20 World Cup, and represented the Great Britain team in the 2020 Olympics. Her achievements far exceed her young age, and she still has a long way to go in her career.
Therefore, we wish that Ellie Roebuck salary and net worth reach greater heights in the future and that she gets to call herself a World Champion in the upcoming World Cup. She is a great player and has a bright future ahead of her.
FAQs
Q: What is Ellie Roebuck's nationality?
A: Ellie Roebuck's nationality is English.
Q: How tall is Ellie Roebuck?
A: Ellie Roebuck is 5 feet 8 inches tall.
Q: What is Ellie Roebuck's salary?
A: Ellie Roebuck's exact salary is undisclosed; however, she must be earning around $90,000 yearly as a Manchester City goalkeeper.
Q: When was Ellie Roebuck born?
A: Ellie was born on 23 September 1999.
Q: Is Ellie Roebuck married?
A: No, Ellie Roebuck is not married.
Q: What is Ellie Roebuck's jersey number?
A: Ellie Roebuck's jersey number is 1.
Q: Is Ellie Roebuck injured?
A: In January 2023, Roebuck sustained a knee injury that kept her out of action for several months, but she returned in April.
Did you notice an error ?
Please help us make corrections by submitting a suggestion. Your help is greatly appreciated!