Net Worth
Take A Look Into Kristie Mewis Net Worth: One of The Richest Soccer Player?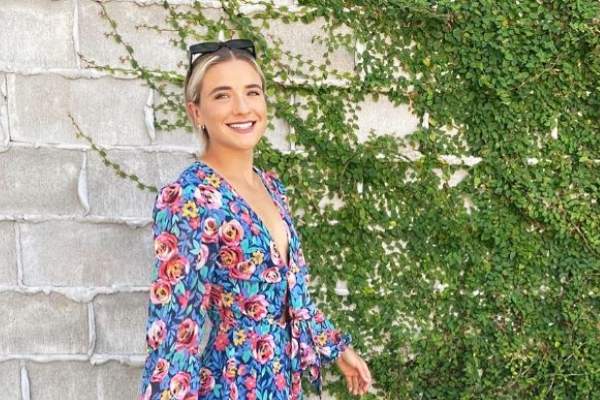 Kristie Mewis Net Worth. Image Source: Instagram
Kristie Mewis is one of the most cherished soccer players who plays as a midfielder for Gotham FC of the National Women's Soccer League (NWSL) and for the U.S. national team. Today this article aims to explore Kristie Mewis net worth and the factors contributing to her riches.
The 2008 Bronze Ball winner and the Hermann Trophy nominee, Mewis must have accumulated a desirable fortune from her professional soccer career.
One of the hottest prospects in women's soccer, Mewis has carried and nurtured her raw talent throughout her career. To learn more about Kristie Mewis' personal life and professional achievements, we suggest you read the article till the end.
Born and Grew Up In A Sports Loving Family
Kristen Anne Mewis was born on February 25, 1991, in Weymouth, Massachusetts, United States.
Her parents, Robert Mewis and Melissa Mewis, both played soccer in their youth.
Kristie grew up with her younger sister, Sam Mewis (b: October 9, 1992).
Both sisters attended the Whitman-Hanson Regional High School and played on the soccer team.
Kristie and Sam made history as the first sisters to represent the U.S in the 2008 World Cup as they played on the U-17 team. Krisite was named the 2008 U.S. Soccer Young Female Athlete of the Year.
Kristie Mewis Soccer Career: Boston College, USWNT and NWSL
At the 2008 FIFA U-17 Women's World Cup in New Zealand, Kristie received the Bronze ball as the tournament third best player. Kristie finished her Hanson career with 74 goals and was named NSCAA All-American three times. Since her school years, Mewis has been a standout player, earning numerous accolades and recognition for her performances on the field.
Mewis played for the Boston College Eagles women's soccer team from 2009 to 2012. In the first season, Kristie was named to the ALL-ACC freshman team. The next year, she became a member of the gold medal under-20 women's national team. Additionally, Kristie bagged ACC Player of the Week and College Soccer 360 Team of the Week honors. Moreover, Kristie was a Hermann Trophy semi-finalist, and further, she was named New England Soccer News Player of the Year.
In her senior year, Kristie became Boston College's senior female scholar-athlete. She finished the season with a career-high of 16 goals and ended her Boston career with 39 goals. Further, Mewis was the second player to register a goal in five straight games. Kristie began her professional career in 2013 after signing with the Australian team Canberra United FC. Likewise, she received her first senior national team call-up earning her inaugural cap with the USWNT. In 2014, she was traded to the Boston Breakers, played for a year at FC Bayern Munich, and was traded to the Washington Spirit.
After winning the 2020 NWSL challenge cup, Kristie earned a spot on the U.S women's national team in the 2020 Olympic roster.
ALSO READ: Top 5 Interesting facts about Ali Krieger and Ashlyn Harris
Who is Kristie Mewis Dating? Debunking Her Sexuality Rumors
The Gotham FC midfielder Kristie Mewis's partner is none other than Sam Kerr, an Australian forward who is the captain of Australia women's national team (the Matildas). The lesbian couple is considered one of the star power couples in today's women's sports.
Kristie and Sam started during the COVID-19 pandemic, but they did not go public with their relationship until they made headlines at the Tokyo Olympics in August 2021. They first captured the world's attention when the USWNT defeated Australia. After the match, Mewis lovingly consoled Kerr keeping her head lightly on Kerr's shoulders. After a few days, the couple made their relationship public, sharing a picture on Instagram.
As per the couple, they got to know each other well during Covid-19 when they were both playing in the NWSL. Kristie and Sam developed a connection after spending two weeks together due to quarantine restrictions. The couple's relationship blossomed quickly as they both had overcome heartbreak in the past. Kerr previously dated Seattle star Nikki Stanton, while Mewis dated Houston dash teammate Rachel Daly.
Since Sam Kerr's partner, Kristie made their relationship public, the same-sex couple regularly posts pictures of their public display of affection. Recently when Kerr's team won against Denmark in the 2023 World Cup, Mewis was standing on the sidelines embracing her lover's happiness. It is a challenge for the couple to maintain their long-distance relationship, but they try to make it work out through regular communication. Once in a while, they spend quality time together on Facetime or have dinner together.
Kristie Mewis Net Worth: Huge Pay Gap Among Females and Their Male Counterparts?
In 2021, Gotham FC acquired Mewis from San Diego in exchange for $200,000 in allocation money. The exact information regarding Kristie Mewis net worth is not available as her contract with Gotham is under review. Besides the club's allocation of paychecks, endorsement deals, and yearly salaries, partnerships with renowned brands contribute to Kristie Mewis's wealth.
Meanwhile, Kristie Mewis's partner, Sam Kerr, is one of the highest-earning female soccer players, with an annual salary of over $500,000 and an estimated net worth of $3 million. On the other hand, Mewis earns a lucrative income from her partnership and product promotions with brands, including Truly Drinks, SixStarpro Nutrition, Secret Deodorant, etc.
As a player in the U.S. national women's soccer league, Kristie Mewis's earnings are significantly higher than players in lower-level leagues. The average salary for a female soccer player varies widely depending on the player's experience, skill level, and team. Some of the highest-paid female soccer players in the world are Megan Rapinoe, Alexia Putellas, and Alex Morgan, whose annual earnings range between $500,000-$900,000.
Talking about the significant pay gap between male and female sportspersons, the figures are a huge difference. While top players like Cristiano Ronaldo, Kylian Mbappe, and Lionel Messi are the title owner of the World's richest soccer players.
Recently for the 2023 Women's World Cup hosted by Australia and New Zealand, the prize money jumped from $30 million to $110 million. However, the increment is still far from the $440 million cashed out in the 2022 World Cup in Qatar. Believe it or not, a clear significant barrier exists between the wealth-creation potential of female athletes and their male counterparts.
Throughout the 2012-2022 season, Kristie has scored a total of 39 goals in a total of 183 appearances. She has played in the national women's soccer league and is considered one of the best midfielders of modern times.
Debut at the 2023 World Cup
In June 2023, Kristie was named to the U.S national team to compete in the 2023 World Cup, and all eyes were on her. This was Kristie's debut at the most high-profile tournament. However, the USWNT lost the game against Sweden in the round of 16 on penalties 5-4 in August. With this loss, Krisite's dream of winning the World Cup 2023 has been sidelined. Meanwhile, her sister, Sam, also missed the opportunity to play in the 2023 World Cup due to her right leg injury.
Despite being eliminated, Kristie showed up in support of her partner, Sam Kerr, and Australia. For the information, this is Kerr's fifth World Cup appearance. On August 7, 2023, Sam Kerr's team Matildas (Australia's women's national team), marked their 2-0 victory against Denmark and went into the World Cup quarterfinals at Stadium Australia in Sydney.
In conclusion, Kristie Mewis is known for her leadership on and off the field. She has faced and overcome a few obstacles due to injuries in the past but is currently experiencing a comeback, which the grand challenge of the next attempts will undoubtedly fuel. Additionally, Mewis is a role model and an inspiration for young girls and women who aspire to play professional soccer.
References
Did you notice an error ?
Please help us make corrections by submitting a suggestion. Your help is greatly appreciated!