Sports
Sam Mewis Biography: Journey To Becoming A Pro Soccer Player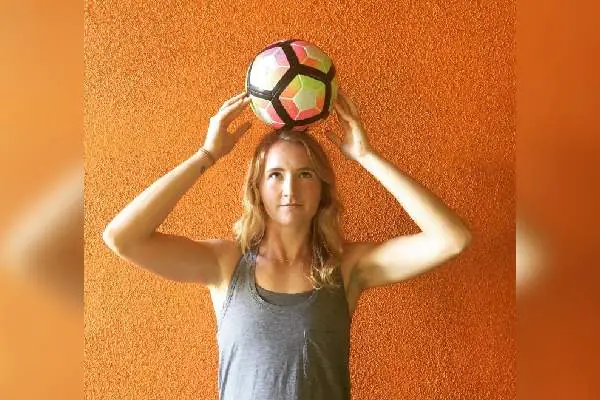 Sam Mewis Biography. Image Source: Instagram
Full Name

Samantha June Mewis

Age

31 yrs

Birth Date

October 9, 1992

Country

America

Relationship Status

Married

Spouse

Pat Johnson

Nationality

American

Ethnicity

White

Profession

Soccer Player

Awards and honors

2015 Honda Award, 2020 U.S. Soccer Female Player of the Year

Education

English, University of California, Los Angeles

Height

6 feet
Few names shine brightly as Sam Mewis in the realm of women's soccer. The National Women's Soccer League player is well-known for her remarkable pitch skills. Similarly, Sam, as a midfielder, is frequently recognized for her ability to combine force and grace.
Throughout her career, Mewis has been able to mark her status as a force to reckon with. From playing soccer as a kid to representing her nation at the World Cup, Mewis has come a long journey. She is now widely recognized as one of the world's top two-way midfielders.
Sam's stature, impeccable passing range skills, and dedication to her craft make her a dominant force. The following piece of commentary on Sam Mewis biography will dive deep right into her personal background and professional achievements.
Born into A Sports Loving Family
Born Samantha June Mewis on October 9, 1992, in Massachusettes, U.S., she is the youngest daughter of Robert Mewis and Melissa Mewis. Both of her parents were soccer players in their youth who nurtured a passion for sports in their children. As a result, Sam grew up with her older sister, Kristie Mewis, playing soccer and practicing for hours in their home backyard.
Both Sam and Kristie attended Whitman-Hanson Regional High School and played soccer for numerous youth teams. They were members of the 2008 Under-17 U.S. World Cup team that won the silver medal in New Zealand. They made history as the first pair of sisters to represent the U.S at a Women's World Cup event. Further, Kristie was named the U.S. Soccer Young Female Athlete of the Year.
During her high school career, Sam earned Parade All-American honors twice, in addition to receiving a few prestigious accolades. Here, let's take a look:
| | |
| --- | --- |
| Year | Honors |
| 2009 | Gatorade Massachusetts Girls Soccer Player of the Year |
| 2010 | U.S. Soccer Coaches' National Player of the Year |
| 2011 | ESPN RISE All-American |
Table Source: ESPN
Mewis was named to Gatorade Massachusetts twice in 2011 as well. In addition, she was considered the no.1 recruit in the class of 2011, having been previously named the NSCAA Player of the year in 2010. Meanwhile, her sister Kristie was also a 2008 NSCAA Youth Player of the Year, along with receiving numerous honors.
Together, the sisters have shared many events in their soccer careers since they entered a game together for the U.S. Women's National Team (USWNT). They scored all four goals for the 2021 US Women's National soccer team on January 19, 2021.
Both Sam and Kristie admit that their family was and is key to becoming the players they are today. The sisters credit their parents' commitment as the sole reason for their success.
ALSO READ: 5 Surprising Facts About Rose Lavelle
Professional Career: UCLA, USNWT, and NWSL
Sam attended the University of California, Los Angeles (UCLA) and began playing women's soccer for the UCLA Bruins. As a midfielder, she was ranked second only to Sydney Leroux in scoring. In her second season in 2012, Sam helped lead the U.S to a gold medal at the FIFA U-20 World Championships.
In 2013, Sam helped UCLA to the NCAA Division I Championship. The same year she signed with Pali Blues and helped the team to win the national championship in July 2013. For her impressive stats in Bruins, Mewis was named the winner of the 2015 Honda Award for soccer by the Collegiate Women Sports Awards (CWSA).
Scoring a total of 31 goals, Sam Mewis ended her season with the Top 10 all-time rank at UCLA.
Further, Mewis made her USNWT debut in 2014 after being named to the senior national team on January 2014. After the 2015 FIFA Women's World Cup, she was invited back to the senior team, and in 2016, she was named as an alternate for the USNWT for the 2016 Summer Olympics. Previously in 2015, Mewis made her professional debut in the National Women's Soccer League (NWSL) with the Western New York Flash.
From 2017 until 2020, Mewis had a succesful season with North Carolina Courage (previously Western New York Flash). However, she missed the 2018 season as she was recovering from a knee injury. Nevertheless, Mewis's next season would be terrific.
Similarly, you might want to read about Ali Krieger And Ashlyn Harris' relationship timeline.
Injury And Winning the 2019 Women's World Cup
Mewis quickly solidified her reputation as one of the most promising soccer talents after seamlessly transitioning from college to a professional career. Her impressive performances soon became a staple of the league. With North Carolina Courage, Mewis had won two NWSL Championships, and she only appeared in 12 season games for the Courage in 2019.
Despite suffering a knee injury in a November 2017 game against Canada, Mewis returned to the field in June 2018 for the U.S. In May 2019, she was named to the final roster for the 2019 FIFA Women's World Cup. Mewis played in six out of seven matches scoring two goals.
The U.S won the 2019 World Cup with a victory 2-0 against the Netherlands. Following the victory, Mewis and her teammates were honored with a Ticker tape parade in New York City. Moreover, the city Mayor Bill de Blasio provided each player with a key to the city. Sam credited her parents for the player she has become today.
Mewes signed with Manchester City women's football club in August 2020, and in total, she scored 16 goals. For putting her excellent performances for the club and her country, Mewis was voted the 2020 U.S. Soccer Female Player of the Year award.
Standing at a towering height of 6 feet, Sam Mewis is the tallest field player in USWNT history. In fact, she even has a nickname, "The Tower of Power," which she likes to hear.
Who is Sam Mewis' Husband? Know Details About Her Wedding
The Kansas City midfielder Sam Mewis' husband is Pat Johnson, who is also her longtime boyfriend. The couple began dating in 2012 and have been together for over a decade.
Sam Mewis married her partner, Pat Johnston, on December 21, 2018, in Boston City Hall. They chose to go for a simple wedding without a cake and a venue or a wedding ceremony. Therefore, they opted for a Boston City Hall wedding witnessed by their parents. Meanwhile, their parents surprised them with an engraved wedding glass from the 80s and gifted them another set tool of glasses.
The detailed information about Sam Mewis' spouse is yet to be revealed. However, he often makes an appearance in Mewis' social media posts. Despite having a hectic schedule, the couple spends quality time together with their pet dog Finn, a Cavapoo breed. Meanwhile, the couple doesn't have any children.
So as you know, Sam is a supporter of LGBTQ rights. Her older sister Kristie's sexual orientation is lesbian. Further, she is in a relationship with Australian soccer player Samantha Kerr.
Sam Mewis Net Worth: Fights for Equal Pay in Sports
The Kansas City midfielder Sam Mewis' net worth is yet to be revealed. As of now, Samantha has been placed on the season-ending injured list; hence her contract status is under review. The primary source of Sam Mewis' earnings includes club paychecks, endorsement deals, and yearly salary. A few sponsorship deals with partners such as Volkswagen Atlas Cross Sports, Degree, and We Feast contribute to Sam Mewis's wealth.
In 2023, the financial services giant Visa announced its sponsorship of 33 women soccer players representing 27 countries, including Sam Mewis, Christine Sinclair, Debinha, etc. With this program, the athlete will able to use their philanthropic assistance, financial literacy tools, and mental health and wellness resources. At present, outside of club salary and earnings, sponsor support is all the more critical for female athletes in soccer and beyond.
In 2023, the salaries of the top female international players, including Samantha Kerr and Alex Morgan, were revealed to range between $450,000-$513,000, whereas their net worth ranges between $3 million-$4.5 million. The figures contrast with their male counterparts, where players like Kylian Mbappe's net worth is $180 million, and Lionel Messi's huge net worth is estimated at $660 million.
For the information, the prize money for the 2023 Women's World Cup hosted by Australia and New Zealand jumped from $30 million to $110 million. Nevertheless, the figure is still a far cry from the $440 million paid out in the 2022 men's tournament in Qatar. Despite the women's team reaching an agreement in May 2022 with the US Soccer Federation for equal pay, there exist significant barriers between the wealth-creation potential of female athletes and their male counterparts.
Missed the 2023 Women's World Cup
In 2018 Mewis missed the beginning season as she was recovering from a knee injury. Since then, she has been continuing to recover from her progressive injury to her right leg. In 2021, she underwent arthroscopic surgery and was expected to miss a couple of months. However, after nearly two years, one of the best midfielders still remains sidelined.
Mewis went through another surgery on the same leg in January 2023, and sadly she missed the chance to play in the 2023 Women's world cup. Apart from her doctors and herself, nobody knows when she will return to the field.
In July 2023, Mewis joined as an anchor for the Men in Blazers media network's World Cup coverage with Roger Bennett. In addition, she will do live interviews with USWNT players from Australia and New Zealand.
Although a few more months might be needed, we hope Sam will bounce right back. She shone brightly while performing at an extremely high level for clubs. Therefore, the future is good for the Massachusetts native midfielder.
Sam Mewis biography will continue to be an interesting read as she adds more chapters to her story. Check back with us to see what the athlete will do next.
References
Browne, K. (2023, June 27). Sam and Kristie Mewis: 10 fun facts about USWNT's history-making sister act. Olympics.com.
U.S. Soccer Federation. (2021, February 13). Samantha Mewis | USWNT | U.S. Soccer Official Site.
Family Q&A: Sam Mewis talks about being part of a soccer sister duo | US Youth Soccer. (n.d.).
Wrack, S. (2020, August 10). Manchester City Women sign USA World Cup winner Sam Mewis. The Guardian.
Bergman, M. M. (2023, July 29). After equal pay: how the USWNT can help close sport's wealth creation gap. The Guardian.
Siregar, C. (2021, September 18). USWNT player salaries: USA women's soccer pay vs. men's team during World Cups. Sporting News.
Just Women's Sports. (2023a, July 20). USWNT World Cup roster: Where is Sam Mewis?
Did you notice an error ?
Please help us make corrections by submitting a suggestion. Your help is greatly appreciated!