Real Life Stories
The Tragic Brilliance of Professional Baseball Player Lyman Bostock: A Life Cut Short, but Forever Remembered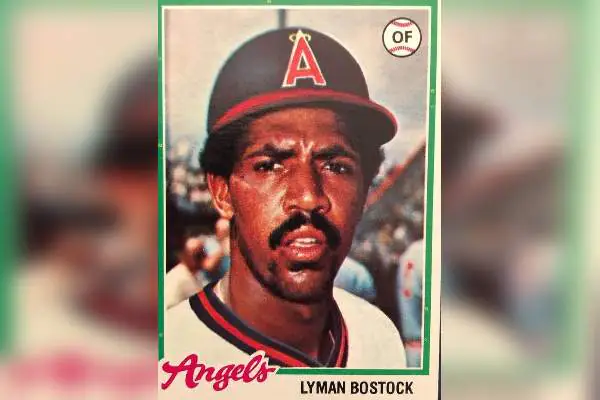 Baseball Player Lyman Bostock. Image Source: Instagram
The death of every man is written in the stars, and baseball player Lyman Bostock would have been a big star on the field but took his legacy with him, still unfulfilled. He played Major League Baseball for the two big baseball teams, Minnesota Twins and California Angles. Considered a promising and talented player, Bostock never got a chance to shine after he signed a big contract with the Angels in 1978.
During his four-year professional baseball career from 1975 until 1978, Lyman was heading to become one of the best MLB players. Unfortunately, Bostock's life was cut short when he was shot and killed because of mistaken identity. The tragic loss of such a young player shocked the baseball community and was a wounding scar to his family, friends, and fans.
Despite his relatively short career, Lyman made a name for his exceptional talent on the field. His untimely demise at age 27 left a void in the baseball world, but his power, speed, and defense ability are forever remembered.
Lyman Bostock Short Bio, Estrangement with Father
Lyman Wesley Bostock Jr. was born on November 22, 1950, in Birmingham, Alabama, U.S. His father, Lyman Bostock Sr., was a World War II veteran and a Negro League professional baseball star. Bostock Sr. played for several professional Negro Leagues baseball teams such as Brooklyn Royal Giants, Birmingham Black Barons, Chicago American Giants, etc. However, Lyman Sr. never got a chance to play in MLB, unlike his son.
Bostock Jr. idolized his mother, Annie Pearl Bostock, a housemaker. Therefore, when his parents separated in 1954, Lyman felt that his father had abandoned him. Young Lyman, with his mother, relocated first to Gary, Indiana, and later to Los Angeles. Sadly, Bostock remained alienated from his father for the rest of his life.
Lyman became a baseball star at Manual Arts High School in Los Angeles. Afterward, he attended California State University (previously San Fernando Valley State College) but didn't play baseball during his first two years of college. Later, Bostock played as a junior for the California state team, Matadors. In 1972, he led the team to second place at the Second division college world series.
ALSO READ: Olympic Wrestler Rulon Gardner, Defying The Odds
Promising Minor League Career
In 1972, Minnesota Twins selected Bostock in the 26th round of the amateur draft. After spending two seasons (1972-1974) in the minor leagues, he was promoted to the major league and made his MLB debut with the Twins in 1975. Lyman instantly rose with the Twins as he made his made MLB debut on April 8, 1975, when he went for three runs scored and led his team wins over the Texas Rangers. In the first major league season, he played 98 games, and in the following season, he was a fine defensive center fielder.
View this post on Instagram
For his 1977 season, Lyman had a total of 17 pullouts in the doubleheader, which set an American League record for outfielders. His .336 batting average was second only to teammate Rod Carew's .388. Bostock had made $20,000 in his final season.
You don't want to miss learning about Vince Papale and his rise to football stardom.
Baseball Player Lyman Bostock's Rise in the MLB
After the end of the 1977 season, Lyman became one of baseball's earliest big-money free agents. A free agent is eligible to sign with any team with any conditions. A few big teams, such as the Twins, Padres, and even the Yankees, had all tried to sign him. Lyman signed a six-year contract worth $2.3 million with California Angels, owned by Gene Autry at the time. Autry was a popular American actor, producer, musician, rodeo performer, and baseball owner.
After signing with Angels, Lyman immediately donated $10,000 to a Birmingham church to rebuild its Sunday school for prayers. The first season with Angels went poorly for Bostock as he battled .150 in April. He was so disappointed in his game that he requested Angels general manager Buzzy Bavasi and owner Gene Autry to let him return his salary.
Bostock felt he hadn't earned the money, but eventually, his request was denied. Afterward, he announced he would donate his April salary to charity and reviewed every single request for the money that came in.
In June 1978, Bostock hit .404 and was hitting .296 when he was shot in September. He was leading the Angels in batting as the 1978 season was ending. During his four seasons from 1975 until 1978, Bostock was a .311 career hitter with a .365 on-base percentage. Similarly, during the 526 games, he had 23 home runs with 102 doubles, 30 triples, 45 stolen bases, and 250 runs batted.
A Jealous Husband and a Tragic End
In September 1978, following the game at Comiskey Park, a baseball park in Chicago, Bostock visited his uncle, Thomas Turner, in Gary, Indiana. The two went to meet Joan Hawkins, Bostock's former student, and her sister, Barbara Smith. Afterward, they headed for Hawkins' cousin's home. Bostock and Barbara were in the vehicle's back seat while his uncle drove the car with Hawkins seated in the front passenger's seat.
Barbara had an estranged husband named Leonard Smith, who at the same time was sitting outside Hawkin's home inside his car. Leonard saw the group of four and observed Barbara sitting with Bostock in the backseat. Leonard, who often doubted Barbara as an unfaithful woman, concluded that she and Bostock were having an affair, and he went insane.
It was around 11 pm when Turner stopped his car at a traffic signal on Jackson Street. At the same time, Leonard pulled his car and shot a .410 caliber shotgun in the back seat of Turner's car. Although his target was intended for his wife, Barbara, the bullet struck Bostock in the right temple. Two hours later, Lyman Bostock Jr. died at a hospital in Gary.
A Star Who Never Got to Shine: Death of Lyman Bostock
Lyman Jr. was buried in the Inglewood Park Cemetery in California. As per his teammates, Bostock was an intriguing personality, outgoing, charming, and communicative.
For his honor, the California Angels wore a black armband for the remainder of the 1978 season. Similarly, a memorial scholarship fund was commissioned in his name, where the annual award is given to a needy student-athlete. Likewise, Bostock became the first inductee into the CSU Matadors Hall of Fame in 1981.
Bostock, at 27, was murdered in the prime of his career by a jealous husband who thought the baseball player was having an affair with his wife. However, Bostock had just known the woman for less than an hour.
What Happened to Lyman Bostock's Murderer?
Leonard Smith was twice tried for murder, with the first trial resulting in a hung jury. He was found not guilty by reason of insanity in the second trial and spent seven months in a psychiatric care facility. Further, he was referred for treatment to Logansport State Hospital.
Smith was in custody for a total of 21 months. Smith returned to Indiana for the remainder of his life and declined all requests to comment publicly about the killing of Bostock. He died in 2010 of natural causes. The Indiana legislature changed the state's insanity laws after the aftermath of Smith's case.
Lyman Bostock's Family
Lyman met his wife, Yuovene Brooks Whistler, while he was at California State University. Bostock was mesmerized by Yuovene's beauty, and the couple instantly hit it off. If he had been alive today, he would have been working as a coach or a manager. He might well have been a father of a child or two, maybe even a grandfather.
After Layman's death, Yuovene received payment under his contract. She visited his grave for years but ultimately moved on later. Also, the two didn't share any children.
Lyman was a victim of a bad marriage and was gone too soon at the age of 27. Although his life was cut short, baseball player Lyman Bostock will forever be remembered.
References
Did you notice an error ?
Please help us make corrections by submitting a suggestion. Your help is greatly appreciated!