Top Lists
2023 TIME100 Next: U.S. Political Powerhouses You Need to Know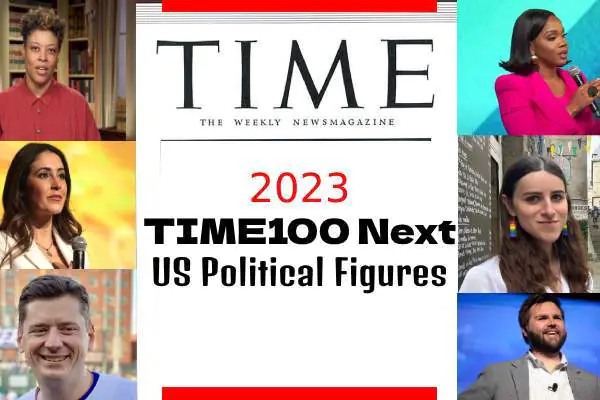 2023 TIME100 Next US political figures. Image Credit: Wikimedia Commons.
For a great magazine/media company such as TIME, reflecting on the present is just not enough. So, in 2019, TIME magazine introduced the TIME100 Next list. The listing highlights 100 emerging stars who are shaping the future of business, entertainment, sports, politics, science, health, and more.
About today's list, the 2023 TIME100 Next US political figures show what society's future and future leaders will look like. These powerhouses of great ideology push us forward, showing how personal insight can inspire societal change.
The TIME100 Next is an annual franchise recognizing the rising leaders. The list is a testament to an evolvement of how TIME tells stories using its spotlight to draw attention to the rising leaders who achieved peak influence in their fields. Below are some of the people you need to know who are creating the future and defining the next generation of leadership.
Shalanda Young: A Woman of Outstanding Leadership Skills
For nearly 15 years, Shalanda Young, a Louisiana native, served on the House Appropriations Committee. The American political advisor played a key role in formulating the administration's economic plans and shaping annual spending bills. Similarly, she oversaw a series of five pandemic relief packages that totaled $3 trillion.
In March 2022, Shalanda was appointed by the U.S. Senate office (by President Joe Biden) to serve as the director of the Office of Management and Budget. The American government trusted her as she was the expert in helping the U.S navigate through harrowing moments from a historic government shutdown to the pandemic.
The woman with principled and strategic force, Shalanda Young, is said to be the silent decision-maker inside the administration, according to White House officials and lawmakers from both parties. Nevertheless, she is the first woman of color to take on such a big role in the nation's biggest administrative office.
Zooey Zephyr: Zooming Into the Strength of Montana House of Representatives
In 2023, a record amount of anti-LGBTQ+ measures were introduced in state legislatures. In April 2023, Montana state representative Zooey Zephyr criticized a bill that would restrict gender-affirming care in her state, claiming that those who supported it would have "blood on your hands"—starting a chain of events that would make her one of the anti-trans bills' most visible opponents from coast to coast.
Zephyr was formally penalized by the majority-­Republican legislature by barring her from in-person discussions during this year's legislative session and allowing her to vote solely remotely. But she continued to show up at the capitol to represent her district, vying for a seat in the corridor even though her access to entrances, bathrooms, and workplaces had been disabled.
From Montana's first trans legislator to becoming a national celebrity, Zephyr's Republican colleagues accidentally amplified her message across the country. Protests and a public outcry erupted in response to Zephyr's penalty, which many described as excessive and undemocratic.
The Montana bill passed, but Zephyr, who is now well-known for her efforts to defeat it, has continued to utilize her national platform to advocate for transgender Americans.
ALSO READ: Facts About TIME100 Next Artist Noah Kahan Girlfriend.
Anna Paulina Luna: First Mexican-American Elected to Congress From Florida
The majority of new members of Congress intend to spend their first term learning the ins and outs of Capitol Hill. Anna Paulina Luna wishes to alter them. The dynamic Florida rookie is on a mission to upset the ruling elite as the architect of the House GOP's censure of California Democrat Adam Schiff, who spearheaded Donald Trump's first impeachment.
After the Ukraine War reached an utmost spike, the U.S began introducing several spending bills. Meanwhile, Anna co-sponsored the Ukraine Fatigue Resolution, a law that would suspend all US foreign aid to Ukraine for the War in Ukraine. Initially, few Republicans were opposed to the bill. However, when Luna engineered a social media reaction against them, the officials changed their minds.
After heading Hispanic outreach for the pro-Trump youth group Turning Point USA, where she perfected the art of provocative internet virality, Luna was made for this time. Anna plays a key role in spearheading a new generation of populists fighting to reshape the Republican Party.
David Holt: The United State's Dynamic Mayor
David Holt is one of the country's youngest mayors, as well as one of the most active and imaginative. Holt made history by becoming Oklahoma City's first Native American mayor, but it's his ambitious agenda that has drawn national attention.
The above-mentioned agenda includes a $1.1 billion initiative (funded by a voter-approved penny increase in the sales tax) to improve transportation with more bus service and bike lanes, combat homelessness, addiction, and domestic violence, upgrade parks, support small-business growth, and much more.
Bloomberg Philanthropies, which works with mayors all throughout the world, has been delighted to support his unwavering commitment to innovation. Holt is a rising star not only among mayors (he's vice president of the United States Conference of Mayors) but also in the Republican Party.
Holt is assisting in the writing of a bright new chapter for his city, illustrating how the combination of ambitious ambitions and effective management is popular with voters of both parties.
Similarly, don't miss out on the Artists and Entertainers of Time100 Next 2023.
J.D. Vance: The Senator's Diplomatic Spout and Writer of Books That Sell Out
J.D. Vance, the best-selling author of Hillbilly Elegy and a first-time candidate in the Republican primary for Ohio Senate last year, appeared to be a long shot because of his previous criticism of former President Donald Trump. But his ability to articulate Trumpian populism—including racist and sexist comments and others adopting Trump's claims about the 2020 election—earned him Trump's backing, and he went on to win the general election.
Vance's supporters, notably right-wing billionaire Peter Thiel, regard Vance, an Ohio's junior U.S senator, as part of a burgeoning class of "new right" leaders. He has demonstrated a willingness to take opinions that run counter to the Republican Party, such as advocating for additional train safety measures in the aftermath of the East Palestine derailment and opposing US military action in Ukraine.
Sarah Jakes Roberts: A Leading Pastor or Shall We Say a Preacher
Remember, God frees your potential with grace. So, always dare to be the wildflower God made you. These are words of wisdom from Sarah Jakes Roberts. That same voice, as co-pastor of the Potter's House churches in Los Angeles and Denver, speaks boldly to a generation in desperate need of compassion, education, and love.
In our final list of 2023 TIME100 Next US political figures, Sarah Jakes is a woman whose experience of using the grace of prayer to find a way through personal grief and tragedy speaks to many people.
It is the reason Sarah has been able to connect with millions of other women through her remarkable ministry and Woman Evolve conference. According to Proverbs 22:6, "Train up a child in the way he should go; even when he is old, he will not depart from it." All of this is in Sarah's blood.
Besides being a pastor, Sarah Jakes is a businesswoman, writer, speaker, and media personality. Meanwhile, she is also the senior editor of the online magazine eMotions. With her husband, Toure Roberts, Sarah ministers to those in the TV, film, and music industries.
There are millions of stories, a powerful one that reminds us that rethinking accepted ideas can create new possibilities for millions of people. Above are all those emerging political titans that are influencing not just a local but the entire nation's destiny. The 2023 TIME100 Next US political figures and their achievements are a must-read for anyone who wants to understand the future of American politics.
References
Did you notice an error ?
Please help us make corrections by submitting a suggestion. Your help is greatly appreciated!