Top Lists
5 Must-Know Insights Into Dylan Brandt HB 1570 Impact: TIME100 Next 2023 Advocate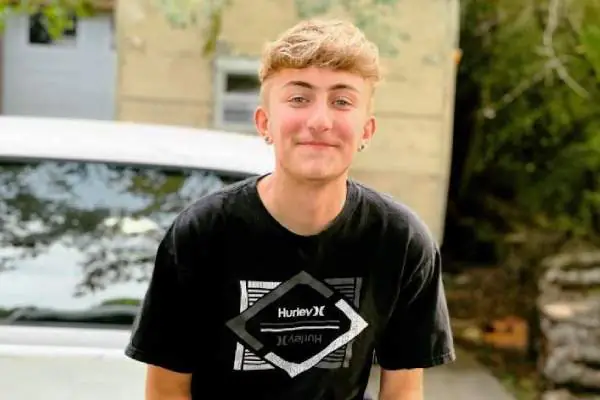 Dylan Brandt HB 1570 Impact. Image Credit: Instagram.
Your own people won't accept you, and they treat you like they don't want you in your own place. These are the exact words of Dylan Brandt, a transgender who began taking cross-sex hormone testosterone at age 13.
After winning a landmark victory against the Arkansas ban on gender-affirming care, Dylan Brandt HB 1570 Impact became so effective that Dylan made it to the TIME100 Next 2023 list. As an advocate for transgenders, he fought for his individuality and went head-to-head with the Arkansas state officials.
At the moment, Brandt's effective initiation not only proved fruitful for him but for a generation of young transgenders. His success encouraged other people across the United States to stand up and fight against all of the system's faults the transgender community has to deal with. Hence, let's take a look at Dylan's journey to finding his true self and the impact of his relentless battle against HB 1570.
5. Dylan Brandt Struggles: Beginning of Gender Dysphoria
One of roughly 2% of U.S school students identify themselves as transgender. For Dylan, the struggle with personal identity came as early as fourth grade when he began developing mixed feelings that stretched on until his teenage years.
Around the world, most adults don't agree with a young person's ability to understand sexual orientation. However, several studies have shown that young people with gender dysphoria fall into depression and develop suicidal ideation. The same was happening with Dylan as he was having difficulty reconciling his mind and body.
Dylan's mother, Joanna, had been running a small boutique. She knew from the start that her son, born a female, was trans because Dylan would reject all feminine things. Further, when he finished seventh grade, Brandt told his mother he was a boy.
In his school, Brandt's so-called friends were rejecting him as transgender, and they severely bullied him on a daily basis. So, he started home-schooling in eighth grade after being bullied. However, he always had his mother's support, along with his younger brother, Luke.
ALSO READ: 2023 TIME100 Next: U.S. Political Powerhouses You Need to Know
4. The HB 1570 Ban On Gender-Affirming Health Care
While Joanna worried about how her son would be accepted by society, their family immediately began adjusting, starting with pronouns. Dylan would chronicle clips of his transformation on TikTok after he began taking cross-sex hormones at age 13 by injecting testosterone.
From long blonde hair to appearing more masculine, Brandt also went through psychological counseling. While the whole world was getting into lockdown in 2020, Dylan was going through his own struggles. In early 2020, Arkansas state lawmakers introduced several bills restricting access to gender-affirming healthcare. In February 2021, the HB 1570 Act was introduced and passed through the Arkansas General Assembly by March.
3. Rise of Similar Bills Introduced in the Country
The HB 1570 bill restricted a physician from providing gender transformation procedures to individuals under 18 years of age. After that, Dylan, who was relying on the state for his medical care, was devastated because he needed health care to sustain his health and well-being. In several states across the country, judges blocked the bans on gender-affirming care and drag performances.
Arkansas House Bill 1570 (HB 1570), also known as the Save Adolescents From Experimentation (SAFE) Act or Act 626, was a 2021 law in the state of Arkansas. The law was introduced to ban gender-affirming medical procedures for transgender people under 18, including puberty blockers, hormone therapy, and sex reassignment surgery.
Similarly, you might want to look at a famous gay actor, McKinley Belcher's Husband.
2. From Courts to TIME100 Next 2023 Advocate
On April 6, 2021, the Arkansas Legislature passed House Bill 1570, Act 626 of the 93rd General Assembly of Arkansas. Afterward, Brandt's mom and three other families of transgender youth began fighting the state representatives. The law barred state funds or coverage for gender-affirming health care for transgender people under 18.
| | |
| --- | --- |
| Members | Parents |
| Dylan Brandt | Joanna Brandt (mother) |
| Brooke Dennis | Amanda and Shayne Dennis |
| Sabrina Jennen | Lacey and Aaron Jennen |
| Parker Saxton | Donnie Saxton (father) |
Table Source: ACLU.org
With the help of his mom, Dylan brought his claims under the 14th Amendment's Equal Protection and Due Process Clauses and the First Amendment. Meanwhile, some of the families that sued the state considered leaving their homes, their jobs, their extended families, and their communities to ensure their children were able to access gender-affirming care.
Along with Brandt, doctors Michelle Hutchison and Kathryn Stambough in Arkansas opposed H.B. 1570 and similar bills proposed throughout the U.S in 2021. After two years of their fight, the Dylan Brandt HB 1570 Impact spread out across the country. He gave the transgender community a beacon of hope, and finally, the day of victory came in 2023.
1. Dylan Brandt HB 1570 Impact: How Trans Comunity Won Over
After constant court fights and hearings, Dylan and his mother finally got their prize. In June 2023, a federal district court judge permanently pushed the HB 1570 Arkansas law that aimed to ban gender-affirming care for transgender youth. The judge found that the law violated the constitutional rights of transgender youth, their parents, and their medical providers.
Meanwhile, the court found that the plaintiff's case was strong on all their claims, finding the ban violated the equal protection clause, the due process clauses, and the First Amendment of the U.S. Constitution. During one of the trials of Dylan Brandt et al. v. Leslie Rutledge et al. on the U.S. Court of Appeals, the 8th Circuit found that the state law constituted unlawful sex discrimination.
After the judge's decision, Dylan expressed his happiness and shared how his health care changed his life for the better and encouraged other transgender people. Through this, Brandt became the youngest person to be on the TIME100 Next list. His unwavering commitment to equality and change was truly inspiring, and its impact will ripple onward, spreading far and wide.
References
Did you notice an error ?
Please help us make corrections by submitting a suggestion. Your help is greatly appreciated!