Top Lists
Creativity and Impact: Artists and Entertainers on TIME100 Next 2023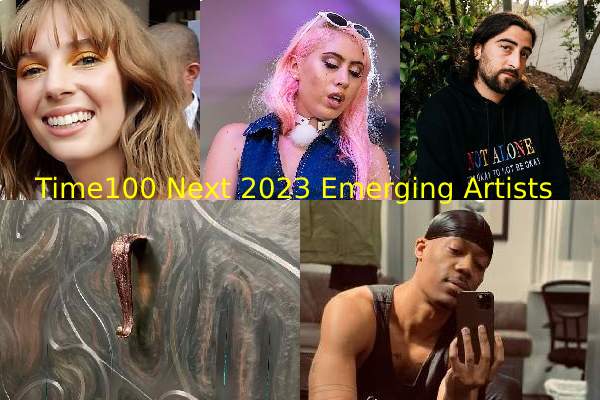 TIME100 Next 2023 emerging artists and entertainers. Image Credit: Social Media.
The TIME100 Next list is an annual compilation of influential individuals who are making significant strides in their respective fields. It serves as a testament to the talent and impact of these individuals, showcasing their contributions to the world of arts and entertainment.
In this article, we will explore the remarkable artists and entertainers who have been recognized in the TIME100 Next 2023 list. From musicians and actors to writers and directors, these individuals have captivated audiences with their creativity, innovation, and cultural influence.
Join us as we celebrate the TIME100 Next 2023 emerging artists and entertainers who are shaping the future of the creative industry.
Tyler James Williams: The Child Prodigy
Tyler James Williams was raised in Yonkers, New York, by his parents, Angela and Le'Roy Williams. His mother works as a counselor, while his father is a retired police sergeant and teacher. Tyler embarked on his journey to fame at the tender age of 4, making notable appearances on Saturday Night Live, Little Bill, and Sesame Street.
Renowned for his remarkable performances in acclaimed television shows such as "Everybody Hates Chris" and "Abbott Elementary," as well as notable films including "Dear White People," Williams showcased immense talent, versatility, and promise to build his reputation.
Not only a gifted actor but also a singer and songwriter, Williams serves as an inspiration for young individuals while actively leveraging his platform to advocate for social justice and equality.
During an interview, Williams revealed how his health deteriorated in his 20s. In December 2017, his body gave out, and after a diagnosis, it was revealed that he had Crohn's disease. After a number of surgeries and careful dietary control, Tyler now leads a healthy life while pursuing his passion for acting.
In a recent statement on his Instagram stories, the American actor responded to those who have raised questions about his personal life and sexuality. The 30-year-old star used the opportunity to shed light on an important issue: the harm that can arise from prying into someone's orientation. By sharing two thought-provoking slides, he set a positive tone for Pride month and encouraged his followers to embrace understanding and acceptance.
The popular actor has also composed numerous songs such as Me and You, Let It Shine, Self Defeat, among others. His inclusion in the Time100 list is undoubtedly well deserved.
Kali Uchis: The Rebel
Famous for her boundary-pushing approach, Kali Uchis seamlessly blends genres such as R&B, neo-soul, psychedelic pop, and funk into captivating melodic creations. Moreover, she stands out with an extraordinary visual style while dedicating herself to empowering women and girls.
Karly-Marina Loaiza, known professionally as Kali Uchis, was born on July 17, 1994 in Virginia. Her mother is American and hails from Virginia, while her father is Colombian from Pereira. They met during the late 1980s, but eventually, her father moved back to Colombia when Uchis was in high school.
In high school, Uchis discovered her passion for music and learned to play both the piano and saxophone. She honed these skills by participating in a jazz band before graduating from Alexandria City High School.
The singer frequently missed classes to dedicate time to experimenting with short films in the photo lab. Her passion for photography eventually led her to design cover art for mixtapes. However, her habit of skipping class and defying her parents' curfew resulted in her being expelled from home.
During this challenging period, Karly resorted to living out of her car and composed songs on a keyboard, some of which would later appear on her debut mixtape titled Drunken Babble. Alongside writing poetry, she initially aspired more towards directing films rather than seeking fame as a singer. At one point, Kali Uchis was affectionately given this nickname by her father and chose it as her stage name going forward.
Uchis released her debut album, Isolation, which debuted at number 32 on the Billboard 200 and entered the R&B/hip-hop chart at number four.
Uchis' inclusion within this select group attests not only to her current achievements but also hints at even greater accomplishments awaiting her in the future. As an artist committed to making a meaningful difference worldwide—inspiring multitudes along the way—she leaves no doubt that fans can anticipate continued brilliance from Kali Uchis throughout successive years.
Noah Kahan: Singing His Way Into The Heart
Noah Kahan has been acknowledged for his noteworthy contribution to the music industry, as he was featured on the prestigious TIME100 Next 2023 emerging artists and entertainers list. Renowned for his candid and introspective songwriting, Kahan delves into topics of love, loss, and personal growth in a sincere manner that resonates with audiences worldwide.
Kahan was born in Strafford, Vermont, and started writing songs at a young age, sharing them on various online platforms to gain exposure to his music. Did you know Kahan got fired from his first job as a valet after he crashed a car?
To focus on developing his music career further, Kahan decided to defer admission to Tulane University. With dedication and determination, he achieved two personal goals – getting verified on Instagram and having a Wikipedia page – both representing milestones in recognition within the industry.
Kahan acknowledges his influences include renowned musicians such as Paul Simon, Yusuf Islam, Counting Crows, Hozier, and Mumford & Sons. In addition to discussing his personal experiences with anxiety and depression, Kahan has openly shared how these challenges have impacted various aspects of his and his girlfriend Brenna Nolan. Moreover, he has found writing about these subjects to be a beneficial form of therapy for himself.
This burgeoning artist has swiftly gained popularity among listeners of his generation, solidifying himself as one of its most beloved musicians. Described as an emerging luminary whose compositions are both intimate and relatable, Kahan serves as a voice representing a generation grappling with uncertainty while transitioning into adulthood.
Noah not only leaves an imprint through his artistry but also contributes positively to society at large—an attribute that ensures continued success throughout his career. Kahan remains an influential force within the realm of music, destined to captivate and entertain fans long into the future.
Maya Hawke: The Acting Princess
Maya Hawke has been on a remarkable ascent in the entertainment industry. She has garnered acclaim for her exceptional performances in acclaimed TV series like "Stranger Things" and "The Good Lord Bird," as well as showcasing her talent through notable film roles including "Once Upon a Time in Hollywood" and "Do Revenge."
Maya Hawke, the elder of two children born to actors Ethan Hawke and Uma Thurman, was born on July 8, 1998, in New York City. Her parents met while filming Gattaca (1997) and married shortly after but got divorced in 2005. Growing up with actor parents exposed Maya to the world of acting from a young age.
During her primary education, Maya faced challenges due to dyslexia and had to change schools frequently until she found her place at Saint Ann's School in Brooklyn. This private school prioritizes artistic creativity over grades, which nurtured Maya's passion for acting even further.
To enhance her skills, she also participated in summer studies at both the Royal Academy of Dramatic Art in London and the Stella Adler Studio of Acting in New York.
Initially pursuing a BFA degree in acting at Juilliard School, Maya made an important decision to drop out of college when she was offered a role in Little Women.
The multi-talented actress from "Stranger Things" is also an accomplished singer, having lent her voice to songs like To Love a Boy, Luna Moth, and Sweet Tooth to name a few.
Receiving high praise from Jennifer Kaytin Robinson, director of "Do Revenge," Maya Hawke has proven herself to be not only immensely talented but also a dream collaborator for many industry professionals due to her wisdom and fearless vision that shines through in everything she does.
ALSO READ: 2023 TIME100 Next: U.S. Political Powerhouses You Need to Know
WangShui: The Modern Picasso
WangShui is a contemporary American artist known for their diverse body of work encompassing film, installation art, painting, and sculpture. Based in New York City, they have made significant contributions to the art world.
In 2018, WangShui showcased their artistic talent by participating in In Practice: Another Echo at SculptureCenter in Queens. Their innovative film project titled "From Its Mouth Came a River of High-end Residential Appliances" garnered recognition and was screened at prestigious events such as the New York Film Festival and International Film Festival Rotterdam.
The following year marked an important milestone for WangShui as they presented their inaugural solo exhibition at the esteemed Julia Stoschek Collection located in Berlin. Fast forward to 2021, when WangShui continued to make waves within the art scene as they were featured in No Humans Involved at the Hammer Museum situated in Los Angeles.
WangShui's remarkable talent has earned them a well-deserved spot on the prestigious TIME100 Next 2023 emerging artists and entertainers list. Recognized as a star in the art world, WangShui pushes boundaries with their captivating and visionary creations. Their artistic endeavors delve into compelling topics such as technology, individuality, and environmental concerns, sparking deep contemplation among audiences.
WangShui is redefining the boundaries of art with their innovative approach. Their talent and potential have earned them recognition on this esteemed list. Their unique vision as an artist, particularly in the realm of AI art, sets them apart from others in their field.
The artists and entertainers featured on the list represent a new generation of talent that is reshaping the landscape of the arts and entertainment industry. Their inclusion in this prestigious compilation is a testament to their exceptional creativity, dedication, and influence.
As we bid farewell to this article, we celebrate the diverse voices and perspectives these individuals bring to their craft. From breaking barriers to pushing boundaries, they inspire us with their innovative work and remind us of the transformative power of art and entertainment.
References
Did you notice an error ?
Please help us make corrections by submitting a suggestion. Your help is greatly appreciated!