Top Lists
5 Shocking Facts About Aiden Caohman Vieques Kennedy: Robert F. Kennedy Jr.'s Hidden Son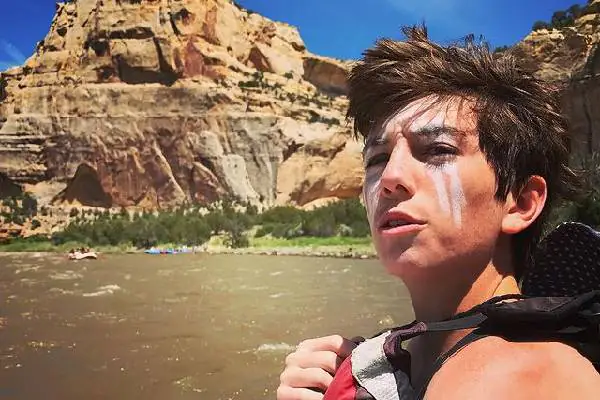 Aiden Caohman Vieques Kennedy. image Source: Instagram.
The generations of the Kennedy family have had a consequential and long-lasting impact on U.S politics spanning several generations. From the 35th President JFK to Robert F. Kennedy Jr., their names alone have been synonymous with the state of American affairs.
Like any other political family, the Kennedys have faced both praise and criticism for their actions. While some of the newer lineages have opted for different careers, some are trying their hands at the family business. In this article, we are presenting you the five shocking facts about Aiden Caohman Vieques Kennedy, a young member of the vast Kennedy family.
5. Junior Kennedy, A Part of the Treasured Family
Aiden Caohman Kennedy, born in 2001, is the son of Robert F. Kennedy Jr. and Mary Kathleen Richardson. Being the youngest child in his family, Aiden has three older siblings: two brothers named Conor Richardson Kennedy and William Finbar "Finn" Kennedy, as well as a sister by the name of Kyra LeMoyne Kennedy.
As a proud member of an esteemed family lineage, Aiden can trace his ancestry back to the Kennedys for fifty-two generations. Prior to marrying Mary Kathleen Richardson, Robert's first wife was Emily Ruth Black, with whom he had two children – Bobby Kennedy III and Kathleen Alexandra Kennedy.
Robert is now married to actress Cheryl Hines who is famously known for her role in Curb Your Enthusiasm. However, in January 2023, Robert announced separation from his wife only to shield her from media scrutiny following the announcement of his 2024 presidential campaign.
Similarly, you might want to read about America's first female lawyer and pioneer of the public defender system, Clara Shortridge Foltz.
4. Aiden Caohman Vieques Kennedy Went Through a Tragic Loss
Little Aiden was just 11 years old when his mother, Mary Richardson Kennedy, died by hanging in her home in Bedford, New York. But why did an architect who was married to such a famed political dynasty take her own life? Scroll down further to know the answer.
Aiden Kennedy's mother, Mary Richardson, was a renowned interior designer who was appreciated for her philanthropic and environmental work. However, in the latter years, she began abusing drugs and alcohol, even facing some police charges. Further, an autopsy revealed a small portion of antidepressants in her blood.
Mary's then-husband, Robert, had filed for a divorce in 2010, and the case was still pending at the time of her death. As per reports and close family sources, for the past few years before her death, Mary had been going through severe depression. She had a huge credit card debt and always feared that she would lose the home she built for her family. Mary felt humiliated by Robert showing off his relationship with TV star Cheryl Hines. In the end, she couldn't bear the pain and took her own life by hanging, leaving her children all alone.
View this post on Instagram
Aiden and his siblings had to go through that difficult and challenging experience at a young age. For some, the death was more than they could handle. Kyra, the only daughter of Mary and Robert, was sent to live with Cheryl due to emotional struggles at 17.
While the kids eventually coped with the loss, their mother had to go through so many tragic experiences, including the feeling of being alone without the children as well as the humiliation by her husband. Mary's funeral was held at St. Patrick Catholic Church in Redford by the Kennedy family, while the Richardson family organized a memorial service in Manhattan at the Standard Hotel in May 2012.
3. An Impressive Pilestock of Aiden Kennedy's Portfolio
From 2015-2019, Kennedy enrolled at Middlesex School and later attended Salisbury School, eventually earning his high school diploma in 2019. Since August 2022, Robert Kennedy Jr.'s youngest son has been attending the prestigious Harvard University and is set to graduate in May 2026.
Talking about the young Kennedy's work experience, Aiden has worked in various positions at different companies. Beginning in May 2017, he interned for Senator Sheldon Whitehouse for three months, later spending eight months at the Illinois State Senate Democratic Caucus as Chris Kennedy Gubernatorial Outreach Intern.
Moreover, Aiden completed a three-month internship with corporate counsels Baum, Hedlund, and Goldstein and also interned for Pete for America as a West Coast Financial intern. As per his LinkedIn profile, Kennedy's recent work involved serving as a production assistant/coverage analyst intern at Grand Electric, located in Los Angeles.
ALSO READ: Naomi Ackie Biography: Rising Star Illuminating the Silver Screen.
2. An Avid Fan of American Football
Aiden is a devoted admirer of the American football sports team, the New England Patriots. The New York Post reported that Cheryl tweeted about ten-year-old Aidan Kennedy's obsession with the New England Patriots being incredibly intense and passionate, which led her almost to become one too.
Even though it appeared harmless at first, Cheryl's remark feels somewhat insensitive given that tragedy fell on Aiden's mother, Mary, just weeks later when she took her own life. Aiden's mother was already displeased that Robert Kennedy Jr. was dating Hines. In 2014, however, Hines and Kennedy tied the knot in an attempt to move forward past their misfortune as a family.
1. Aiden Kennedy in Politics? The Kennedys Might Win Again in 2024
While some younger Kennedy generations have opted the film careers or even journalistic endeavors, Aiden prefers to maintain a low-key life of relative limbo. He is not active on social media, nor is he seen much in public. However, Aiden Kennedy is very much energized about his father's run for the 2024 Presidential Election. Recently for the past few months, the youngest son was seen supporting his father's campaign in April 2023.
On April 19, 2023, Robert F. Kennedy Jr. kicked off his 2024 White House run in Boston after being introduced to his supporters by his actress wife, Cheryl. The 69-year-old politician was joined by his four-year-old granddaughter Bobby (Bobcat), daughter Kyra and sons Aiden and Finn.
The latest reports show that Robert F. Kennedy Jr. is topping the favorability polls against Joe Biden and Donald Trump.
| | | |
| --- | --- | --- |
| 2024 Presidential Contenders | Favorably | Unfavorably |
| Robert F. Kennedy Jr. | 49% | 30% |
| Joe Biden | 52% | 45% |
| Donald Trump | 43% | 53% |
Table Source: The Economist
As per the new poll by The Economist, the 2024 presidential contender Robert F. Kennedy Jr. maintains a lead in the 2024 primary as he was viewed favorably by 49% of respondents and unfavorably by just 30%, while Biden was viewed unfavorably by 45 % and Trump with 53%.
Meanwhile, Jack Schlossberg, labeled his cousin RFK Jr.'s presidential candidacy an embarrassment. Jack, who is the only grandson of late President John F. Kennedy, is the only son of Caroline Kennedy and Edwin Schlossberg. His mother has been serving as the U.S ambassador to Australia since 2022. Meanwhile, his father is a designer, author, and artist who served at the U.S. Commission of Fine Arts from 2011-2013 during President Barack Obama's tenure.
View this post on Instagram
The 30-year-old son of Caroline Kennedy officially endorsed President Biden. He even went one step further and said Biden shares his grandfather's vision for America and is the greatest progressive president in recent years. Jack said in an Instagram video that appeared to film in a car said that his cousin Bobby Kennedy Jr. would support Biden if he cared about the ongoing issues happening in the U.S. Jack Schlossberg further flagged Robert F Kennedy Jr's candidacy as a vanity project.
Now Talking about the closest family, Aiden's stepmother, Cheryl, said that she was fully supportive of her husband's plans to run for the White House. As with the campaign, RFK Jr. is going against President Joe Biden for the 2024 White House bid. Moreover, Robert F. Kennedy Jr.'s sons and daughters are backing his presidential bid, for which he is very much happy.
We hope the Kennedy family's commitment to public service and social causes continues to influence the political landscape of the U.S and global harmony.
References
Did you notice an error ?
Please help us make corrections by submitting a suggestion. Your help is greatly appreciated!