Top Lists
Meet Ben Woollaston Wife Tatiana Woollaston: Love Story of a Snooker Player And A Referee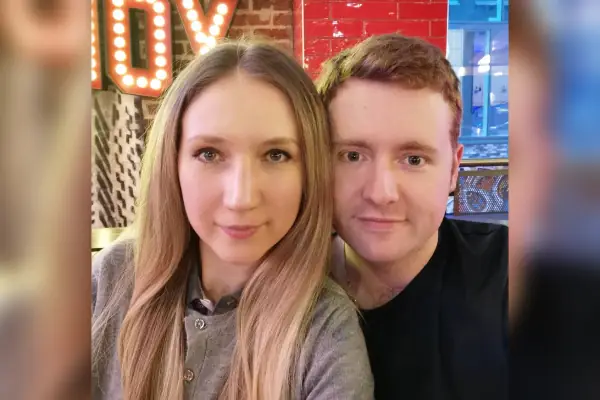 Ben Woollaston Wife. Image Credit: Instagram.
For professional snooker player Ben Woollaston, it was love at first cue. He fell in love with his future wife while competing at a tournament. While it is common for sportspersons to get hitched to their fellow colleagues, Ben's marital life is an interesting one.
In the snooker world, Ben Woollaston wife, Tatiana Woollaston, has a reputation for being a professional referee. Dear readers, we will present you with a love story between a snooker player and a referee. The adorable couple is an example of two respectful individuals willing to support each other through thick and thin.
We hear it all the time: A romantic affair starting from the crossing of two eyes. Similarly, looking at the Woollastons, we can say that the married life between these two snooker enthusiasts is an aspiring one.
Knowing the Snooker Player
Ben Woollaston was born on May 14, 1987, in Leicester, England. From a young age, he began playing pool with his father. Similarly, Ben used to watch snooker tournaments on television for hours.
At just 9, Woollaston began competing in local tournaments where he won numerous junior championships. At 17, he turned professional during the 2004-2005 season. Previously, he had a significant tournament break at 145.
In 2011, Ben won his

first biggest tournament at the PTC3 event. He was 24 at the time. As an amateur, he won the

UK U-17s, European U-19s

, and a couple of 

English U-15s

. Woollaston is still competing. Some of his past tournaments include the 2018 Scottish Open, the 2021 World Grand Prix, the 2023 European Masters, etc.
Who is Ben Woollaston Married to?
The Leicester native, Ben Woollaston, is happily married to Tatiana Woollaston, a Belarusian professional snooker referee. The couple has formed successful partnerships through their common shared interest in snooker.
Destiny had pre-planned the love story of Ben Woollaston and his future wife, Tatiana. They first met at the European Players Tour Championships in Germany. At the time, Ben was competing in his international tournament at the Paul Hunter Classic, while Tatiana was making her ranking tournament debut in August 2010.
Luckily, Tatiana refereed a match for her future husband, and it was enough for the two to start a relationship. As per Ben, the game was sufficient to make a lasting impression on his referee. Meanwhile, Tatiana had never heard his name, but she was impressed with his gameplay.
The Paul Hunter Classic was the only event Tatiana refereed a match for Ben. The couple married in June 2011 following a ten-month romance. The same year, Ben made his second professional debut at the PTC events for the 2011-2012 season, while Tatiana refereed eight events. They share two adorable baby boys. Scroll down to know more.
ALSO READ: Who is Ashleigh Buhai Husband? Is He A Golfer Too?
Ben Woollaston Wife: Knowing The Referee
Tatiana Woollaston (nee Torchilo) was born on November 8, 1986, in Pinsk, Soviet Union. She first began her professional referee career with amateur snooker events in Belarus in 2008. Woollaston earned her Class 3 snooker referee card in March 2009. Afterward, she became a referee member of the European Billiards and Snooker Association during the European Team Snooker Championship in Russia.
Before appearing as a referee at the Paul Hunter Classic in 2010, Ben Woollaston's partner refereed the European Individual Snooker Championship in Bucharest, Romania. On November 21, 2010, Tatiana became the first referee from Eastern Europe to officiate at a world-ranking snooker semi-final. The event took place at the Euro PTC event six in Prague, the Czech Republic.
In 2011, Ben Woollaston wife, Tatiana, made her television debut live on Eurosport, refereeing the match between Ken Doherty and Passakorn Suwannawat. For information, she is an official referee of the WPBSA, EASB, EBSA, and BSF. In June 2023, she refereed at the World Snooker Championships.
Tatiana graduated from Belarus State Economic University with a master's degree in economics. There, she studied finance, banking, and credit and later worked as a teacher at the same university. In the snooker world, Woollaston is known for her no-nonsense approach and has a high reputation.
The Married Life of a Referee and a Snooker Player
As of 2023, Ben Woollaston and Tatiana Woollaston have been married for over 12 years. After marrying her husband, Tatiana moved to the UK from Belarus. The couple welcomed their first son, Edward Woollaston, on November 8, 2012. Similarly, they welcomed their second son, Henry Woollaston, on October 21, 2017.
My family in York 😍 pic.twitter.com/O8mz0EKGKp

— Ben Woollaston (@Ben_Woollaston) December 1, 2017
All the eyes fall upon the Woollastons when people ask which snooker player is married to a referee. During their decade-long marital relationship, with each passing day, Ben and Tatiana have become a stronger couple than ever. Likewise, Ben Woollaston's net worth also makes his professional career a must-watch.
FAQs
Q: Which Snooker referee is married to a player?
A: Belarusian referee Tatiana Woollaston is married to snooker player Ben Woollaston.
Q: Is Ben Woollaston still married?
A: Yes, Ben Woollaston is happily married to his longtime partner, Tatiana.
Q: Who is Ben Woollaston married to?
A: Ben Woollaston is married to snooker referee Tatiana Woollaston.
Q: Where does Tatiana Woollaston live?
A: Tatiana Woollaston currently lives in Leicester, England, with her husband and their two sons.
Did you notice an error ?
Please help us make corrections by submitting a suggestion. Your help is greatly appreciated!