Top Lists
Bobbi Althoff Faces Backlash For Her Difference in 'Attitude' Towards Black And White Celebrities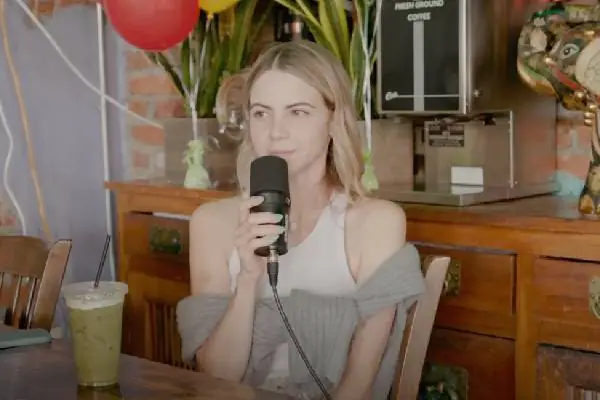 Bobbi Althoff Faces Backlash. Image Credit: Social Media.
Bobbi Althoff is a young American Internet personality who began her journey by posting content on TikTok in early 2021, focusing on sharing her pregnancy. She got a massive response from the audience over the years, and she managed to become one of the most liked and followed social media celebrities on Instagram, TikTok, and YouTube.
However, after the debut of Athoff's podcast, The Really Good Podcast, in April 2023, she has become a hot topic on the Internet because of her unusual way of interviewing her guests. Thanks to that, Bobbi Althoff faces backlash from fans and Internet users every other day. Find out what's really going on.
A Brief Overview of the American Podcast Host
Althoff was born on July 31, 1997, in Southern California, the United States of America, as the second youngest child of her parents. Her father was employed as a contractor in California. She has five siblings.
Bobbi worked as a nanny after graduating from high school before beginning her journey as a social media personality. After her TikTok video, where she was seen dancing with a banana, reached 2 million views, she became viral.
Althoff is married to Cory Althoff, a programmer who, according to his LinkedIn page, serves as a senior vice president at CompTIA. She connected with Cory on Bumble. They have two daughters, born in June 2022 and December 2019, respectively. Althoff refers to her two daughters as Richard and Concrete to protect their identity.
Bobbi Althoff Faces Backlash For Her Attitude Difference- What is the Truth?
Being a social media personality, you are compelled to get tangled up in controversies sooner or later. But this Internet celebrity has been getting tangled up in the controversial web since the beginning of her podcast career. So, what's it all about?
Althoff's podcasts are mostly composed of awkward moments with celebrity guests where her questions take a dramatic turn from the start. She has been interviewing multiple celebrities since July, and the way she responded during the interview was sure to create confusion.
For instance, when she interviewed American rapper Offset, Althoff claimed that she did not know who he was and had to google him before coming to the interview. Furthermore, she also said that she is not even sure how the two ended up together in the room.
This comment made the fans question the podcaster regarding the way she chooses guests for her podcast. Similarly, in another interview with Jason Derulo, she commented about his clothing. Also, when she interviewed Tyga in a zoo, the awkwardness could be clearly seen on his face.
Below is the list of guests who appeared on Althoff's podcast.
| | |
| --- | --- |
| Date | Celebrity Guest |
| June 2023 | Rick Glassman |
| July 2023 | Funny Marco |
| July 2023 | Armani White |
| August 2023 | Mark Cuban |
| August 2023 | Tyga |
| September 2023 | J Balvin |
| September 2023 | |
| September 2023 | Charlie Puth |
| September 2023 | Jason Derulo |
| October 2023 | Offset |
| October 2023 | Maluma |
All of these incidents led to Bobbi Althoff facing backlash from the fans. While some feel she is doing so to gain more views, others are speculating that it's just a way to hide her poor interviewing skills.
ALSO READ: How Much is Matt Frewer Net Worth? A Look Into His Riches
Does Althoff Have Different Attitude Towards Black And White Celebrities?
Even though Althoff's interview with Black celebrities has gathered bad-mouthing from the public, she is also seen doing the same with White celebrities. For instance, when she interviewed Rick Glassman, she said he was doing the podcast with her to increase his numbers.
Similarly, Althoff's attitude stayed the same when she interviewed Charlie Puth. Amidst all the dramas, we suggest you be the judge for yourself and tell us, what you think of Bobbi's rather peculiar interviewing skills.
It is unsure why her podcasts are like this, but Bobbi Althoff faces backlash whenever she comes up with a new video. Currently, it is one of the most trending topics, and Internet users are really unhappy with her interviewing skills and the difference in her attitude between black and white celebrities.
Similarly, you might be interested in Clark Backo Parents.
What's Next For the Social Media Personality?
Bobbi recently uploaded another video on her YouTube channel focusing on her interview with Maluma. The interview took place in a salon where Maluma was getting a makeover.
In the interview, Althoff was accompanied by one of her children, who slept through the entire session. She talked about how she loves being a mother and asked the guest about how he felt about being a dad.
One thing is certain, Bobbi Althoff's podcast isn't everyone's cup of tea. And we hope Althoff's next podcast will not generate any controversy.
FAQs
Q: What is Bobbi Althoff's nationality?
A: Bobbi Althoff is an American.
Q: What does Bobbi Althoff do?
A: Bobby is a social media personality and a podcast host.
Q: Is Bobbi Althoff married?
A: Yes, Bobbi is married to her husband, Cory Althoff.
Q: Does Bobbi Althoff have any children?
A: Bobbi Althoff has two children.
Did you notice an error ?
Please help us make corrections by submitting a suggestion. Your help is greatly appreciated!