Sports
Leonardo Fornaroli Biography: Everything About The Italian Racing Driver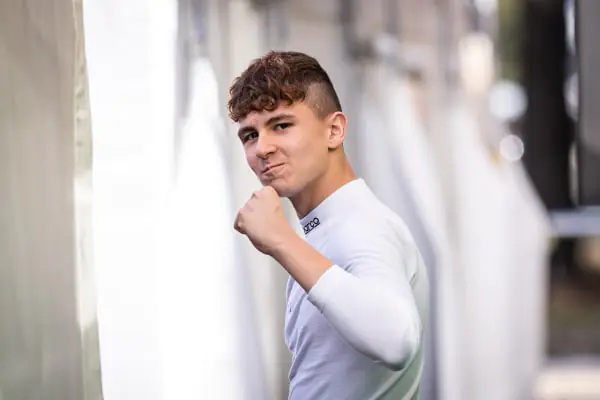 Leonardo Fornaroli Biography. Image Credit: X.
Full Name

Leonardo Fornaroli

Age

19 yrs

Birth Date

December 3, 2004

Country

Italy

Relationship Status

In a relationship

Nationality

Italian

Profession

Racing Driver
Leonardo Fornaroli, an accomplished Italian race car driver, has made a lasting impact on the field of motorsports with his exceptional talent and unwavering dedication to racing.
Throughout his extensive career in various racing championships, Fornaroli has showcased his remarkable skills as a driver and his relentless pursuit of success in the fiercely competitive world of motorsports.
Leonardo Fornaroli biography delves into the personal journey and professional triumphs of the Italian, examining his humble beginnings, noteworthy accomplishments, and ambitious aspirations for what lies ahead.
Introduction to Motorsports
Leonardo Fornaroli, born in Piacenza, Italy, on 3 December 2004, has always harbored an immense admiration for automobiles and a relentless ambition to test the boundaries of velocity. Being raised in a nation with great regard for motorsports has only intensified his fervor for racing.
It was at the tender age of eight that Fornaroli set foot into the world of karting – an initial stride towards what would later shape his illustrious career on race tracks.
Fornaroli embarked on his competitive karting career in Italy when he was around the age of ten. He quickly showed promise by winning the Mini Academy class of the Championkart championship in 2016, followed by a promotion to X30 Junior the following year.
Winning Wherever He Went
In 2017, Fornaroli achieved second place in the highly competitive X30 Challenge Italy and also gained valuable experience through participation in international IAME events. The year 2018 brought even greater success for Fornaroli as he secured a third-place finish in the Italian Karting Championship and made his debut competing full-time at a European level during the WSK Super Master Series.
Leonardo's final season in karting proved to be truly exceptional. Making his OK debut, Fornaroli showcased impressive skills as a frontrunner throughout the highly competitive 2019 WSK Euro Series. Additionally, he achieved an impressive third-place finish at the renowned Trofeo Andrea Margutti event, further solidifying his reputation within kart racing circles.
View this post on Instagram
Such remarkable performances led to an invitation from ACI Sport and Ferrari Driver Academy to participate alongside four other talented young drivers selected for their potential during the Supercorso Federale event held at Vallelunga Speedway, marking another significant milestone for Fornalori's burgeoning career trajectory.
Successes in Karting Led To the Lower Formulae
Karting played a crucial role in Leonardo Fornaroli's journey, serving as his training ground where he refined his driving abilities and cultivated a strong sense of competitiveness.
During the initial phase of his karting career, Fornaroli exhibited remarkable achievements by clinching victories and consistently earning top positions in both regional and national championships. His exceptional talent, combined with unwavering commitment, drew attention from fellow racers, propelling him towards greater heights within the realm of motorsport.
Building on his success in karting, Leonardo Fornaroli made the transition to single-seater racing, a crucial step towards realizing his aspiration of becoming a professional racing driver. After testing a Formula 4 car for the first time at the Supercorso Federale, Fornaroli entered the Italian F4 Championship in 2020 under Iron Lynx's program that expanded to include single-seaters. Demonstrating immediate promise, he achieved an impressive fourth-place finish during his debut race at Misano.
Developing Rivalries and Friendships
Throughout the season, Leonardo consistently earned top-five finishes from 20 races and secured a podium position at Monza. With a total of 108 points, Fornaroli finished ninth overall in the standings.
As recognition for his outstanding performances throughout the year, Fornaroli was once again selected by ACI Sport's Supercorso Federale alongside fellow F4 competitors Gabriele Minì and Francesco Pizzi, as well as four other karting drivers.
In 2021, Fornaroli continued his participation in the series with Iron Lynx alongside new Ferrari Driver Academy recruits Maya Weug and Pietro Armanni. He was the highest-ranked returning driver from the previous year's standings.
Monza, once again you didn't treat me well

Not the weekend I was expecting at home, but if I look behind I can be very proud of my maiden @Formula3 season, with one pole position, one fastest lap and three podiums!

📸 @DutchPhotoAg pic.twitter.com/7Gqtc0eCMv

— Leonardo Fornaroli (@LeonardoForna) September 3, 2023
Throughout the season, Fornaroli showcased consistency as his greatest strength by consistently earning points in every race he completed. Notably, he delivered impressive performances at Misano and Imola, securing victory from pole position in his first F4 race and achieving additional podium finishes. As a result of these accomplishments, Fornaroli emerged as a formidable rival to eventual champion Oliver Bearman.
Formula Regional Championship
In 2022, Fornaroli took a step forward in his racing career by joining the Formula Regional championship. He began with a partial campaign in the Asian Championship for Hitech Grand Prix, achieving commendable results such as qualifying fourth and finishing fifth.
Fornaroli then returned to Europe for the main season, representing new team Trident alongside fellow F4 rivals Tim Tramnitz and Roman Bilinski. Throughout their debut season together, Fornaroli displayed remarkable consistency by earning points in an impressive 15 out of 20 races.
This performance led him to secure eighth place overall in the standings and establish himself as the top-placed rookie ahead of both his teammates. Notably, he achieved his best finish at Hungary's Hungaroring circuit, where he secured fourth place in race one.
FIA Formula 3
In late September 2022, Fornaroli actively participated in the post-season test for the prestigious FIA Formula 3 championship with the Trident team. Throughout all three days of testing, he formed a partnership with fellow drivers Oliver Goethe and Gabriel Bortoleto, who had previously been competitors in the FRECA series.
Exciting news emerged on December 3rd, 2022 – coinciding with his 18th birthday- as it was officially announced that Fornaroli would be an integral part of Trident's lineup for the upcoming racing season in 2023. Joining forces once again with Bortoleto and Goethe, this announcement further solidifies his position within their talented team roster.
ALSO READ: Ralph Boschung Biography: Swiss Professional Racing Driver
Personal Life of the Speedster
The Italian racer has been successful wherever he competes, but what about beyond the racetrack? Has he found success there as well? Rest assured, we have the answer. Fornaroli is currently in a relationship with a beautiful woman who goes by the name Mavi.
Maria "Mavi" Vittoriaarsi is the one beside the speedster when he is not on the track. Mavi is also from Italy and is studying at Università Cattolica. Her hobbies include traveling, partying, and racing, although her choice of vehicle is slightly different from her boyfriend's.
Leonardo Fornaroli's girlfriend, Mavi is an equestrian and can be seen frequently with horses. Although Leonardo has not shown a lot about their relationship, his girlfriend, on the other hand, does not shy away from sharing moments with the two of them together.
Talking about Leonardo Fornaroli's net worth, there is no actual estimation as he is still in the primary stage of his career, but considering the talent he possesses, the number will be astronomical in the future.
From his early days in karting to his notable achievements in single-seater racing and endurance events, Fornaroli has consistently demonstrated his talent and determination. As he continues to pursue his dreams in motorsports, Leonardo Fornaroli biography is a reminder that dreams do come true, and you just need to be willing to face the challenges head-on.
Did you notice an error ?
Please help us make corrections by submitting a suggestion. Your help is greatly appreciated!