Top Lists
5 Must-Know Facts About Dan Smyers Wife: Witness Their Love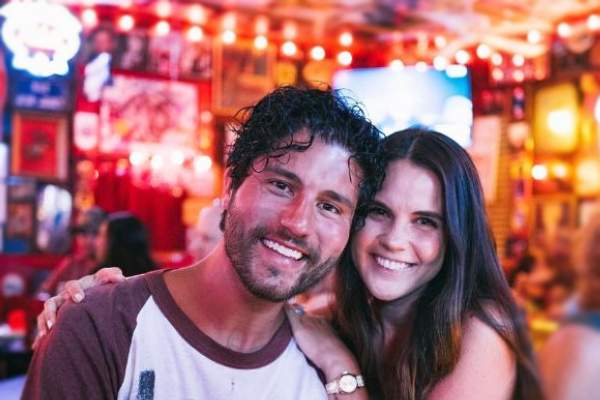 Dan Smyers Wife. Image Credit: Instagram.
The Grammy award-winning country music duo Dan+Shay is one of the top groups in the American country pop music industry. But today, we won't be looking at their musical achievements; instead, we will be learning more about one of the members, Dan Smyers wife, and their romantic ballad.
It's always fascinating to know a beautiful couple's journey, as their love is as timeless as a country ballad. Dan's love story is one of a kind, and he has been living a happily married life. Further, his band partner, Shay Mooney, is also a married man.
Often called one of the hottest country musicians, Dan Smyers attracted a majority of female listeners to the honky-tonk music. Unfortunately, he is off the market, and chances are he will remain married to his lovely wife for the rest of his life. So, without any ado, let us know five must-know facts about Dan Smyers' spouse in detail.
5. An Animal Rescue Advocate: Met Her Husband at an Animal Shelter
When we hear the romantic tales of couples, a love story that began at a rescue center comes last to mind. But that's exactly what happened in Dan Smyers and his wife's case. In 2013, the country music singer-songwriter was volunteering for an animal rescue center called Proverbs 12:10 Animal Rescue, located in the middle of Tennessee. There, he saw a lovely girl who shared his passion for helping the animals. That young girl was Abby Law, who was soon going to be Dan Smyers' fiance and later his life partner.
Having a common shared interest, both Abby and Dan regularly volunteered at the Proverbs 12:10 shelter. After a few eye contacts and an exchange of words, Dan eventually asked out his soon-to-be girlfriend, and the rest is history. For those who don't know, Abby is an animal rescue advocate who works with her husband to work with shelters and rescue missions.
In June 2023, Abby partnered with the International Fund for Animal Welfare (IFAW) to help encourage people to get prepared for their pets in the case of a natural disaster. To know more about their wedding details, scroll down further.
ALSO READ: 5 Interesting Facts About Charlie Navalua's Girlfriend: Who Is He Dating Now?
4. Got Engaged In Hawaii, Exchanged Vows In Nashville
Their mutual love for animals encouraged Dan Smyers and Abby Law to pursue a romantic relationship. In the end, it was their common passion that got them to know each other in the first place. So, after three years of dating, Smyers proposed to Abby while the couple was vacationing in Hawaii.
Further, the country music singer and his fiance got engaged in November 2016 on Waikiki Beach in Hawaii, and both of them took to Instagram to announce the news. On May 13, 2017, Dan+Shay's Dan Smyers married Abby Law in Front Porch Farms located in Nashville.
For their special day, Abby wore a dress by Galia Lahav, while Smyers looked dashing in a tux by Hugo Boss. Since the couple passionately volunteers and fosters dogs through the Proverbs 12:10 animal rescue, they included them on their registry so friends and family could make donations.
Bandmate Shay Mooney was part of the wedding party as well as the couple's four-legged family, Chief, Ghost, and Joy, three adorable rescue dogs.
Similarly, you might want to read about Eastend actor Craig Fairbrass's wife.
3. Born To Radio Veteran Parents: Father is a Hall of Fame Inductee
It may come as a surprise, but Dan Smyers girlfriend (now wife) comes from a family who are local celebrities in their hometown of Kansas State. Abby Law was born to parents Mike Kennedy Law and  Nycki Pace Law, who worked in the radio business for a long time. Abby is the only daughter of her parents, who have been married since 1998.
From an early age. Abby has been a Kansas City Chiefs fan, and her father also has a long history for the team. Her dad Mike, as a radio presenter, announced for the Chiefs in Arrowhead Stadium. Further, in 2014, he was inducted into the Kansas Association of Broadcasters Hall of Fame.
Similarly, Mike was inducted into the Country Music Radio Hall of Fame in June 2015. Likewise, Abby's mother, Nycki, spent over 20 years in the radio business and did morning shows at her husband's radio station.
2. Support and Inspiration in Ten Years of Togetherness
One of the most endearing aspects of Dan and Abby's relationship is the unwavering support they offer each other. While Dan has made a name for himself as a talented musician, Abby has played an essential role in the background of the music industry.
At present, she is an animal rescue advocate, but previously, she worked as a marketing director for Nashville's The Dry House Hair Salon.
After nearly ten years of togetherness and six years of married life, Dan Smyers still got his partner's support and motivation. The couple works together side by side, and Abby even made a cameo in the Dan+Shay music videos for their songs Nothin' Like You, Speechless, and 10,000 Hours.
For information, Smyers and Abby work with Wags And Walks Rescue Nashville to save dogs and place them in their forever homes. The couple owns over five rescue dogs, which they regularly feature on their social media. Sadly, the husband-wife duo still haven't planned for their child, which fans have been waiting for many years.
1. Grammy Award Winning Husband
Dan+Shay is an American country pop music duo who have collaborated with singers such as Justin Bieber, Charlie Puth, and Kelly Clarkson, among others. From 2019 to 2021, the duo won three consecutive Grammy Awards for Best Country Duo/Group Performance for the songs Speechless, Tequila, and 10,000 Hours (with Justin Bieber). Before joining Dan + Shay, Smyers was a leading man for an emo band called Transition.
In many ways, Dan Smyers and Abby Law's love story is like a country ballad filled with love, support, and the beauty of shared experiences. From their serendipitous encounter to exchanging vows to be together, their journey is a celebration of love in its purest form. We wish the couple all the best for their journey together and their animal rescue programs.
References
Did you notice an error ?
Please help us make corrections by submitting a suggestion. Your help is greatly appreciated!