Celebrities
Gattlin Griffith Biography: From Rodeo Roots to Hollywood Heights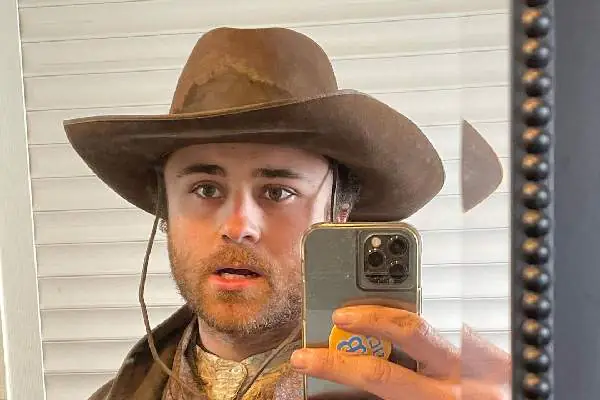 Gattlin Griffith biography. Image Credit: Instagram.
Full Name

Gattlin Tadd Griffith

Age

25 yrs

Birth Date

November 13, 1998

Country

America

Relationship Status

Single

Nationality

American

Ethnicity

White

Profession

Actor

Education

University of California

Net Worth

$500 Thousand

Height

5 feet 7 inches
In the vast landscape of American cinema, certain individuals emerge as rising stars, captivating audiences with their talent and charisma. One such promising talent is Gattlin Griffith, an American actor born in 1998, whose journey in the entertainment industry has been nothing short of remarkable.
From his humble beginnings to their meteoric rise, Gattlin has made a name for himself through his captivating performances and undeniable on-screen presence. Gattlin Griffith biography delves into the life and career of this young American actor, tracing their path from early aspirations to their notable achievements in film and television.
Join us as we uncover the captivating story of this rising star, exploring the talent, passion, and dedication that have propelled him to great heights in the world of acting.
Early Life and Rodeo Background
Gattlin Tadd Griffith was raised in a rodeo-oriented family, which played a significant role during his formative years. Being immersed in the world of rodeo from an early age exposed him to its exhilarating nature and instilled in him important virtues such as strong determination, perseverance, and a passion for exploration.
Griffith comes from a family with deep roots in trick riding and equestrian gymnastics. His father, Tad Griffith, is a renowned film stuntman, and his mom, Wendy Morrison Griffith, is the fourth generation of champion trick riding and equestrian gymnastics, while his grandparents have been honored in the ProRodeo Hall of Fame and National Cowboy Hall of Fame. With three younger siblings named Callder West, Arrden Hunt, and Garrison Cahill, Griffith grew up surrounded by athleticism.
During high school at Bishop Alemany High School (class of 2017), Gattlin showcased his talents not only on horseback but also on the football field as part of the Santa Clarita Warriors team. Continuing his education at the University of California at Los Angeles, he is currently pursuing an English major. In addition to academia, Griffith has found success in acting with notable roles in films like "Under the Bed" and "Initiation."
These foundational experiences greatly impacted the actor's career by allowing him to draw upon the same level of commitment, resilience, and daring that he honed within the realm of rodeo.
Acting Beginnings and Breakthrough Roles
Gattlin Griffith's foray into the world of acting commenced when he discovered his innate love for performing at a young age. Supported by his encouraging family, he began auditioning for various opportunities in both film and television. It didn't take long before industry experts took notice of his undeniable talent and unwavering commitment to honing his craft.
A turning point in Griffith's career was marked by his portrayal of Walter Collins in Clint Eastwood's highly acclaimed film "Changeling." Remarkably, at just nine years old, he held his own alongside seasoned actors like Angelina Jolie, captivating audiences with his effortless screen presence. This extraordinary performance not only earned him accolades from critics but also solidified Griffith as a rising star within the entertainment industry.
Griffith's talent as an actor shines through in his portrayal of various characters across different genres. From his impressive performance as a Young Hal in Martin Campbell's "Green Lantern" to his compelling depiction of a troubled teenager in Jason Reitman's "Labor Day," Griffith consistently delivers captivating and versatile acting that showcases the depth and range of his abilities. His knack for immersing himself in diverse roles, whether dramatic or comedic, has earned him well-deserved recognition and acclaim within the industry.
Notable Film and Television Projects
Griffith's impressive filmography showcases a diverse range of projects that highlight his talent and adaptability. He has collaborated with renowned directors and esteemed actors, working on notable films like "Green Lantern" alongside Ryan Reynolds, the critically acclaimed "Couples Retreat" featuring an ensemble cast led by Vince Vaughn and Jon Favreau, as well as the highly regarded supernatural drama series "Supernatural."
Some of the recent filmography and TV projects the young actor has been a part of are listed below:
Movies
| | | |
| --- | --- | --- |
| Title | Box Office | Year |
| Labor Day | $13.4M | 2013 |
| Green Lantern | $116.6M | 2011 |
| Blood Done Sign My Name | $82.7K | 2010 |
| Couples Retreat | $109.2M | 2009 |
| Changeling | $35.7M | 2008 |
Table Source: Rotten Tomatoes
TV
| | |
| --- | --- |
| Title | Year |
| Criminal Minds | 2010 |
| Supernatural | 2009 |
| Without a Trace | 2009 |
| Eleventh Hour | 2009 |
| Eli Stone | 2008 |
Table Source: Rotten Tomatoes
Griffith consistently delivers exceptional performances in each of these ventures, reinforcing his status as an emerging force in the industry.
Gattlin has had the opportunity to work alongside renowned actors, including Kristin Davis,  Kristen Bell, Jensen Ackles, Jared Padalecki, Jason Bateman, Alyson Hannigan, Victor Garber, Neil Patrick Harris, Jonny Lee Miller, and Jason Segel.
ALSO READ: Nia Towle Biography: From Drama School to The Lord of the Rings
Personal Growth and Commitment to Craft
In addition to his notable on-screen accomplishments, Gattlin Griffith demonstrates a strong dedication to personal and professional growth as an actor.
Despite achieving success at a young age, he maintains a humble attitude and actively looks for ways to develop his artistry further. Recognizing the significance of skill refinement in his field, Griffith conscientiously engages in acting classes and workshops to continually enhance his abilities.
The talented artist's unwavering commitment to self-improvement and readiness to challenge himself foreshadow a promising future filled with excitement and fulfillment within the industry.
Similarly, you might want to read about a model who turned to acting in our article, Julia Voth Biography.
Life Apart from Acting: Rodeo and Stunts
In addition to his acting career, Gattlin is highly accomplished in the world of equestrian gymnastics and trick riding. Coming from a long line of rodeo legends, with his grandparents Dick and Connie Griffith being recognized in prestigious halls of fame such as Pro Rodeo and National Cowboy and Cowgirl, Gatlin's passion for this sport runs deep.
Griffith made his debut exhibition at the renowned Fort Worth Stock Show and Rodeo back in January 2012, accompanied by his talented younger brothers Callder, Arrden, and Garrison.
Did you know the siblings have also appeared on America's Got Talent, where they performed acrobatics in front of live audiences?
Apart from Rodeo, Gattlin also works as a stunt double in movies. He has replaced stars like Daniel Radcliffe in Miracle Workers and Alden Ehrenreich in Hail, Caesar! as their stunt doubles. The actor has also worked in John Wick: Chapter 3 – Parabellum as a stunt player.
While Gattlin has performed stunts in other movies as well, those films have yet to be released. Some upcoming projects in which the actor performed stunts are Rebel Moon, Twisters, and Last Train to Fortune.
Gattlin Griffith Net Worth, Sponsorship Deals, and YouTube
On the subject of Gattlin Griffith's net worth, various websites have stated his wealth to be a modest $500 thousand. While this number may not be as high as some other actors, it is quite impressive considering the fact that the stuntman only joined the industry in 2008. Also, Griffith has appeared in several advertising campaigns for major brands such as Home Depot, Yamaha, Disney Parks, and Burger King, which definitely boosted his finances.
The Griffith siblings also have a YouTube channel called GRIFFITHBROS, where they upload funny videos, vlogs, and reactions. Be sure to give that channel a quick watch. All in all, the future looks bright for the rising star.
We hope you found what you were looking for about the actor in our article on Gattlin Griffith biography. Visit us again, as we will be sure to update this piece with any new information that arises.
References
Did you notice an error ?
Please help us make corrections by submitting a suggestion. Your help is greatly appreciated!