Top Lists
Meet Indigenous Model Quannah Chasinghorse: Met Gala, Tattoos, Ethnicity, And Family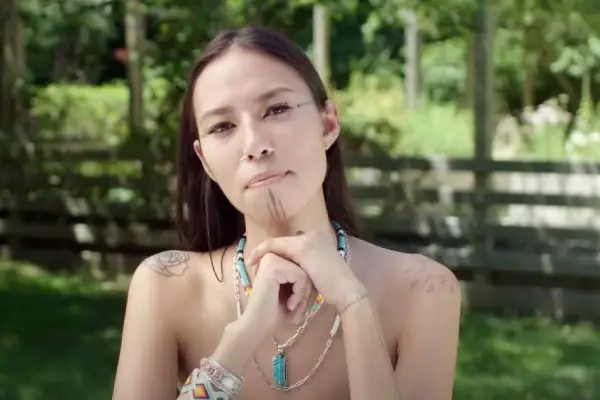 Indigenous Model Quannah Chasinghorse. Image Credit: Social Media.
The only way to find your voice is to use it. Over the years, there have been multiple generations of Indigenous tribes fighting for their representation in all spaces and industries. And among the younger generations, we have model Quannah Chasinghorse.
Let us know about the Indigenous model Quannah Chasinghorse from up close and honor the accomplishments and struggles of Indigenous people. At an early age, Chasinghorse has been able to use her platform to uplift young people.
From appearing in Met Galas to appearing in Forbes magazine, Quannah has proved that you can find a balance between the traditional way of life and modern-day society. Furthermore, she belongs to a tribe that comes from beauty, strength, and love.
Who is Quannah Chasinghorse?
Born in Tuba City, Arizona, Quannah Chasinghorse is an American actress and model. Her birthname is Quannah Rose Chasinghorse-Potts, and her birthdate is June 7, 2002.
Quannah's mother, Jody Potts-Joseph, belongs to the Han Gwich'in tribe. Likewise, her biological father, Nathan ChasingHorse, belongs to the Sicangu-Oglala Lakota tribe.
Quannah was raised by her stepfather, Eli Black, and her mother alongside two brothers, Izzy and Denali Chasinghorse Black.
In 2022, the Chasinghorse family appeared on an Alaska-based reality show, Life Below Zero: First Alaskans.
Chasinghorse spent her early childhood in Arizona, Mongolia, and New Mexico before returning to her maternal homelands in Alaska at age 6.
From an early age, Quannah participated in climate rallies and has spoken on climate action and indigenous rights. She attended Effie Kokrine Charter School.
Indigenous Presence at Met Gala
Indigenous model and activist Quannah Chasinghorse transformed from a teenage climate activist to a prominent figure in fashion. She has walked in runway shows for brands like Chanel, Chloe, and Gucci, providing an Indigenous presence at fashion's top levels. Likewise, Quannah always supports the work of Indigenous designers.
Since Quannah stepped in red carpet events, the Alaska native has been receiving compliments and praise for bringing a unique cultural element. Chasinghorse debuted at the Met Gala in September 2021, wearing a custom gold cut-out dress (made by Dundas x Revolve) and traditional Navajo jewelry. After the pictures began circulating, she immediately went viral for her stunning look.
| | |
| --- | --- |
| 2021 Met Gala | Dundas x Revolve cut-out Dress |
| 2022 Met Gala | Blue Strapless Tulle Gown |
| 2023 Met Gala | Halterneck Pink Tulle Satin Dress |
Many people complimented Quannah's beautiful metallic gown and turquoise accessories. One of the much-admired jewelry came from her aunty, Jocelyn Billy-Upshaw, who was crowned Miss Navajo Nation in 2006. In May 2022, Quannah, for the second time, hit the red carpet wearing a voluminous blue strapless tulle gown by Prabal Gurung. She accessorized with eyeshadow of the same blue hue, traditional jewelry, and feathers in her hair.
View this post on Instagram
Further, Quannah slayed on the famed red carpet at the 2023 Met Gala in an impressive halterneck pink tulle and satin dress studded with sparkling stones and offset by black vinyl opera gloves. Meanwhile, she wore earrings by Sota Scowi Designs incorporating porcupine quills, pearls, beads, and silver.
Chasinghorse Tattoos: A Traditional and a Glamorous Flair
Apart from Chasinghorse's unique look, her traditional facial tattoos are a symbol through which the model is redefining beauty. Her striking face tattoos, which are called Yidiiltoo, are hand-poked by her mother.
Talking about Quannah Chasinghorse's tattoos, the markings are given to a person to symbolize overcoming generational and personal traumas. The Yidiiltoo tattoos are a tradition of the Han Gwich'in people in Alaska and Canada going back thousands of years.
Both Chasinghorse and her mother have traditional Yidiiltoo facial markings. For those who don't know, Quannah's mother, Potts, is a traditional tattooist who gave her daughter her traditional markings as part of her coming-of-age ceremony.
When asked about the tattoos' significance, Jody said a big part of their tattooing being revitalized is reclaiming their identities and finding strength in that. The meaning of Chasinghorse's tattoos tells her story in different ways. As per the model, the lines represent overcoming generational and personal traumas, referring to both colonization and prohibition.
Most of them can be personalized, so that's why there are different facial markings on different people. Quannah said that the first line is for her coming of age, and the second one, which is two half lines on her chin, is knowing what it's like to experience unconditional love.
Indigenous Model Quannah Chasinghorse Family Background
Quannah Chasinghorse rose prominently in the environmental movement and the fashion world. However, she credits her success to the strong women who came before her. Quannah and her mother, Jody, taught her kids hunting, fishing, and dog mushing with deep connections to their ancestral land.
When Quannah was 3, her family moved to a small village in Mongolia, where her mother had taken a job teaching English. Likewise, Jody also had a demanding career in law enforcement for ten years. So, there were a lot of times when the family would have to move to remote villages.
Quannah's mother and her grandmother are also activists protecting native land and water resources. On the other hand, Quannah, in elementary school, learned about Indigenous science, like Lakota astronomy. She took every opportunity in school to educate people about our culture.
ALSO READ: Xiuhtezcatl Martinez Biography: Environmental Activist And Hip-Hop Artist.
Modeling and Activism: Walking into Two Worlds
Prior to becoming a model, it was her advocacy work that first put Quannah Chasinghorse in the public eye. As a teenager, she protested against drilling in the Arctic National Wildlife Refuge, a 19.6-million-acre area in northeastern Alaska that has been under threat of oil development for many years.
Besides, Chasinghorse served on the International Gwich'in Youth Council, spoke at climate rallies, and worked with the Alaska Wilderness League. As an Indigenous Model Quannah Chasinghorse gained a large following on social media for her activism work. As an activist, Chasinghorse spent her days marching and speaking at rallies for environmental justice.
In late 2020, Calvin Klein signed Quannah for a youth voting campaign, and she later signed with IMG Models. Since then, she has walked for Savage X Fenty, Gabriela Hearst, and Chanel and has been on the cover of Vogue Mexico.
Quannah has brought her heritage into her modeling career by making sure that people on the frontlines are being heard. As the fashion industry is detrimental to the climate crisis, she is trying to get a lot of the industry to move forward in a better way.
Chasinghorse wants to show the fashion world true Indigenous and authentic work because, in this industry, there's a lot of cultural appropriation. She supports Native brands and artists like Red Berry Woman, Jamie Okuma, Lauren Good Day, and Osamuskwasis.
Breaking the Barrier
Chasinghorse discovered modeling when she was 3 years old, living in a remote village in Mongolia. Before her family had learned the language, her mother would often turn the television to a fashion channel that played runway shows, set to music, around the clock.
Growing up, Indigenous model Quannah Chasinghorse rarely saw her Indigenous culture represented in the fashion she voraciously consumed. She was obsessed with watching runway shows on television, including Dior, Chanel, and Prada.
Chasinghorse, at 19, began her modeling career. As a fresh face, she got cast in a 2020 Calvin Klein campaign that stressed the importance of voting. A few months later, she signed with IMG Models, and she is breaking barriers in an industry that has long overlooked Indigenous talent.
In March 2023, Chasinghorse served as one of the honorary co-chairs of the 2023 Green Carpet Fashion Awards in New York City. She was accompanied by her boyfriend, who is a renowned actor. Moreover, in late 2022, Quannah graced the Forbes cover in the 30 Under 30 list.
Similarly, you might want to read about the Young Environmental Activist Isra Hirsi Biography.
Who is Quannah Chasinghorse Boyfriend?
Quannah Chasinghorse is currently dating actor D'Pharaoh Woon-A-Tai, a Canadian actor of Indigenous descent who was born in Ontario, Canada. He is best known for his role as Bear Smallhill in the FX Hulu comedy-drama series Reservation Dogs in 2021.
So, when did Quannah Chasinghorse meet her boyfriend? The two first met at New York Fashion Week in the fall of 2021. D'Pharaoh and Quannah became friends after the handsome hunk signed with his now girlfriend's modeling agency, IMG.
The couple, who now live in Los Angeles, have been together for over two years. Quannah and her boyfriend, D'Pharaoh have since appeared onscreen together in a music video for Rob and Jack Lahana (Natalie Portman's directorial debut).
Quannah Chasinghorse boyfriend, D'Pharaoh, is among the few people who represent a minority of the Indigenous tribe at a higher level. The couple also appeared in an enchanting fashion editorial for Vogue Global's May 2023 edition. As an artist, they are determined to make people heard about their communities' issues.
Quannah as an Indigenous Artist in Hollywood
Indigenous peoples practice unique traditions, and they retain social, cultural, economic, and political characteristics that are distinct from those of the dominant societies in which they live. The Native Americans hold a unique language and knowledge, and they possess invaluable knowledge of practices for the sustainable management of natural resources.
The Chasinghorse family started an organization called Native Youth Outdoors, which is important for Indigenous Alaskan youths. Likewise, Quannah appeared in a short documentary called Walking Two Worlds, supported by The North Face. It is a documentary about a young woman who navigates between her traditional culture and the world of haute couture.
Besides her modeling and acting career, Quannah aims to educate people about her culture and the threats it faces, such as food insecurity and cultural loss. More than ever now, it's time to have a sense of the contributions they are making.
Over the years, we have seen great Indigenous artists, storytellers, and activists. Indigenous peoples hold their own diverse concepts of development based on their traditional values, visions, needs, and priorities. Moreover, Indigenous model Quannah Chasinghorse is on a mission to make people realize the contributions Native tribes are making.
FAQs
Q: Who are Quannah Chasinghorse's Parents?
Quannah was born to Jody Potts-Joseph and Nathan ChasingHorse.
Q: Where was Quannah Chasinghorse born?
The model was born in Tuba City, Arizona.
Q: What tribe is Quannah Chasinghorse from?
Quannah belongs to the Han Gwich'in and Sicangu-Oglala Lakota tribe.
Q: What is Quannah Chasinghorse known for?
The Indigenous actress is also known for Modeling and Activism.
Did you notice an error ?
Please help us make corrections by submitting a suggestion. Your help is greatly appreciated!