Top Lists
Everything You Need To Know About Ella Emhoff Boyfriend: Who is He And What Does He Do?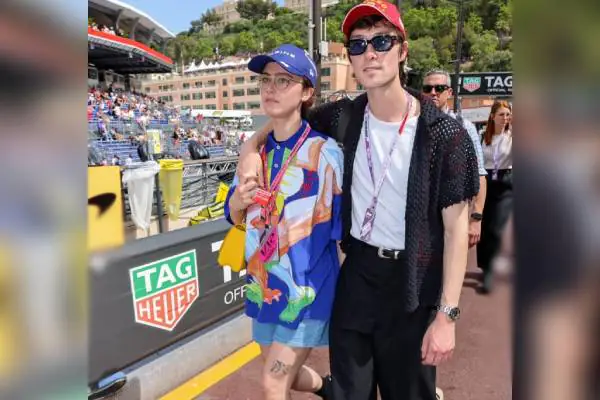 Ella Emhoff Boyfriend. Image Credit: Instagram.
Ella Emhoff is an American model, fashion designer, and artist. She is a member of the Second Family of the United States of America, as the stepdaughter of the Vice President of the United States, Kamala Harris, and daughter of US Second Gentleman Doug Emhoff. In spite of that, she found recognition and fame thanks to her work rather than her family history.
Today, we are going to talk about the personal life of this American personality and reveal some fascinating facts about her partner. Thus, please keep reading until the end to know everything about Ella Emhoff boyfriend. Let's begin by getting to know her a little.
Some Facts About the American Artist
Ella was born Ella Rose Emhoff on May 29, 1999, to Doug Emhoff and Kerstin Emhoff. Kerstin is the founder and chief executive officer of Prettybird, which is a film production company. Ella was named after famous jazz singer Ella Fitzgerald.
The American model was a member of the basketball and swimming teams while attending the Wildwood School. Similarly, she pursued a major in fine arts in apparel and textiles at the Parsons School of Design in New York and graduated in 2021.
Emhoff creates knit shorts, caps, coats, and jackets, which she sells on her website and Instagram. She additionally markets ceramics, paintings, and drawings on her website.
Meet Ella Emhoff Boyfriend – Who is He?
The stepdaughter of the Vice President of the United States (VPOTUS) is already taken. Being a fashion lover herself, she is dating another fashion enthusiast, Samuel Hine. The couple began their journey in August 2021.
The lovely couple sparked rumors in early 2021 when they were spotted dining together at Dr. Clark in Chinatown. However, neither Ella nor Samuel clarified their relationship status at the time.
Ella and Sam's relationship timeline
| | |
| --- | --- |
| Date | Event |
| February 2021 | Ella and Sam Sparked Dating Rumors |
| March 2021 | Ella and Sam were spotted together in New York City |
| August 2021 | Sam became Ella Emhoff boyfriend |
| September 2022 | Sam and Ella attended an event together |
Following that, Ella Emhoff boyfriend was seen enjoying a walk with his lady love in March 2021 in the West Village of New York City. Similarly, Samuel accompanied his girlfriend at the 2022 Harper's Bazaar Icons & Bloomingdale's 150th-anniversary party, where she was named an icon.
Hine never backs down from appreciating the work of his girlfriend in public. In an interview, Sam said her way of modeling makes her a true icon. The man always supports in her personal and professional life.
ALSO READ: Bobbi Althoff Faces Backlash For Her Difference in 'Attitude' Towards Black And White Celebrities
Decoding Samuel's Profession: What Does He Do?
As the boyfriend of a fashion icon, Samuel is also involved with fashion. He is a fashion writer for America's international men's magazine called GQ. He has been a member of the magazine since his inclusion as an assistant in 2016.
Ella Emhoff's boyfriend, Samuel is a Williams College graduate and has been dubbed as a Dimes Square Fixture by the New York Times.
Hine became an expert at making trip arrangements and submitting expense reports for Conde Nast editors before working as a writer and editor for GQ Style. He was named style editor in 2019, and in 2022, he was promoted to his current position.
Sam served as co-host of the renowned fashion and culture podcast Corporate Lunch with Noah Johnson and Rachel Tashjian. Show Notes, a renowned GQ newsletter that covers international fashion weeks, was created by him. Sam also writes profiles of fashionistas, stars, artists, and influencers for GQ.com and the magazine.
Similarly, you might be interested in Brecken Merrill Earnings.
Is the Couple Getting Married Soon?
As impressive as the news would have been, Sam and Ella are showing no signs of getting married. They are currently enjoying their relationship as a boyfriend and girlfriend. The pair can be spotted spending time together quite often.
The couple goes on vacations together and attends fashion events. Similarly, in 2022, they attended a Formula Racing event and seemed to have enjoyed it to the fullest. Further, they attended a marriage function in May 2022 in New York.
We wish the lovely pair all the best in their relationship and hope that they reveal another happy news real soon. At the moment, they do not have any plans to tie the knot. So, let's wait for an announcement in the near future.
FAQs
Q: What is Ella Emhoff's nationality?
A: Ella Emhoff is an American.
Q: Is Ella Emhoff related to Kamala Harris?
A: Ella is Kamala Harris's stepdaughter and Douglas Emhoff's daughter.
Q: What is Ella Emhoff's height?
A: Ella Emhoff is 5 feet 6 inches tall.
Q: Who is Ella Emhoff dating?
A: Ella Emhoff is dating a fashion writer named Samuel Hine.
Q: Does Ella Emhoff have any siblings?
A: Yes, Emhoff has an older named Cole Emhoff. She and Cole call Kamala Harris 'Momala.'
Q: Is Ella related to the Second Family of the United States?
A: Ella Emhoff is the daughter of the Second Gentleman of the US. Thus, she is also a member.
Did you notice an error ?
Please help us make corrections by submitting a suggestion. Your help is greatly appreciated!