Top Lists
5 Mentionable Names in Kali Uchis Dating History: Who is Her Boyfriend Now?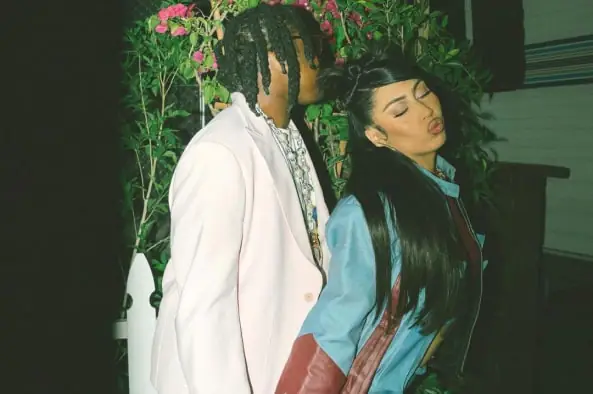 Kali Uchis. Image Credit: Instagram.
Kali Uchis is a household name in the Latin and Hollywood music industry as the star singer is relishing a much-decorated career run, producing many hits over the years. Her massive fanbase of more than 6 million Instagrammers and 36 million monthly listeners is undoubtedly an intimidating presence in the music industry.
Over the years, many have tried getting their hand on Kali, but only a few fortune men boast the right to claim to have done so. Thus, stick around as we uncover five mentionable names in Kali Uchis dating history.
5. Don Toliver
Any Kali Uchis fan or someone who has been listening to the singer for a while can tell she is dating star Houston rapper and Cactus Jack prospect Don Toliver. They set their romance voyage on sail in 2021 and are still together. The duo debuted on-screen through Don Toliver's hit single, 'Drugs N Hella Melodies.'
Kali's on-screen chemistry with the American rapper Toliver was so overpowering that in no time, the music video had people wondering if the two dated. However, fans were speculating their spark much earlier. To be precise, Don took to his Instagram on his 27th birthday to share a series of pictures where he was seen alongside the Telepatia singer. 
The netizens quickly noticed this detail, and the rumors of the two dating further materialized until finally official via Don's interview with W Magazine. In his interview, Don stated that they did not like to make it crazy public but instead liked to vibe together.
Don further revealed that he had pre-planned their Colombia shoot for 'Drugs N Hella Melodies' so that he could incorporate Kali in the video to make it a real-deal situation. 
4. Yung Gleesh
The talk about Kali Uchis dating history is incomplete without mentioning rapper Yung Gleesh. Before sparking a flame with Don Toliver, Kali had been in a brief relationship with Gleesh.
The two dated on and off for some time until Gleesh caught a felony. The Washington-based rapper was charged with a case of assaulting a woman who happened to be at his friend's house for a night over.
However, Kali testified in favor of Gleesh and said that her boyfriend had matured. She even insisted that the 29-year-old rapper deserved probation. Unfortunately, however, a friend of the assaulted woman testified, and based on that, Yung Gleesh was sentenced to five years in prison for attempted assault. Shortly after Gleesh went to prison, they confirmed the split on good terms due to irreconcilable differences. 
ALSO READ: 5 Unknown Things About Cat Zingano Husband: A Tragic Tale
3. Omar Apollo
After more than a year into Uchis' split with the Washington rapper, the media was flooded with rumors of the Moonlight singer dating singer and musician Omar Apollo as they were spotted together. Apollo even shared a steamy picture with Kali where the two posed poolside. After the incident, the two were bombarded by their fans, asking for confirmation on whether or not they were dating. 
Thus, hearing the loud cries, Kali Uchis decided to take it to her Instagram Live to clear out all the smoke. She expressed her disagreement and was seemingly confused at how people perceived her and Apollo to be dating.
Uchis made it even more straightforward during her interview with Steve Lacey that she had been single for over a year and a half and was having fun when a waiter mistook them for romancing. In addition, the singer even ridiculed how people mistook sharing moments as a relationship hint.
Similarly, you might be interested in knowing about Kristen Wiig Husband, Avi Rothman.
2. Tyler The Creator
Well, people love to sip a couple of times, no matter how the tea spills! Kali Uchis dating history is filled with swirling relationship rumors.
One notable name in the rumor is Grammy-winning American rapper Tyler The Creator. If you have been following both artists, you must know that their fans have been discussing their relationship for a while.
However, Kali ensured nobody stayed confused when she addressed the rumors banging on her door for a significant amount of time. She made it clear that the relationship between the two was platonic.
The See You Again singer shared that her relationship with Tyler was built on pure intention and friendship rather than romance.
Moreover, while talking to Big Boy during her interview at the Neighborhood, the singer exclaimed that Tyler was one of the few individuals who showed up with genuine help and did not show the slightest intention to profit from her.
On the other hand, Tyler shared during one of his performances that he loved how a nervous Kali had transcended into a fine performer that captivated the audience like nobody else.
1. Who is Kali Uchis Boyfriend In 2023?
Kali Uchis is currently in a full-blown and loud relationship with Don Toliver, and they seem to be far from getting over each other. The duo is so in love that they often take it to their socials to let the world know their chemistry is budding fresh.
The netizens went into a frenzy when Don Toliver shared a video of him giving flowers to Kali as they intimately danced on the occasion of valentines. He even took the moment as an opportunity to tease their upcoming collaboration '4 Me. ' In a nutshell, the duo doesn't seem to roll downhill anytime soon, and fans are waiting for them to open up more about their relationship.
Did you notice an error ?
Please help us make corrections by submitting a suggestion. Your help is greatly appreciated!