Net Worth
Discover Cat Zingano Net Worth From Her MMA Career: Is She A Millionaire?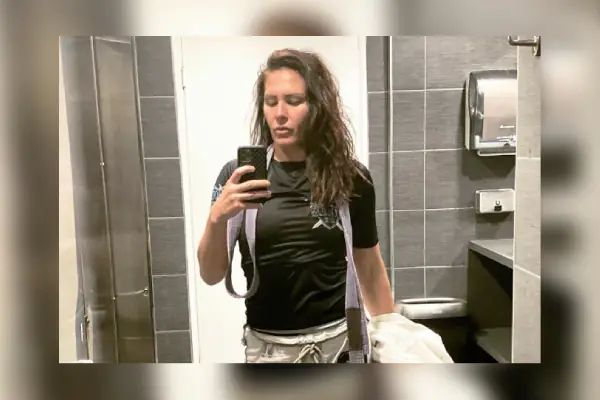 Cat Zingano Net Worth. Image Credit: Instagram.
One of the most celebrated female fighters, Cat Zingano, previously competed in the Ultimate Fighting Championship (UFC), where she was ranked 7th in the official UFC bantamweight Rankings. Zingano is currently signed to Bellator MMA, where she is ranked 1st in the Women's Featherweight Division.
Today, let's take a closer look at Cat Zingano net worth based on the premises of MMA fighters' salaries and incomes. Although the sport is full of devastating outcomes, fighters can make a fortune out of this famous spectacle.
Nicknamed "Alpha," Zingano became the first woman to win a UFC fight by technical knockout in 2013. Over the course of her fighting career, the former Invicta and Strikeforce fighter has built a significant amount of wealth.
From Wrestling and Jiu-Jitsu To MMA
Born as Cathilee Deborah Albert on July 1, 1982, Cat was raised by her parents, Jon Albert (father) and Barbara Albert (mother), in Winona, Minnesota, United States.
From an early age, Zingano began her combat sports career. At the age of 12, she started wrestling.
Cat attended Boulder's Fairview High School, where she joined the wrestling squad. Later, she continued her wrestling career at the University of the Cumberlands (2001) and MacMurray College. There, she went on to become a four-time All-American and National Champion.
Through her late husband, Mauricio Zingano, Cat discovered Brazilian Jiu-Jitsu in 2007. Under Mauricio's coaching, Zingano won double gold medals at the 2012 Vegas Open International Jiu-Jitsu championship.
Zingano made her pro-MMA debut on June 13, 2008, at Ring of Fire 32 and later competed in Invicta FC, Strikeforce, and UFC. Therefore, she has been active in MMA sports for over 15 years.
Decent Career with Invicta FC and StrikeForce
Unlike UFC and Bellator, Invicta FC's fighters make relatively less amount with no additional bonus or sponsorships. Cat was signed on to face Amanda Nunes at Strikeforce on September 29, 2012, but the event was canceled. In October 2012, Zingano instead faced Raquel Pennington at Invicta FC 3 and won the fight via submission.
As per the reports, the average salaries for fighters at Invicta FC and Strikeforce vary according to the athlete. They can earn as much as $15,000, while the minimum salary for a fight is somewhere around $1.5k-$2.5k. Although Zingano had a short career at Invicta, she might have earned somewhere between $15,000-$20,000.
Meanwhile, Zingano was also showing promising feats at several Jiu-Jitsu championships. At the 2012 Vegas Open, she won double gold medals and made over $2,000 in earnings. However, her transition to UFC was about to bring both fame and fortune.
ALSO READ: 5 Unknown Things About Cat Zingano Husband: A Tragic Tale
Rewarding Career With the Ultimate Fighting Championship (UFC)
Zingano fought against Miesha Tate on April 13, 2013, at the Ultimate Fighter 17 Finale. The bout was named Fight of the Night, where Cat received $14,000, including a $7,000 win bonus after defeating Tate by TKO.
In February 2015, the California State Athletic Commission (CSAC) released the UFC 184 fighter payouts for the main contenders competing on the Rousey vs. Zingano pay-per-view. For the UFC Women's Bantamweight Championship, Cat Zingano reportedly made $100,000 for showing up.
Zingano would have received double her amount, which is $200,000 if she had dethroned Rousey. Meanwhile, Ronda received a guaranteed $65,000 for showing up and $65,000 for winning. In 2018, at the UFC 222 event, Zingana made $35,000 while her opponent Ketlen Vieira made $60,000 with an additional $30,000 win bonus.
Organizations such as UFC insist that its remuneration structure is fair and based on market value and performance, while critics argue that fighters receive a small fraction of the organization's income. Low-tier fighters can expect to earn between $12,000 and $30,000 per fight, while high-tier fighters can expect to earn between $500,000 and $3,000,000 per fight (based on recent pay-per-view payouts). Take Conor McGregor, for example, who reportedly made a staggering $23 million for his UFC 264 fight against Dustin Poirier.
Bellator MMA
In October 2019, Cat Zingano signed a multi-fight deal with Bellator MMA, and she began competing in Bellator's featherweight division. In her promotional debut against Gabby Holloway at Bellator 245 in September 2020, Zingano won the fight via unanimous decision and received a guaranteed $100,000.
View this post on Instagram
As per reports, the fighters at Bellator 293 received a desirable amount that included salaries based on their contract with the promotion. Further, Zingano received $100,000 after winning the fight against Leah McCourt via unanimous decision on March 31, 2023.
Bellator MMA announced its upcoming event, the BELLATOR 300, which will take place on October 7 at Pechanga Arena in San Diego, California. The event will also feature a grudge match between Cris Cyborg and Cat Zingano for the Bellator Women's Featherweight Championship.
Revealing the MMA Fighter Cat Zingano Net Worth
According to various sources, Cat Zingano net worth is $2 million. Currently the number one contender in the Bellator Women's Featherweight Rankings, the series of victories has contributed to Cat Zingano's wealth.
While the average payout and salaries for male and female MMA fighters differ significantly, there are some female MMA fighters who have a desirable net worth, including Ronda Rousey ($14 million), Amanda Nunes ($4 million), Valentina Shevchenko ($1 million), etc.
In addition to salaries, the fighters earn additional incomes from post-fight bonuses, sponsorships, percentages, and other unofficial payments. Most athletes are paid a certain amount per fight as part of their contract, with the potential for raises based on factors like experience and popularity. Additional rewards, such as 'Fight of the Night' and 'Performance of the Night' bonuses, are also given out for outstanding performances.
References
Did you notice an error ?
Please help us make corrections by submitting a suggestion. Your help is greatly appreciated!