Top Lists
5 Must-Know Things About The Pulitzer Prize Winner Mona Chalabi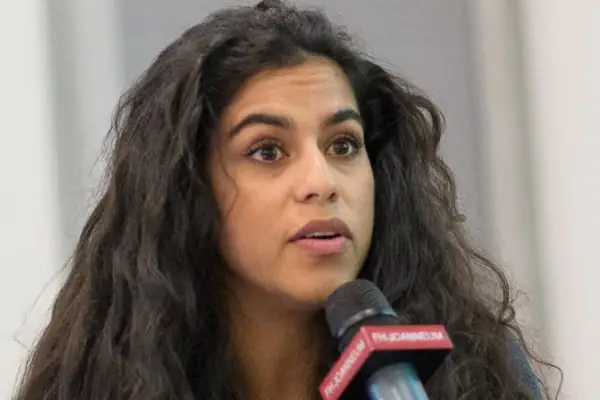 Mona Chalabi. Image Credit: Wikimedia Commons.
Mona Chalabi is an award-winning author and illustrator who recently bagged the Pulitzer award for her masterful piece published through the New York Times. She is one of the reporters with the most profound skills in drawing simplified illustrations of a more sophisticated topic.
Lately, Chalabi has been receiving her flowers after years of dedicating her life to contributing to a better understanding of today's world using an artful blend of colors, words, and sound. Today, we will walk you through five of the Emmy-nominated journalist's must-knows.
5. Is Mona Chalabi From Iraqi Descendant?
Mona Chalabi was born to Iraqi parents who resided in East London. Thus, the Pulitzer awardee is from an Iraqi descendant born and raised in the UK. While growing up, she faced a lot of shades thrown at her due to her ethnicity.
For instance, the author recalls getting into a fight with her primary school classmate because she was asking her to head back to the country she is from. Around that time, she learned to get vocal about her experiences to convey exemplary narratives to the people. 
Later on, Chalabi attended the University of Edinburg, where she earned her undergraduate degree in International Relations. Then, the NYT author moved to Paris, France, to initiate her master's degree in International Security from the Paris Institute of Political Studies. 
4. Leading Up to Journalism
The fact that Iraq has been facing multiple crises throughout the nation's history created tremors in Mona's parents, and they wanted to make sure she received the home-schooling that allowed her to integrate into British society standards. Thus, she was brought up in a very British way so that she could be as competent as the natives in their corporate ecosystem.
Big ups to her competitive upbringing, Mona has been bagging accolades everywhere she steps in. The Guardian US author formerly worked for notorious organizations like the Bank of England, the Economist Intelligence Unit, and the International Organization for Migration. Her prior involvement in heavy statistics-oriented organizations speaks volumes for her ability to translate complex data into visual representations like a walk in the park. 
However, the British-Iraqi's breakthrough came after her rich illustration and detailed compositions of words began circulating in mainstream media outlets. Her works can be found featured in FiveThirtyEight, The New York Times, The New Yorker, and The Guardian.
Apart from this, Mona Chalabi has also made a mark in the TV and production sector as she has earned productional credits across multi-media platforms like NPR, Netflix, the BBC, National Geographic, and many more.
3. Second Iraqi To Win The Pulitzer!
Mona Chalabi took to her Instagram on May 9th, 2023, to share her excitement after being declared one of the Pulitzer Award winners. With this achievement unlocked, she joins the list with legendary architect Zaha Hadid, the only Iraqi descendant to achieve this feat before her.
Hadid received this award in 2004, making her the first woman and Iraqi-blooded ever to attain this prestigious acknowledgment. Her works, like those at the Tate, the Brooklyn Museum, the Design Museum, and the House of Illustration, earned her an unparalleled edge over other nominees.
However, Mona Chalabi made history after being the second Iraqi descendant woman to boast this award. She shared how the article that proved her worthy of the award was composed during one of her life's most challenging and coldest winters. While addressing the win, she even took her words to thank each one of her teammates who contributed all along the way.
ALSO READ: Revealing 5 Interesting Facts About Omar Courtz: An Emerging Puerto Rican Musician
2. The Article That Earned Mona The Pulitzer Award
Despite her years of on-and-off-field contribution to the world of journalism, Mona Chalabi was acknowledged for the piece that she wrote about one of the most influential billionaires on the planet, Jeff Bezos—the NY Times published an article titled "9 Ways To Imagine Jeff Bezos' Wealth," which was nominated by the jury to compete for Illustrated Reporting and Commentary. 
The article dwelled deeply into the wealth of Amazon's father, Bezos. In the article, Mona presented legitimate insights into Jeff's economic prowess in the most analytical and statistical yet unchallenging manner. She was nominated alongside Pia Guerra of the Washington Post and Matt Davies of the Newsday.
However, the jury of Kainaz Amaria, Kathleen McElroy, Kevin Siers, and Raghuram Vadarevu, with Steve Duenes as the head of the jury, sided with Mona, who bestowed the award into her lap.
Similarly, you might be interested to read about Kristen Wiig's Husband, Avi Rothman.
1. Side Quests and More Achievements
Apart from media and printing mainstream achievements, Mona has collected more feathers on her hat with her keen art of illustrating. Her achievements include a nomination at the 38th Annual News and Documentary Emmy Awards, winning the 'Shorty Award' for being the Best Journalist in Social Media, and being enlisted in Fortune's 40 under 40 in Media and Entertainment.
Moreover, Mona's hunger to uncover the most sought-after and entangled topics through detailed study and visionary analytical ability is only increasing as she grows wiser in age. Currently, she is designated at the Guardian US as the primary data editor. She continues her quest to rehumanize the abundant data to rediscover how we can live in our world.
Did you notice an error ?
Please help us make corrections by submitting a suggestion. Your help is greatly appreciated!