Top Lists
Everything You Need To Know About Marco Pigossi Boyfriend: Who is He?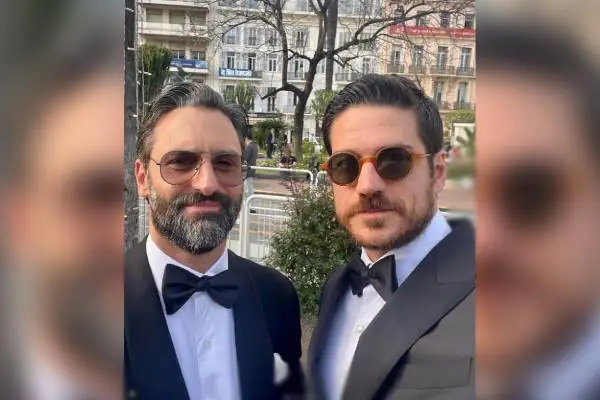 Marco Pigossi Boyfriend. Image Credit: Instagram.
Brazilian actor and producer Marco Pigossi gained worldwide recognition, portraying the character of Dylano on the Australian television series Tidelands. Beginning his theatre journey at the age of thirteen, the actor has come a long way with appearances in multiple hit shows, including the leading role in the Netflix series Invisible City.
In this article, however, we are going to talk about the personal life of the Brazilian performer and find out whether his love life is as strong as his acting portfolio. Thus, please keep reading until the end as we divulge interesting things about Marco Pigossi boyfriend.
Meet Marco Pigossi Boyfriend: Who is He?
The Brazilian actor Marco Pigossi is currently in a relationship with his boyfriend, Marco Calvani. Interestingly, the actor fell for the person who also shared the same name and a similar profession.
Calvani is an award-winning playwright, director, and writer who has worked in the entertainment industry for over two decades. He has been acting since he was a teenager and also received training to hone his skills as an actor. Similarly, his debut work as a playwright, Quasi, was released in 2002 and was sanctioned by the European Social Forum.
Marco Pigossi boyfriend had his first international acclaim in 2006 after the release of Strong Hands. It was his first-ever play to be performed and translated across different European countries.
Below is the list of theatre plays written by the playwright.
| | |
| --- | --- |
| Year | Plays |
| 2019 | Before We Fall Asleep |
| 2018 | Beautiful Day Without You |
| 2016 | After the Dark |
| 2016 | Maspeth |
| 2016 | The View from Up Here |
| 2016 | The Conference |
| 2014 | The Second Time |
| 2013 | I am Dracula |
| 2012 | Things of This World |
| 2010 | Nails |
| 2009 | The City Beneath |
| 2006 | Strong Hands |
| 2002 | Quasi |
Furthermore, Calvani's 2009 play, The City Beneath, was performed at the Sage Theatre in New York City and received a positive response from the critics and audience.
ALSO READ: Discover David Moinina Sengeh Net Worth: An Astouning Revelation
Did Calvani Study Filmmaking?
Marco Pigossi's partner was born on December 11, 1980, in Prato, Tuscany, Italy. He has not mentioned much about his early life and family. He attended the Drama School, Laboratorio Nove, Teatro della Limonaia, from 1997 to 2000.
Similarly, the Italian national attended another Drama school, Duse Studio International, from 2000 to 2008 and is a life member of the school. After graduating from drama school, his first play was Io che non so che fine faro and Oil.
Below is the list of theater plays directed by Calvani.
| | |
| --- | --- |
| Year | Plays |
| 2016 | I don't know what I can save you from |
| 2014 | Happy Hour |
| 2013 | I am Dracula |
| 2013 | Stockholm |
| 2011 | Lovely Head |
| 2010 | Nails |
| 2009 | Penelope in Groznyj |
| 2009 | The city beneath |
| 2008 | Oil |
The Tuscany native also got into theater direction in 2008 when he wrote and directed the award-winning theatre play Oil. Furthermore, he is also a member of the Dramatists Guild of America.
Similarly, you might be interested in Canva CEO Melanie Perkins Husband
Multiple Awards Are Testament to Marco Calvani's Success
The outstanding playwright and director has received multiple accolades in his illustrious career spanning over twenty years. He received his first major award in 2011, winning the SIAE Prize for Best Playwright in Italy.
Similarly, in the same year, Calvani bagged the Artistic Residency at Prix Marie de Paris, Cite Internationale des Arts. Furthermore, he was awarded Outstanding Playwrighting for Oil at the Planet Connections Theater Festivity Awards in New York in 2013.
Some of the Italian's other awards include the Edward F Albee Foundation Writer Fellowship, Artistic Residency at The Studious of Key West, and Play Commission by Origin Theatre Company.
Sharing Experience With the Young Generation
Marco Pigossi boyfriend is sharing his years of experience and expertise with young and up-and-coming newcomers to the entertainment industry. He teaches acting and writing in America and multiple countries in Europe.
Furthermore, Calvani is fluent in English, French, Italian, and Spanish. Thus, he works as a translator of English and French plays into Italian and has translated the work of famous writers, including Theresa Rebeck, Bernard-Marie Koltes, and Bryony Lavery.
The Italian national is also the founder of Mixo' Theatre Company and worked as an Artistic Director until November 2015. Similarly, he is currently employed at La Mama Theatre as a playwright and director in New York City.
Similarly, Marco has acted in several films throughout his career, except for writing and directing. As a trained actor in his early teens in Italy, he was bound to showcase his talent on the silver screen.
Entry Into Short Films: A New Adventure
Marco Pigossi's boyfriend debuted his short film with the 2017 drama The View from Up Here. It starred Leila Bekhti and Melissa Leo in the lead, portraying the characters of Lila and Claire, respectively.
Similarly, in 2022, Calvani released his second short movie titled A Better Half, starring Daren Pettie, Chris Stack, Delissa Reynolds, and others. It follows the story of a middle-aged man who is chronically depressed and tries to find the person responsible for his condition.
Last but not least, the Italian writer's upcoming drama is titled Best Place, which also stars the love of his life, Marco Pigossi. We wish him all the best and hope to see the movie real soon.
FAQs
Q: What is Marco Pigossi's nationality?
A: Marco Pigoss is a Brazilian.
Q: When is Marco Pigossi's full name?
A: Marco Pigossi's full name is Marco Fabio Maldonado Pigossi.
Q. Who is Marco Pigossi partner?
A. Marco Pigossi is in a relationship with director-writer Marco Calvani.
Q: Where does Marco Pigossi live?
A: Marco currently resides in Los Angeles, California.
Did you notice an error ?
Please help us make corrections by submitting a suggestion. Your help is greatly appreciated!