Top Lists
Who is Barcelona Midfielder Frenkie De Jong Girlfriend? Journey To Parenthood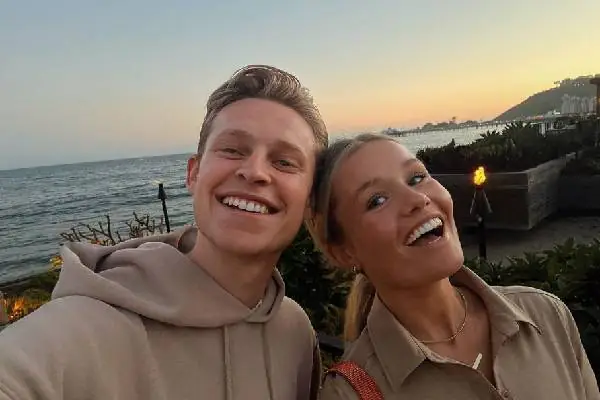 Frenkie De Jong Girlfriend. Image Credit: Instagram.
Football is an art form, not just a game. You need to use your imagination, think creatively, and stay one step ahead of your rivals. Frenkie De Jong is one such player who has followed this rule since the beginning of his career. Thanks to that, some of the football world's legends have appreciated his style of play, such as former Barcelona midfielders Xavi and Andres Iniesta.
Let's find out if the star football player has found success in his personal life or not. So, today, we are going to talk about the love life of this fantastic player and reveal everything there is to know about Frenkie De Jong girlfriend.
Brief Overview of the Football Player
Frenkie was born on May 12, 1997, in Gorinchem, Netherlands, and spent his childhood in a small town in the province of South Holland, Arkel. He began playing football from there.
The Dutchman is a central midfielder for both the Netherlands' national team and La Liga team Barcelona.
De Jong is regarded as one of the top midfielders in the world and is well-known for his vision, passing, dribbling, and technique, in addition to his excellent defensive skills and offensive brilliance.
De Jong has put the number 21 on his shirt since he began playing professionally as a tribute to his grandpa, who was born on April 21.
Meet Frenkie De Jong Girlfriend – Who is the Lucky Lady?
The football sensation might be a genius inside the football field; however, he must have lost his heart when he first landed sight of his current girlfriend, Mikky Kiemeney. Yes, the Barcelona midfielder is already taken by the beautiful lady.
Like Frenkie, Mikky is also from the Netherlands. She was born in April 1998 in Hilvareneek, Netherlands. Not much is known about her family, but it is known that she has a brother who occasionally visits her in Barcelona.
Frenkie and Mikky's relationship timeline
| | |
| --- | --- |
| Date | Event |
| November 2014 | Mikky became Frenkie De Jong girlfriend |
| May 2018 | Celebrated Birthday Together |
| April 2019 | Mikky accompanied De Jong to Barcelona |
| July 2020 | Frenkie and Mikky had a vacation in Ibiza |
| July 2022 | Frenkie and Mikky got engaged |
Frenkie de Jong girlfriend is also an athlete, a field hockey player to be specific, and she has represented a Dutch professional field hockey club called HC Den Bosch as a player. It looks like the game recognizes the game.
Frenkie and Mikky first met when they were in high school and began their relationship in November 2014. As of 2023, the couple has already been together for nine years. Similarly, after dating for such a long time, the lovely pair got engaged in July 2022.
ALSO READ: Who is Jessica Matten Married To? Uncovering Details About Her Partner
Mikky's Profession: What Does She Do?
The beautiful girlfriend of the football player is a social media personality, businesswoman, and fashion enthusiast. She boasts a massive following on Instagram and can be seen attending multiple fashion events when she is not supporting her man inside the stadium.
Mikky is well renowned for her sense of style and wardrobe selections, and she frequently shares pictures of her looks on social media. She is now regarded as a fashion influencer in addition to being a soccer WAG.
Further, Frenkie de Jong girlfriend has also launched her own clothing brand called MIKKY KI. She started this brand with her father, and the father-daughter duo looks after the sales and marketing part of the clothing brand.
Below is the list of items available on the website.
| | |
| --- | --- |
| Item | Price |
| Hoodies | Starting from $73 |
| T-Shirts | Starting from $57 |
| Shorts | Starting from $73 |
| Phone Cases | Starting from $13 |
| Socks | Starting from $15 |
| Beanies | Starting from $23 |
| Trousers | Starting from $84 |
Table Source: mikkyki
Different items are available for sale, including Hoodies, Socks, Trousers, T-shirts, Phone cases, Beanies, and others. It looks like Frenkie's girlfriend is doing an excellent job in her professional career.
Similarly, you might be interested in Taylor Zakhar Perez Girlfriend.
Journey to Parenthood- Is the Couple Expecting a Baby Soon?
It had been just over a year since Frenkie and Mikky got engaged. Now, they have reached another milestone in their romantic life. Good news for Frenkie de Jong fans all over the world. Your favorite footballer is going to be a dad soon.
The couple announced their pregnancy in July 2023 by sharing a lovely video on their social media handles where Mikky was seen flaunting her baby bump. The couple has yet to announce their wedding details.
We wish Frenkie and Mikky all the best in their romantic life and wish to hear the good news real soon. The lovely pair will announce the date of their wedding soon. So, let's wait and, for the time being, enjoy watching Frenkie play football.
FAQs
Q: What is Frenkie de Jong's nationality?
A: Frenkie de Jong is a Dutch national.
Q: Which Club does Frenkie de Jong play for?
A: Frenkie plays for the Spanish club Barcelona.
Q: Does Frenkie de Jong have a girlfriend?
A: Yes, Frenkie has a beautiful girlfriend named Mikky Kiemeney.
Q: Is Frenkie de Jong married?
A: No, Frenkie is not married, but he is engaged to his girlfriend.
Q: How tall is Frenkie de Jong?
A: Frenkie de Jong is 5 feet 11 inches tall.
Q: What is Frenkie de Jong's position?
A: Frenkie is a central midfielder.
Did you notice an error ?
Please help us make corrections by submitting a suggestion. Your help is greatly appreciated!