Top Lists
Who is Pro MMA Fighter Sarah Alpar's Husband? A Look Into Her Married Life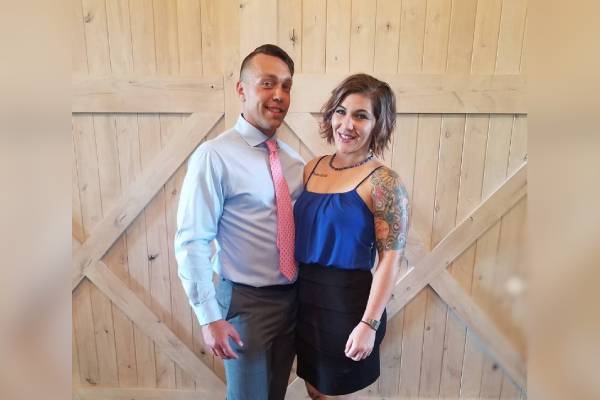 Sarah Alpar's Husband. Image Credit: Instagram.
MMA and UFC are brutal sports where only the most robust and powerful fighters can keep up and build a successful career. The name Sarah Alpar is enough to give chills to her opponents, especially when she stands opposite them inside the ring. Nicknamed Too Sweet, her punches and kicks are not sweet at all when landed on the body of her rivals.
However, the fighter does have a sweet spot for one person when she is outside of the fighting ring: her partner and lover. Thus, tighten your belts as we are going to take a peak into the life of this amazing fighter and reveal everything there is to know about Sarah Alpar's husband.
Some Facts About the MMA Fighter
Alpar was born on June 1, 1991, in Oklahoma City, United States of America. The American Elite MMA fighter has not mentioned much about her early life and family, but she did her schooling at West Texas A&M University.
Sarah is a certified Fitness Nutrition Coach. She received her official certificate in December 2021 from the National Academy of Sports Medicine.
The American fighter has worked in different odd jobs before beginning her journey as a professional fighter. Before gaining the spotlight, she was an assistant family teacher, Parents Day Out teacher, and Barista at Starbucks.
Who is Sarah Alpar's Husband? Decoding Her Married Life
What more do you need if you have a man who loves you unconditionally? The same is true for Sarah as well, as her partner and lover has been her pillar ever since the beginning of her career.
Having said that, Sarah Alpar is married to her wonderful husband, Drew Simmons. The couple got engaged in 2019 and exchanged vows in October 2020 in front of their friends and family in an undisclosed location.
Sarah and Drew's Relationship Timeline
| | |
| --- | --- |
| Date | Event |
| Mid-2019 | Sarah and Drew got engaged. |
| October 2020 | Drew became Sarah Alpar's husband. |
| 2020-present | Living a happy married life. |
Alpar's wedding generated a lot of buzz when she faced UFC bantamweight Jessica-Rose Clark three weeks before her wedding. She lost the match and ended up a bloodied mess after the fight.
Interestingly, Clark had no idea that her opponent would get married very soon, and she later apologized for making a mess out of her weeks before her happy day.
Sarah's beat-up face did not make any difference to Drew, as he had been in love with the fighter for a very long time. Sarah first shared their picture in 2018, and their bond is now stronger than ever.
ALSO READ: Get To Know About Madison McFerrin Boyfriend Plus Manager: A Look Into Their Love Story
Is Drew a Fighter As Well? Revealing His Profession
As impressive as the news would have been, Sarah Alpar's husband is not a fighter. However, he is a fitness expert and certified personal trainer. Thus, it is safe to say that he has played a crucial role in his wife's fitness regimes.
Like Sarah, Simmons also has received a letter of certification from the National Academy of Sports Medicine as a fitness nutrition specialist and trainer. He can be frequently seen on Alpar's Instagram handle, where the couple can be seen enjoying their day out together and going on dates.
Sarah Alpar's husband works as a fitness expert at Studio M Fitness, located in the heart of Oklahoma City. So, If you are in dire need of a fitness makeover, do visit Drew at M Fitness.
Similarly, you might be interested in David Moinina Sengeh Net Worth.
Does the Couple Have Any Children?
Good news for Sarah Alpar fans around the world. Your favorite athlete has been blessed with a wonderful son. Alpar and her husband are parenting one son in their quiet life in Oklahoma. The young boy can be frequently seen on his parents' social media.
After scanning the American fighter's Instagram pictures, we found that the couple became parents before they tied the knot in 2020. Furthermore, the little man was lucky enough to be the ring bearer at his parents' wedding. He is among the few lucky children who got to witness their parents' union.
In conclusion, we wish Sarah and her family nothing but a happy future. She is living her life to the fullest with a successful career in MMA with a loving husband and son.
FAQs
Q: What is Sarah Alpar's nationality?
A: Sarah Alpar is an American.
Q: Is Sarah Alpar married?
A: Yes, Sarah is married to her wonderful husband, Drew Simmons.
Q: Does Sarah Alpar have any children?
A: Sarah and Drew have one son together.
Q: What is Sarah Alpar's height?
A: Sarah Alpar is 5 feet 4 inches tall.
Q: What is Sarah Alpar's nickname?
A: Sarah Alpar's nickname is Too Sweet.
Q: How much does Sarah Alpar weigh?
A: Sarah Alpar's weight is 125 lbs.
Did you notice an error ?
Please help us make corrections by submitting a suggestion. Your help is greatly appreciated!