Top Lists
5 Astonishing Revelations Behind Salice Rose Tattoos: What Are Their Meanings?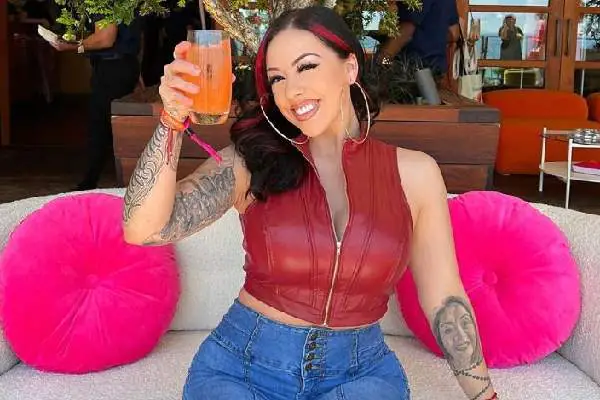 Salice Rose Tattoos. Image Credit: Instagram.
Getting your body inked with random bizarre things might not be everyone's cup of tea. But there are people who are literally addicted to getting tattoos once in a while. Instagram star and YouTube celebrity Salice Rose is one of those individuals who likes to express herself with meaningful tattoos.
With millions of followers, Salice Rose tattoos are a talking point for her fans. They simply can't wait for the meanings behind her body's artistic designs. Today let's learn some of the interesting and unheard facts cum stories behind her tattoos.
Salice Rose is an influential social media star who is equally famous for her appealing tatts. On the contrary, people inked their bodies for a lot of reasons. But whatever they might be, one thing is for sure: Tattoos do look cool. The most requested content on Salice Rose's social media career is about her tattoos. So, let's get into it.
5. Salice Rose Cross And "S" Tattoo
Dear readers, let's start with Salice Rose's face. Well, she actually hasn't got a tattoo on her face like Post Malone, but Salice is a woman with a high tolerance for pain. She has a small Christian cross tattooed on the middle part of both her ears. So, why a cross? We will get to that question in a minute, so please bear with us.
The crosses on Rose's ears took just four minutes, and she was waiting to get another tattoo right after that. There is a story behind why the YouTuber got tattoos on her ears. Rose once saw a girl who had her ears inked, and right in the spot, she decided to get one. In addition, Salice has an "S" tattoo behind her right ear, which is the initial of her name. Below the S, there is a line: I Love You, Salice, her mom's quote.
ALSO READ: 5 Unknown Facts About Marketa Vondrousova's Sister.
4. Salice Rose Tattoos, The Gate of Heavens Took 9 Hours
Did you know? Salice, as a kid, would draw on her fingers, arms, and even her legs. And once she became an adult, the first tattoo she got was of a cross on the back of her neck. The reason Salice has tattoos of a cross is directly related to her faith in the Christian religion. Yes, she worships Jesus and is a devoted holy woman. What do you think?
If you think a simple cross defines Salice's love for Jesus, then wait. She has the whole gates of heaven tattooed on her back, starting from the shoulders to her buttocks. There are stairs, gates, doves, clouds, and sun; on the bottom, she has tattooed god's hands. If it's for the holy god, then no act is bizarre, isn't it?
Salice said that it took almost 9 hours to cover her back, and it was her ex-boyfriend who did the tattoo. Likewise, the whole tattoo was done in one session without any breaks. When we said she had a high tolerance, we were obviously not joking. Meanwhile, in one of her videos, Rose mentioned that she didn't feel pain whatsoever while getting inked on her shoulders and below.
However, once the tattoo guy started needling her bottoms, Salice couldn't bear it, and after all those hours, she finally got up. As a result, the tattoo is still unfinished, and Rose says she will soon get the shades done. If you look closely, she also has a long quote in the middle of her back.
Similarly, you might want to read about KSI Father Jide Olatunji.
3. Salice Rose Rosary Beads Tattoo: Her Followers Got the Same One
There is one tattoo that inspired many of Salice's followers to get themselves the exact same design. The rosary bead tattoo on the back palm of her left hand is also a tribute to her god. As we mentioned, Salice is a woman of Christian faith. Additionally, most of her tattoos are either about gods or her family. She chose tattoos as a form of self-expression, and it certainly suits her personality.
What do you notice when you see celebrities like Dwayne Johnson and Jason Momoa? Apart from their insane physique, one thing is common, and that is their giant tattoos. Well, everyone in the entertainment industry seems to have a fascination with getting their body inked. But do you know tattoos are a symbol of self-expression? Further, in some cultures, they are a symbol of status as well.
2. The Last Supper Tattoo Took 13 Hours: But Still Not The Most Painful?
There's a perception about tattoos that the more time it takes, the more it hurts. While different people have different pain tolerance, one thing is sure: the most painful areas to get a tattoo are the wrist, ankles, ribs, elbows, fingers, and collarbones. And yes, a finger as well.
The Periviuan Salice Rose has a giant tattoo of The Last Supper on her right arm, and apparently, it took almost 13 hours. However, she felt less pain compared to the one in her right pinky finger. Salice has a tattoo on her pinky finger that took just five minutes, which she said was the most painful she had ever gotten in her entire life.
1. The Tattoos Related To Family and Ex-Lovers
Not only god but Salice Rose is crazy about her family as well. Salice's three rose tattoos on her right shoulder indicate her mom, sister, Ashley, and herself. She purposely got dark shades around the edges so that it pops out. Rose chose to express that pain through tattoos. So you know, TikTok influencer Bella Poarch also said her childhood trauma motivated her to get loads of tattoos on her body.
For those who don't know, Salice Rose is bisexual, and a tattoo on her left wrist called 1101 is for her ex-girlfriend and indicates the date November 1. Similarly, Rose's tattoo on her right forearm is California, her birthplace. Another tattoo on the side of her palm called "exhale hate" tattoo was a quote that she did with a past lover. In conclusion, almost every Salice Rose tattoo is either about god, her family, or her ex-girlfriends.
Some Unknown Facts
Salice Rose is a bilingual Peruvian/American influencer, entrepreneur, and philanthropist.
The California native has a strong passion for both music and dance.
Salice Rose's birthdate is November 20, 1994.
Full name: Lindsay Salice.
Famous Quotes: If any girl has a tattoo of multiple roses, she is kind of crazy, but she has a big heart.
The famous Instagram, TikTok, and YouTube star Salice Rose entertains her audiences with comedic videos and lifestyle posts. But her love for tattoos is one reason the fans adore her so much. They say tattoos are like a lifetime story, and the body is a journal. Meanwhile, Salice Rose tattoos are the reason for her symbolism of faith and love.
References
Did you notice an error ?
Please help us make corrections by submitting a suggestion. Your help is greatly appreciated!