Top Lists
5 Shocking Facts About Valentina Shevchenko Sister Antonina Shevchenko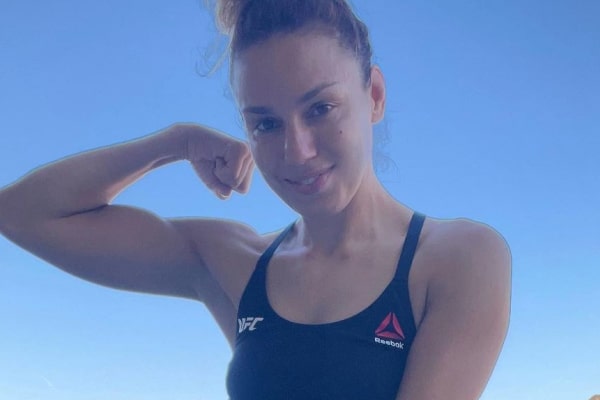 Valentina Shevchenko Sister. Image Credit: Instagram.
Valentina Shevchenko, an accomplished mixed martial artist and former UFC women's flyweight champion, has established herself as one of the most dominant forces in women's MMA. While Valentina often steals the spotlight, her sister, Antonina Shevchenko, is also notable in combat sports.
In this article, we will explore five shocking facts about Valentina Shevchenko sister, Antonina Shevchenko, delving into her background, achievements, and intriguing aspects of her life. Join us as we uncover surprising details about the sister of one of MMA's most formidable champions.
5. Accomplished Muay Thai Champion
Antonina Shevchenko's remarkable achievements in Muay Thai are genuinely awe-inspiring. Before transitioning into mixed martial arts, she established an illustrious legacy as a world-class practitioner of Muay Thai, attaining multiple-time world champion status through her extraordinary skills and strategic strikes.
From 2003 to 2017, Shevchenko participated in an impressive tally of 40 professional kickboxing and Muay Thai fights, boasting a staggering win record of 39 victories with only one defeat against Yulia Voskoboynik.
Additionally, Antonina has claimed an array of esteemed accolades, including four gold medals at the IFMA World Championships and a bronze and silver medal.
The fighter's triumphs extend further with noteworthy accomplishments such as obtaining a silver medal at the IFMA Royal World Cup while additionally securing titles as former WKC K1 and Muay Thai Champion, Phoenix FC Muay Thai Champion, and Lion Fight Muay Thai Champion, where she successfully defended her title on two occasions.
4. Master of Multiple Martial Arts Disciplines
Antonina Shevchenko's prowess goes far beyond her expertise in Muay Thai. As a highly skilled martial artist, she has honed her skills in various disciplines, such as kickboxing and taekwondo, and has also cultivated a well-rounded training routine.
This diverse foundation empowers Shevchenko to bring an exceptional range of techniques to the Octagon, rendering herself an opponent who is both unpredictable and formidable.
Following her impressive debut in MMA in 2002, where she achieved a flawless record of 3-0, Antonina Shevchenko decided to take a twelve-year break from the sport.
However, rekindling her passion for mixed martial arts at long last, the older Shevchenko sister made a triumphant return in 2017 and embarked on an extraordinary journey that saw her tally up an impressive record with a standing of 10-4.
3. Destroyed Her Opponent to Win a Contract With UFC
Shevchenko subsequently participated in the second season of Dana White's Tuesday Night Contender Series, a platform where fighters vie for the opportunity to secure a contract with the highly esteemed UFC.
Initially set to face off against Silvana Juarez at Dana White's Tuesday Night Contender Series 11 on June 26, 2018, unforeseen circumstances arose when it was revealed that Juarez had withdrawn from their scheduled bout due to an undisclosed injury just eight days prior. Consequently, Jaimelene Nievera stepped in as her replacement.
In an impressive display of skill and dominance during their fight, Antonina "La Pantera" Shevchenko emerged victorious through a technical knockout in the second round by delivering multiple unanswered knee strikes while engaged in a clinch position.
This remarkable triumph solidified Valentina Shevchenko sister, Antonina Shevchenko's place within the ranks of elite athletes under contract with the prestigious UFC organization.
2. Making History at UFC 255
In the preliminary card of the UFC 255 event, Antonina took part in a flyweight bout against Ariane Lipski. Impressively, she secured a second-round TKO victory over her opponent.
Later, in the co-headlining matchup of the UFC 255 fight card, Antonina Shevchenko's sister, Valentina Shevchenko, also emerged victorious with an impressive performance.
With their wins at UFC 255, both Valentina and Antonina Shevchenko made history by being the first sisters to secure victories on the same UFC card.
View this post on Instagram
Looking ahead, both fighters have noteworthy bouts lined up; however, it is important to note that they have repeatedly emphasized their reluctance to face each other inside the Octagon.
ALSO READ: Irina Alekseeva Biography: Meet The Russian Ronda
1. Valentina Shevchenko Sister is Married to Her Biggest Inspiration
When asked about her greatest source of inspiration, Antonina revealed that her esteemed coach, Pavel Fedetov, holds that esteemed position.
For over two decades, the MMA fighter has dedicated herself to training under Pavel's guidance and mentorship. Not only did he continuously motivate her to surpass boundaries and unleash her exceptional qualities, but he also played a pivotal role in shaping the person she is today.
Besides Antonina Shevchenko's husband, Pavel, the Mauy Thai expert expressed profound gratitude towards another influential figure in her life – none other than her mother, Elena Shevchenko.
Fate would ultimately lead Antonina down an extraordinary path as she married not only the coach who inspired and guided her but also continued training with him. It's worth mentioning that Pavel plays a vital role in coaching Antonina's sister, Valentina, as well.
Moreover, it was Pavel himself who bestowed upon Antonina the moniker "Panther" prior to embarking on her inaugural professional fight.
Did you know Shevchenko is a licensed commercial pilot and frequently flies as her hobby? That's right, the Octagon killer enjoys movies through the clouds. Maybe marrying Pavel sent her to cloud nine, and that's how the hobby started.
At present, while focusing wholeheartedly on nurturing career growth and honing existing skills within the combat sports domain; parenthood remains unexplored territory for this determined athlete extraordinaire named Antonina Shevchenko.
References
Arya, P. (2020, November 18). UFC 255: Valentina and Antonina Shevchenko are set to become the first pair of sisters to share the same UFC card. The SportsRush. 
BlackWolf, A. (2016, September 17). Lion Fight women's lightweight champion "The Panther"Antonina Shevchenko. The Fighting Monkeys MMA Madness. 
Antonina Shevchenko. (n.d.). Aircraft Owners and Pilots Association (AOPA).
Antonina Shevchenko | Muay Thai » Kickboxing | Awakening Fighters. (n.d.). Awakening Fighters. 
Morgan, J. (2018, June 18). Valentina Shevchenko's sister, Antonina, loses DWCS 11 opponent; replacement sought. MMA Junkie. 
Antonina Shevchenko ("La Pantera") | MMA Fighter Page | Tapology. (n.d.). Tapology.
Antonina Shevchenko (Women's flyweight) MMA profile – ESPN. (n.d.). ESPN. 
Sherdog.com. (n.d.). Antonina "La Pantera" Shevchenko MMA stats, pictures, news, videos, biography – Sherdog.com. Sherdog. 
Did you notice an error ?
Please help us make corrections by submitting a suggestion. Your help is greatly appreciated!