Top Lists
5 Must-Know Things About Cris Cyborg Ex-Husband: Why Parted Ways?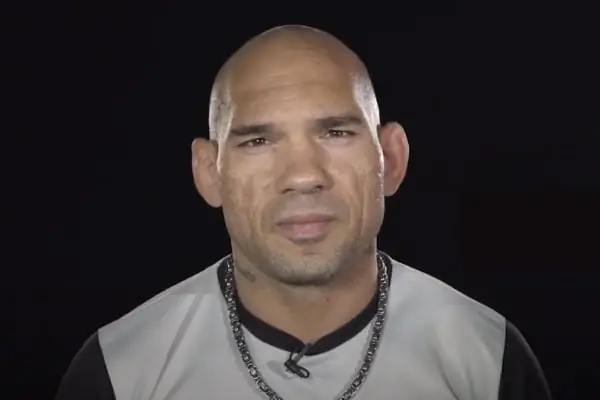 Cris Cyborg Ex-Husband. Image Credit: Social Media.
The eight-sided ring cage is the fighter's battlefield, but sometimes, there comes a story of great love and camaraderie instead of wins and losses. Brazilian MMA fighter Cris Cyborg and her ex-husband were one of the hottest MMA couples in the sport. However, their relationship couldn't last the test of time.
Today's article will revolve around Cris Cyborg ex-husband, Evangelista Santos, a Brazilian retired MMA fighter. We will explore their journey from being a married couple to lifelong friends. Further, the MMA's former partners' relationship was filled with passion and their shared dreams.
From sharing names to sharing victories on the octagon field, we present you some must-know things about Cris Cyborg's former life partner. Find out why they separated and where they are now.
5. Beginning of a Ring Romance: Met His Future Wife at Training
Cris Cyborg ex-husband, Evangelista Santos, a retired MMA fighter's journey dates back to the 1990s. At the age of 12, he began training and taking care of fighting roosters (cocks) for cockfighting which was legal at the time in Brazil.
After five years, Santos began training in Kickboxing and started competing at Vale Tudo, a sport that eventually evolved into modern Mixed Martial Arts (MMA). He previously competed at Strikeforce, Bellator MMA, Cage Rage, and some of the most prestigious tournaments. However, the early 2000s and 2010s were the most successful years for Santos, as he logged several wins competing in international fights.
It was around late 2004 and early 2005 that Evangelista Santos first met his future wife, Cris Cyborg when she came to the Chute Boxe Academy to attend a free Muay Thai class. There, Santos became the training partner for Cris, and soon, they began a romantic relationship.
ALSO READ: Irina Alekseeva Biography: Meet The Russian Ronda
4. Married Life: Story Behind Common Nicknames
One of the defining aspects of Evangelista Santos and Cris Cyborg's marriage was their shared passion for MMA. When Cris came to Chute Academy, Evangelista spent countless hours training with her. Both hailed from Brazil, and their love for fighting drew them closer, which was enough for the couple to get married.
View this post on Instagram
After a few months of dating, Cris and Evangelista tied their wedding knot in mid-2005. Later, Cris adopted her then-husband's nickname, Cyborg. She was born Cristiane Justino Venancio and, after getting married, became known as Cristiane Santos. Furthermore, Cris decided to keep the nickname Cyborg even after she had parted ways with Evangelista Santos.
3. Parting Ways: Doping and Divorce
Cristiane Justino, better known by her ring name, Cris Cyborg, is regarded as one of the greatest female mixed martial artists of all time. She is the only MMA fighter in history, male or female, to become a Grand Slam Champion. Like any other couple, Evangelista Santos and his ex-wife, Cris Cyborg's married life was filled with struggles and challenges.
In September 2011, Cris announced her return to StrikeForce, a former MMA and Kickboxing organization. In December 2011, she won the fight against Hiroko Yamanaka via TKO just sixteen seconds into the first round. On January 6, 2012, it was announced that Cyborg had tested positive for an anabolic steroid.
As a result, Cyborg had her license suspended for one year and was fined $2,500. Meanwhile, the reports from the Brazilian website UOL stated that Cris and Evangelista began living separately after December 2011. After six years of marital happiness, the couple parted ways but remained on good terms.
In February 2012, Cris officially revealed through her Facebook page the news of her separation from her MMA husband. Although the former couple has never revealed the reason behind their divorce, it is speculated that the use of steroids might have played a major role in disrupting their married life.
Similarly, don't miss out on reading the first Kazakhstani UFC fighter, Mariya Agapova Biography.
2. Tragic Turn of Events: Cris Cyborg Ex-Husband Retired from MMA
Even after their separation, Evangelista Santos and Cris Cyborg continued to pursue their MMA careers separately while focusing on personal growth. While Santos had a successful career in Various MMA promotions, Cyborg became a dominant force in women's MMA.
After appearing on PRIDE Fighting Championships, World Victory Road, and Strikeforce, Evangelista signed a multi-fight contract with Bellator MMA. On July 16, 2016, Santos faced Michael "Venom" Page, the most brutal fight he ever had in his career. Santos suffered a devastating injury that sent shockwaves through the MMA community.
After being defeated with Page's brutal flying knee, Santos suffered a compound fracture of the skull and went through surgery. Meanwhile, Santos's ex-wife, Cris Cyborg Justino, shared the picture of Santos' cracked skull along with a heartfelt message to her Instagram page.
The injury was severe and required immediate surgery, with a metal plate inserted into his skull to stabilize the fracture. Cris Cyborg stood by his side during this challenging period, providing emotional support and assistance in his recovery. The injury forced him to retire. After over two decades of fighting career, Santos officially retired in January 2017.
1. Legacy In the MMA
After retiring from his official MMA career, Evangelista Santos spent a year coaching in Curitiba, Brazil. In early 2018, he returned to the USA and began coaching in his own gym without any future plans to return to competition. At the moment, the retired MMA fighter is working as a boxing coach at Chute Boxe Academy in Arizona.
Throughout his professional fighting career, Evangelista had 21 wins and 18 losses. Meanwhile, his ex-wife, Cris, is one of the top fighters in the Bellator Women's pound-for-pound Rankings. While Santos is currently involved in a romantic relationship with a mysterious woman, Cris Cyborg announced her engagement to longtime boyfriend, trainer, and former MMA athlete Ray Elbe in 2017.
| | | |
| --- | --- | --- |
| Methods | Wins | Losses |
| By knockout | 14 | 12 |
| By submission | 4 | 2 |
| By decision | 3 | 4 |
Table Source: ESPN
In conclusion, Cris Cyborg ex-husband Evangelista Santos has left a mark in the world of MMA fighting. His ex-partner is also climbing through the ranks with Bellator MMA. Despite the couple being no longer together, their shared passion for mixed martial arts has left an impact. No doubt, the memories of their time together will always be remembered by fans and the MMA community.
References
Did you notice an error ?
Please help us make corrections by submitting a suggestion. Your help is greatly appreciated!