Business
Hamdi Ulukaya Biography: An Inspiring Story of A Turkish Business Mogul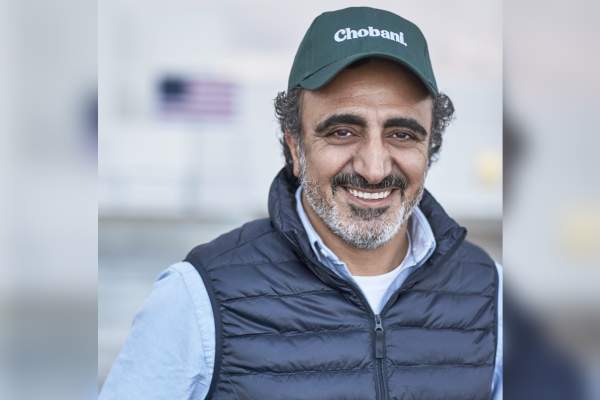 Hamdi Ulukaya Biography. Image Credit: Wikimedia Commons
Full Name

Hamdi Ulukaya

Age

51 yrs

Birth Date

October 26, 1972

Country

Turkey

Relationship Status

Married

Spouse

Louise

Nationality

Turkish

Ethnicity

Kurdish

Profession

Entrepreneur, CEO

Children

Miran Ulukaya, Leyla Louise Emine Ulukaya and Aga Ulukaya

Awards and honors

2019 Global Citizen Prize for Business Leader

Education

English Degree, Adelphi University, U.S.

Net Worth

$1.9 Billion
People without knowledge of their past history and origin are like a tree without roots. Hamdi Ulukaya, a self-made man, embraced such ethical principles and established a massive empire that was built on the foundation of his deep-rooted Turkish heritage. One of the richest yet most humble Turkish businessmen, Ulukaya is the founder/CEO of Chobani, which is one of the largest yogurt brands in the U.S.
From humble beginnings to becoming an international food icon, Ulukaya's road to success is astonishing. Beyond the velvety folds of yogurt, Hamdi Ulukaya biography resonates as a testament to the transformative power of perseverance and innovation. Chobani is not just a culinary delight but a cultural phenomenon.
Ulukaya revolutionized the Greek Yogurt in America. Today, we look closer at the life and career of Hamdi Ulukaya, a Turkish billionaire businessman, activist, and philanthropist based in the U.S., discussing his struggles and accomplishments.
Family Background: Born in A Kurdish Family, Grew Up in The Mountains
Hamdi Ulukaya grew up in a mountainous region in eastern Turkey. Ulukya was born on October 26, 1972, in a small village called Illic, to a dairy-farming Kurdish family. Hamdi was one of seven children born to a father who was a local chief of their Kurdish tribe and mother, Emine Hanim. The family owned and operated a dairy farm where they made yogurt and cheese. Therefore, Ulukaya was exposed to the business of dairy very early in his life.
Growing up, Hamdi and his family led a semi-nomadic life, herding their flocks here and there. While in eastern Turkey, Hamdi wasn't involved with the family business, which was sheep and cow farming, yogurt, and cheese making. However, he learned from his father the unspoken business language or instincts that dated back thousands of years.
After finishing high school, Hamdi moved to Ankara, the capital city of Turkey. There, he studied political science at Ankara University. Hoping to see a different culture and country, Hamdi arrived in the United States in 1994 with around $3,000 given by his father. Also, he moved to the U.S to study English at Adelphi University on Long Island, New York.
After a few years, Hamdi moved upstate and transferred to Albany-State University of New York in 1997. There, he took some business courses and later ended up taking a job on an upstate farm. However, a simple reason for not getting the right taste from American products motivated him to build a giant empire that we know as Chobani.
ALSO READ: Kimbal Musk Biography: Chef, Entrepreneur, And Elon Musk's Brother.
Chobani, A Great Recipe From Home: The Shepherd's Dreams to Reality
The nomadic upbringing of Hamdi Ulukaya in a rural farm setting exposed him to the challenges faced by small farmers and the dairy industry. Although his family operated a dairy business, they had a decent living. Moreover, a scoop of milk, honey, strawberries, and yogurt would add a heavenly taste to their daily lives.
While he was living in the United States, Hamdi always missed the original rich taste of yogurts and dairy products of his Turkish hometown. Similarly, in an interview with Forbes, Ulukaya revealed that the reason he founded Chobani was very simple. If anybody had to get a good cup of yogurt, then the person needed to travel a long distance to the big cities. Even with all those struggles, the taste and qualities of yogurts disappointed Hamdi, and the addition of sugary preservatives made him frustrated.
Another main reason for Hamdi's entrepreneurial venture was his father's suggestion and inspiration. During a visit to the States, his father persuaded him to import the family's feta cheese from Turkey after tasting the inferior cheese available locally. When the imported cheese proved popular, Ulukaya opened a small wholesale feta cheese factory of his own, called Euphrates, in Johnstown, New York, in 2002. The venture was modestly successful, but by the two-year mark, it had just barely broken even. Ulukaya later recalled that those two years were the most challenging years of his life.
The spring of 2005 is the year that marked Hamdi Ulukaya's name in history as an entrepreneur who would later become a business mogul. While he was studying in New York upstate, Hamdi ran into an empty plant, an old factory that had been there for almost 100 years. Afterward, he applied for a small business administration loan (SBA) with the U.S government, and he was able to get the loan and vitalize that plant, which ended up being Chobani.
The Fermented Personal Life of Hamdi Ulukaya
Unlike the rich flavors in his dairy products, Hamdi has gone through some of the bitter phases in his personal life. But before going through his internal affairs, let's know about his married life. For information, Hamdi is a twice-married man.
Hamdi Ulukaya married Louise Vongerichten at the Turkish Consulate General in New York in a simple ceremony on January 23, 2018. Louise is of French origin and is the co-founder of the Food Dreams Foundation. Hamdi and his spouse, Louise, welcomed their son Miran Ulukaya on April 9, 2018. The same year, Hamdi Ulukaya's wife launched a sustainable children's lifestyle brand, Mon Coeur.
The couple welcomed a second child, a daughter, Leyla Louise Emine Ulukaya, on October 19, 2021. Vongerich holds a degree in finance from the American University of Washington, DC. Ulukaya's wife completed her Master's degree in business administration at ESSEC Business School in Paris.
In the late 1990s, Ulukaya married Ayse Giray, a doctor based in New York City. The former couple shared a daughter, and everything was going well until 2012. His then-wife, Giray, sued him for a 53% stake in Chobani, claiming her family lent him $500,000 for the business. Also, the divorce proceedings included her accusing Hamdi of stealing the recipe for his yogurts. However, the accusations were proven false. Further, Ulukaya had a son named Aga from his ex-girlfriend, the beautiful Guatemalan model Alida Boer.
Hamdi Ulukaya Net Worth: Been On The Forbes List Since Early 2010s
When we talk about entrepreneurship, people often look at tech savvies like Bill Gates, Steve Jobs, or Elon Musk, who are the global icons of science and technology with billions of net worth. However, there are people who make things with a deep-rooted connection to their heritage. One such entrepreneur is Hamdi Ulukaya, an immigrant who once again regenerated the yogurt food market in the United States and made a fortune out of it.
Forbes estimates Chobani CEO and founder Hamdi Ulukaya's net worth is $1.9 Billion. He's one of the richest Turkish people in the world and the owner of the largest yogurt factories in America. Although Greek yogurt has been around for a while, Chobani played a major role in revitalizing the yogurt scene in the early 2010s.
In 2020, the total yogurt category, which consists of everything including Greek yogurt, saw its sales increase by 4.4% from 2019, and total Greek yogurt dollar sales went up for the same period by 8%. This increment massively contributed to Hamdi Ulukaya's wealth.
| | |
| --- | --- |
| Year | Net Worth |
| 2021 | $2 Billion |
| 2022 | $2.4 Billion |
| 2023 | $2.1 Billion |
Table Source: Forbes
Ulukaya first appeared on the Forbes' billionaire list in 2013. Since then, the business mogul has expanded his empire to continents including Australia and Asia. Chobani is mostly known for its yogurts, but it actually does a bunch of other products as well, including non-dairy, and in 2020, the company's revenues were 1.5 billion dollars. Over the years, Chobani has expanded to non-dairy, plant-based products such as dairy-free vegan yogurt and oat milk. By 2021, Chobani yogurt's market share rose to more than 20% in 2021. Additionally, Chobani became the top-selling Greek yogurt brand in the U.S and operated the largest yogurt facility in the world.
Hamdi Ulukaya's leadership style at Chobani emphasized social responsibility and employee well-being. He made headlines in 2016 when he announced that he was giving Chobani employees a 10% ownership stake in the company, making them beneficiaries of the company's success. This move was aimed at fostering a sense of ownership and shared prosperity among his employees.
Similarly, you might want to read about Tony Ressler's Biography.
How Chobani Revatalized The Dairy Market In the American Food Industry
Growing up flocking the herds of sheep and goats, Hamdi was no stranger to the original rich, creamy taste of yogurt and milk. As a result, he decided to make an alternative to American-style yogurt. For nearly two years, he worked on his own yogurt recipe with another yogurt master, Mustafa Dogan, from Turkey. During a trip to purchase a milk separator machine, the name Chobani occurred to him, which is the Turkish word for shepherd.
In 2007, Chobani Greek Yogurt was officially launched. Ulukaya's dedication to quality ingredients and authentic production methods quickly made Chobani a favorite among consumers looking for healthier food options. Also, many Americans were missing out on the rich flavors and benefits of yogurt and decided to give it to them. The brand's rapid success led to explosive growth, and Chobani soon became one of the leading yogurt companies in the U.S.
Chobani yogurt is made without preservatives, and the product has a distinctive bowl-style shape that differentiates it from most brands. As an immigrant CEO, Hamdi's goal was to transform all the food-making in the country. While nobody had the blueprint, and even though resources were extremely limited, Hamdi and his employees did something that had never been done before: they turned that old factory into one of the largest factories in the country.
Philanthropic Activities
The philanthropic work of Ulukaya is unparalleled in today's world. Their local and international contributions to charities, organizations, and causes have established them as reliable stewards of the planet's resources. For Hamdi Ulukaya, giving back to the community is as important as profitability.
Ulukaya has been actively involved in various charitable initiatives and causes. One of his most notable initiatives is the Chobani Foundation, which supports a wide range of projects related to education, health, and community development. In addition, he has supported refugee causes, contributing millions of dollars to help refugees settle and integrate into their new communities.
From sponsoring educational events on a local level to providing relief during disasters, businessmen are constantly finding new ways to lend their support to a good cause. Additionally, many have founded their own charitable initiatives, often in underprivileged countries and communities, such as providing access to clean water, healthcare, and other much-needed resources.
Recognition and Awards: Leadership and Awards
Leadership and awards are two of the hallmarks of successful people, and Hamdi Ulukaya is no exception. The Turkish businessman has been recognized for being an outstanding leader for many years, having been awarded several prestigious awards and accolades. Further, he has built a sterling reputation as a mentor, teacher, and leader in the business world, inspiring countless others.
Due to his innovative approach to business, his philanthropic efforts, and his impact on the food industry, Ulukaya has received numerous awards and honors. These include being named an Ernst & Young World Entrepreneur of the Year (2013), a Global Citizen Award (2019), and being featured in Time magazine's list (2017) of the 100 most influential people in the world.
Ulukaya's unwavering devotion to ethics, integrity, and communication has allowed him to advance in his career and be successful on several levels. His success as a Turkish businessman demonstrates his passion and skill in the profession. The remarkable journey of Hamdi Ulukaya biography reminds us that with a spoonful of passion and a dollop of determination, we can stir dreams into reality and savor the sweet taste of success. His life story is one of determination, innovation, and social responsibility.
References
Did you notice an error ?
Please help us make corrections by submitting a suggestion. Your help is greatly appreciated!