Sports
Savannah DeMelo Biography: Forging Her Path in Women's Soccer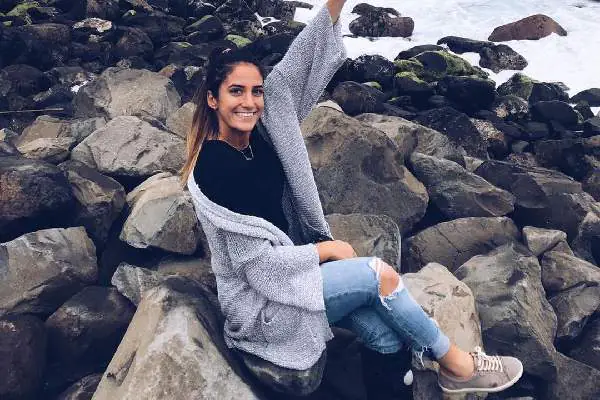 Savannah DeMelo biography. Image Credit: Instagram.
Full Name

Savannah Marie DeMelo

Age

25 yrs

Birth Date

March 26, 1998

Country

America

Relationship Status

Not Confirmed

Nationality

American

Profession

American Soccer Player

Awards and honors

NWSL Rookie of the Month, NWSL Best XI of the Month

Education

University of Southern California

Height

5 feet 5 inches
Savannah DeMelo, a talented women's soccer player from Bellflower, California, has quickly risen to prominence in the sport. With exceptional technical abilities and an impressive understanding of the game, DeMelo has experienced success at both club and international levels.
From her early days as a promising youth player to becoming an influential figure in women's soccer, DeMelo's journey reflects her immense skill, steadfastness, and ardor for the sport. Savannah DeMelo biography delves into Savannah's life story – chronicling her accomplishments facing obstacles head-on while always striving for excellence on the field.
Early Life and Introduction to Soccer
From a young age, Savannah Marie DeMelo's (born March 26, 1998) passion for soccer was apparent. Coming from a family with a strong focus on sports, she discovered the game through her father (Robert DeMelo), who had played at the collegiate level.
Demonstrating innate ability and an impressive grasp of the sport, DeMelo developed her skills by participating in youth leagues. Her talent did not go unnoticed as scouts started taking notice, marking the start of what would become an exceptional journey in women's soccer.
DeMelo's exceptional skill and unwavering commitment propelled her to unprecedented success during her early career. She demonstrated remarkable abilities and dominated the field while representing esteemed club teams, most notably the renowned USC Trojans. Her outstanding performances on the youth circuit garnered well-deserved acknowledgment and opened doors for her to partake in more competitive arenas.
ALSO READ:  Soccer Star Midge Purce's Journey From Harvard Crimson To USWNT
Collegiate Success at USC
In the year 2016, Savannah DeMelo made a commitment to join and play soccer at the prestigious University of Southern California. Once she became a member of the USC Trojans team, her exceptional skills and ability to adapt quickly became evident.
DeMelo's crucial contributions contributed greatly to USC's triumphs, including securing conference titles and achieving notable progress in the NCAA Tournament. As a result of her outstanding performances, she received multiple awards, which further established her as an up-and-coming talent in women's college soccer.
During her time at USC, DeMelo had an impressive five-year career. With 75 appearances for the Trojans, she showcased her skills by scoring 17 goals and providing 28 assists. As a valuable member of the team, DeMelo received multiple honors, including being selected three times for All-Pac-12 and earning a spot on the All-Freshman team in 2017.
In her sophomore year, the footballer excelled further with nine goals and ten assists, receiving recognition as a United Soccer Coaches All-American player. Despite facing adversity when dealing with a torn Achilles tendon during her junior season, DeMelo made a successful comeback in her senior year, where she started all fourteen games. Throughout her collegiate journey, USC consistently qualified for the NCAA Tournament each year that DeMelo played for them.
International Breakthrough
Savannah DeMelo's exceptional performances during her college career captured the attention of talent scouts for the national team. In 2016, she received her first invitation to join the United States U-20 Women's National Team. Her presence played a crucial role in their triumph at the FIFA U-20 Women's World Cup in 2018. Throughout the tournament, DeMelo exhibited maturity, composure, and an ability to thrive on an international stage.
As a result of her impressive displays at youth-level competitions, Savannah DeMelo gained opportunities to represent the senior United States Women's National Team. DeMelo received her maiden call-ups to the U.S. senior national team in September and October 2022 for friendly matches against Nigeria, England, and Spain. However, she did not have a chance to play during those games.
On June 21, 2023, it was announced that DeMelo had been selected for the U.S. squad for the upcoming FIFA Women's World Cup in Australia and New Zealand. This made her only the third player ever to be included in a U.S. World Cup roster without having previously earned a cap (appearance). She finally made her debut as a substitute during the team's send-off match against Wales before going on to start in their first two group-stage matches against Vietnam (which they won 3-0) and Netherlands (where they drew 1-1).
Savannah World Cup teammates included names like Aubrey Kingsbury, Alyssa Thompson, Emily Sonnet, and Kristie Mewis, all looking to bring the prestigious cup home but unfortunately lost out to Sweden in the Round of 16.
Being selected for the national team demonstrates DeMelo's growth and potential as she strives to compete among top-notch international soccer players.
Professional Career
After achieving success at the youth and collegiate levels, Savannah DeMelo transitioned her focus to professional soccer. In the 2022 NWSL Draft, DeMelo was selected by Racing Louisville as the fourth pick, shortly after fellow midfielder Jaelin Howell was chosen.
Making her debut on March 25th, DeMelo played for 11 minutes, coming off the bench against the Houston Dash during Racing's second game of the 2022 NWSL Challenge Cup. She earned her first start on April 2nd in a convincing 3-0 victory over Kansas City Current. Throughout the entire season in 2022, DeMelo started every match for Racing and showcased impressive skills with four goals scored along with two assists.
Additionally, the midfielder led scoring chances created, and fouls won amongst all players in their league standings. Notably, ESPN's SportsCenter Top 10 featured one of DeMelo's memorable moments when she secured her first professional goal through a game-winning direct free kick against San Diego Wave FC on May 18th, 2022.
DeMelo smoothly made the leap to professional soccer and rapidly became an essential player in the team's midfield. Her proficiency in technical skills, strategic understanding, and game control has proven to be invaluable for her club as well as her national team.
Personal Life and Inspirations
Savannah DeMelo is known for her discreet nature on social media, opting to keep personal details private. Despite this, a few aspects of her life have become public knowledge. She expresses admiration for Cristiano Ronaldo and supports the Portuguese national team.
Although Savannah DeMelo's net worth is not known, we can assume that apart from her soccer earnings, her endorsement deals with Nike and being managed by a big company like Wasserman have significantly boosted her finances.
In her leisure time, DeMelo enjoys activities such as reading, hiking, and cherishing moments with loved ones. DeMelo passionately advocates for women's rights and strives for gender equality.
Talking about Savannah DeMelo's partner, it seems that the talented player is currently single, as she has not yet revealed anything about it.
Savannah has two sisters, Makayla and Skylar, with whom she is very close, especially Makayla, who also started her soccer career in 2021.
As a young player with immense potential, DeMelo's personal journey continues to unfold. It is evident that she possesses exceptional talent in soccer and holds great promise for a successful career ahead.
DeMelo is a rising talent in her career, with a strong drive to succeed at the elite levels of women's soccer. Her impressive abilities and unwavering determination highlight her ambition to leave a lasting impression on the sport, both nationally and globally. Savannah DeMelo biography serves as motivation for young athletes, demonstrating that success can be achieved through perseverance, dedication, and passion for the game.
References
Did you notice an error ?
Please help us make corrections by submitting a suggestion. Your help is greatly appreciated!