Celebrities
Gail Matthius Biography: The Well-Lived Life Of An Actress And A Comedian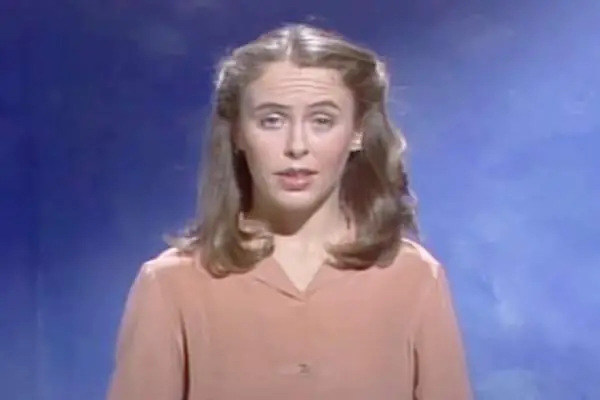 Gail Matthius Biography. Image Source: Social Media
Full Name

Gail Matthius

Age

70 yrs

Birth Date

December 8, 1953

Country

America

Relationship Status

Married

Spouse

John Wirth

Nationality

American

Profession

Actor, Voice-Actor

Children

2
Few artists can create an impact on society with their undeniable talent and charm. Among them is Gail Matthius, an actress, comedian, and voice-over artist best known for her appearance in NBC's Saturday Night Live, mostly in the 80s episodes. Despite appearing in a few episodes, Matthius left quite an indelible impression on the Weekend Update segment.
Today this article on Gail Matthius biography will dive deep into her SNL career and experiences during her ever-hectic time in the voice acting industry and beyond.
The late-night sketch comedy and variety show was not always popular, and Gail Matthius was a cast member of SNL during its critical and rating slow point in the 1980-1981 season. Post her sketch comedy appearances, Gail began working as a voice actor and is still active in the entertainment industry.
Knowing the Early Life of Gail Matthius
Gail Matthius was born on December 8, 1953, in Sioux Falls, South Dakota, USA. While most of her early information is behind the radar, it is known that she had developed a passion for arts and media at an early age. Matthius participated in various local theater productions during her childhood and teenage years. As a result, her natural comedic talents and acting abilities began to shine through even in her early performances.
In the 1970s, Matthius moved to Los Angeles to pursue her dreams of acting and comedy. Further, she started her career by performing stand-up comedy in clubs and small venues around the city. Moreover, Gail's unique blend of wit, humor, and impersonations caught the attention of casting directors and comedy enthusiasts.
ALSO READ: Rory Scovel Biography: Unveiling The Life of Comedy Genius
Short But Viable Saturday Night Live (SNL) Career
NBC's Saturday Night Live has been home to hundreds of cast members for nearly half a decade since its first premiere on October 11, 1975. Among the numerous talented cast, one of SNL's best cast members, Gail's talent had the audience laughing pleasure.
From 1980-1981, Gail Matthius's breakthrough came when she joined the cast of NBC's iconic sketch comedy show Saturday Night Live (SNL) for its sixth season. During her tenure on SNL, Matthius contributed to a wide range of sketches, collaborating with fellow cast members and writers to create memorable comedic moments. Likewise, she became known for co-anchoring the Weekend Update segment with Charles Rocket in 1981.
While Matthius' time on SNL was relatively short, she left an indelible mark on its history. The goofy actress' talent for impersonations and comedic timing made her a standout performer on the show. Gail was mostly known for her recurring characters of Vicki, Roweena, and Francis Lively. Her ability to capture the nuances of these funny roles added depth to the show's comedy.
Gail, as 'Vicki,' appeared as a valley girl whose friend, 'Debbie' (played by Denny Dillon), annoyed people with their repetitive questions. Further, Roweena's character was of a midwestern-accented hairdresser. Similarly, 'Francis,' wife to Rocket's character Phil Lively was funny to watch. In the early 80s, Gail appeared mostly with Denny and Charles Rocket, who self-proclaimed themselves as the "Three Musketeers."
Adding to Gail Matthius biography, as an impersonator, Gail impersonated Nancy Reagan (with Rocket as 'Ronald'), Brooke Shields (in the Clovin Hind Jeans commercial parodies), 1980 Bendix scandal victim Mary Cunningham, and Fame star Irene Cara.
Similarly, you might want to read comedic genius Beth Stelling's Biography.
Post-SNL Career: The Spolin Players
Matthius's screen time might have faded soon after leaving SNL, but she went on to give her voice to cartoon characters most 90s kids know well, most famously as Bobby Generic's mother, 'Martha,' for eight seasons on Howie Mandel's Bobby's World. Matthius continued to work in the entertainment industry, exploring various avenues of acting, comedy, and voice-over work. She appeared in guest roles on television shows such as The New Odd Couple and Murder, She Wrote. She also lent her voice to animated projects, including voicing characters for cartoons and video games.
Matthius remained active in the comedy and entertainment scene, performing in stand-up shows and participating in comedy festivals. Her versatile talents allowed her to adapt to different mediums and genres within the entertainment industry. Matthius found a few onscreen roles in the early eighties, like the Howie Mandel vehicle Laugh Trax, the CBS series Simon & Simon, the UK series Assaulted Nuts, and the 1982 film Airplane II: The Sequel, but the majority of her post-SNL credits have come from voiceover work and live performance.
In the animation sphere, Matthius has voiced characters on The Chipmunks, Tiny Toon Adventures, The Tick, Animaniacs, Spider-Man, Pinky and the Brain, CatDog, and more; on stage, she's appeared in Little Women: The Musical and A Funny Thing Happened on the Way to the Forum, produced a stage version of The Buddy Holly Story in 2006, and taught at various acting and improv studios since 1988 when she cofounded The Spolin Players alongside Simpsons/Second City star Dan Castellaneta, character actress Edie McClurg, and others.
The troupe remains active to this day and is scheduled to perform at The Hollywood Fringe Festival in Los Angeles this month, making Matthius an eighties SNL cast blip who, despite having only a couple of film and television appearances, has managed to work steadily in the performing world for over 30 years.
Gail Matthius Low-Key Married Life
Despite her long professional career in the entertainment industry, Gail hasn't shared much about her personal life. It is known that Gail Matthius married her high school boyfriend turned-husband, but detailed information regarding their marriage is not available.
Gail Matthius's spouse, John Wirth, is a writer and producer of shows like Dark Winds, Wu Assasins, Hap and Leonard, Love Monkey, etc. Further, Gail and her longtime husband share two daughters.
A twice-produced children's playwright, Gail is a member of the Spolin Players Improv comedy troupe. There she acts as a drama and theater coach. Likewise, Gail teaches in Pacific Palisades, California, for various acting studios, including Theatre Palisades. After her decade-long career, Gail Matthius continues to perform as an improv and drama theater actress to this day. We hope this article about Gail Matthius biography has given you some insight into the personal and professional career of the comedic genius.
Did you notice an error ?
Please help us make corrections by submitting a suggestion. Your help is greatly appreciated!