History & Culture
Everything You Should Know About David Hosack's Hyde Park Estate: What Inspired Him?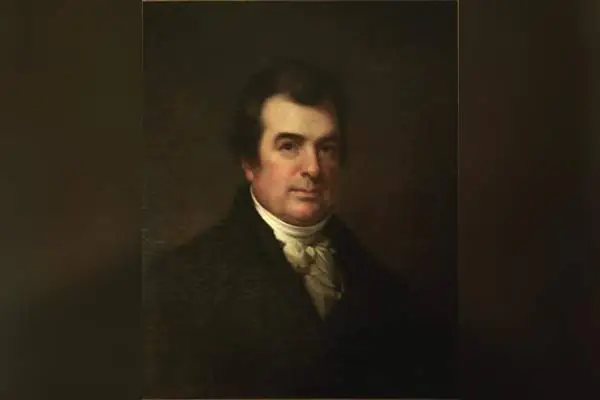 David Hosack's Hyde Park Estate. Image Source: Wikimedia Commons.
David Hosack was a highly esteemed individual who significantly contributed to medicine, botany, and horticulture. He played an integral role in shaping American healthcare and advancing botanical research during his time.
One notable accomplishment is his creation of Elgin Botanic Garden – a large-scale botanical garden and research center in New York.
This article aims to shed light on the remarkable David Hosack Hyde Park Estate and how it changed the trajectory of American horticulture.
Early Life and Education
Born on August 31, 1769, in New York City, David Hosack hailed from a family with a notable lineage of medical practitioners and inherited their deep reverence for the healing arts. Hosack was the eldest of seven siblings. His father, Alexander Hossack, hailed from Elgin in Scotland and worked as a merchant, while his mother's name was Jane Arden. After the conclusion of the American Revolutionary War, Hosack pursued his education at academies in New Jersey – first in Newark and later Hackensack, finally studying in Columbia.
After graduating from Columbia College (now known as Columbia University), under the mentorship of esteemed Dr. Richard Bayley, he acquired an exceptional education that laid the bedrock for his future endeavors in medical research and practice.
Shortly after that, Hosack departed from Columbia University and enrolled at Princeton (formerly referred to as the College of New Jersey). In 1789, he successfully obtained a Bachelor of Arts degree from Princeton.
Early Practice
After completing his studies at Princeton in 1789, Hosack pursued further education in medicine under the guidance of Dr. Nicholas Romayne. During this time, he regularly visited households that provided clinical instruction to those from impoverished backgrounds and individuals suffering from mental illness.
In the autumn of 1790, Hosack transferred to a medical school in Philadelphia, where he conducted research on cholera for his doctoral dissertation. It was during early 1791 that he married Catharine Warner and, later that spring received his medical degree from the University of Pennsylvania.
Following their wedding, Hosack and Catharine relocated to Alexandria, Virginia, where he established his initial medical practice. However, within one year, they returned to New York City together.
After completing his studies, Hosack established a highly prosperous medical practice within New York City. His expertise in treating epidemics and contagious diseases quickly garnered recognition, particularly during the yellow fever outbreak that ravaged the city during the late 18th century.
Due to his dedication to patient care and innovative treatment methodologies, Hosack swiftly gained prominence as one of society's foremost physicians.
Doctor for Alexander Hamilton
Dr. Hosack held the position of family physician for Alexander Hamilton and his household. He is notably recognized as the attending doctor during Hamilton's fateful duel with Aaron Burr in Weehawken, New Jersey, on July 11, 1804.
Alexander Hamilton was a prominent figure in American history, serving as a military officer, statesman, and one of the Founding Fathers. He served as the first Secretary of the Treasury from 1789 to 1795 under President George Washington. Aaron Burr Jr., on the other hand, was an influential American politician and lawyer who held office as Vice President from 1801 to 1805 during Thomas Jefferson's initial term as president.
Hosack, who was a friend to both Hamilton and Burr, provided medical treatment to Hamilton after the duel with Burr. He then accompanied him across the river to the home of William Bayard Jr., where Hamilton passed away the following day. Hosack had previously treated Hamilton's son Philip, who tragically lost his life in a duel at that exact location in 1801. During Alexander Hamilton's funeral, Hosack served as one of the pallbearers.
The Creation of David Hosack Hyde Park Estate
In addition to his medical profession, David Hosack cultivated an intense fascination with botany and horticulture. Influenced by the achievements of esteemed botanists like Carl Linnaeus, Hosack commenced assembling plant specimens and carrying out extensive research in this domain.
Hosack's passion for plants ultimately propelled him to establish the Elgin Botanic Garden in 1801, the country's first botanical garden, which served as an early prototype for the renowned Hyde Park Estate.
With a vision to establish a hub for botanical research, education, and the nurturing of unique and extraordinary plant specimens, Hosack meticulously developed gardens, greenhouses, and an extensive collection of flora from various corners of the globe.
Similarly, you might want to read about the 1676 rebellion, known as Bacon's Rebellion.
Development Using His Own Funds
In 1801, Dr. David Hosack founded the Elgin Botanic Garden in New York, which was named after his father's birthplace in Scotland. Dr. Hosack was a highly respected physician during that era.
Elgin became the nation's inaugural public botanical garden, and it came about when Dr. Hosack acquired around 19+3⁄4 acres of "common lands" from the City of New York for an estimated sum of $4,800 at that time (equivalent to approximately $101,000 in present-day terms).
Professor Hosack designed the entire property to serve as a botanical garden, with the main focus being on collecting and cultivating native plants of this country, especially those with medicinal properties or other practical uses. At his own expense, Hosack beautifully landscaped the garden using a diverse array of both indigenous and exotic plants, primarily sourced from America.
By 1805, the garden housed an impressive collection of 1,500 plant species from around the globe, including rare specimens generously contributed by Thomas Jefferson. In 1806, Hosack published Hortus Elginensis – a comprehensive catalog and guide for visitors that featured an extensive list of all plants cultivated at Elgin Botanic Garden.
Abandonment of the 1st Botanical Garden
Due to inadequate funds, Hosack was unable to sustain the project indefinitely. It was speculated that his focus on creating a new medical school left him with limited time and resources for the garden. In 1808, he made the decision to sell the property and subsequently petitioned the New York State Legislature for several years in hopes that they would purchase it and preserve it as an educational resource for medicine.
Starting from March 1817, individual tenants leased the property at little or no rent under conditions of maintaining its grounds. Despite Hosack's repeated applications for a lease in subsequent years (1819, 1825, and 1828), these requests were denied.
By 1823, the condition of the property had deteriorated significantly, and the once thriving botanical gardens were left to decay. The remaining plant specimens were relocated to Morningside Heights, where they were replanted at the Bloomingdale Asylum.
Meanwhile, Hosack's collection of horticultural books found a new home within the collection of the New York Botanical Garden in the Bronx. In late 1928, Columbia University entered into an agreement with John D. Rockefeller Jr., leasing him a portion of land for Rockefeller Center construction purposes.
In exchange for an annual rent amounting to approximately $3.5 million until 1952, followed by options for three consecutive renewals spanning over 21 years each, additional lots from Columbia as well as nearby properties, were eventually acquired by Rockefeller. Columbia still owned the original property until 1985, when it was sold for $400 million.
David Hosack Hyde Park Estate was a central hub for scientific collaboration and research. He actively worked alongside prominent botanists and scientists of his time to conduct pioneering studies on plant taxonomy, the medicinal properties of plants, and the classification of newly discovered species.
Through the establishment of Hyde Park Estate, David Hosack made significant contributions to American floriculture. He introduced numerous rare and exotic plant species from distant lands to the United States.
These endeavors not only enriched the diversity of plant life in America but also laid a solid foundation for future advancements in horticulture and landscape design.
ALSO READ: The Mysteries Of The Dancing Plague of 1518: An Unexplained Epidemic
Legacy and Impact
David Hosack significantly influenced American society through his noteworthy achievements in medicine, botany, and horticulture. His unwavering commitment to advancing medical knowledge and botanical research resulted in valuable insights into plant taxonomy, medicinal properties, and the therapeutic advantages of natural environments.
Additionally, David Hosack Hyde Park Estate catalyzed the establishment of subsequent botanical gardens and research centers across the nation.
David Hosack's contributions as a physician, botanist, and botanical enthusiast serve as an enduring inspiration to scientists, researchers, and nature lovers. His Hyde Park Estate is a testament to his deep love for plants and dedication to scientific exploration to promote human health and well-being.
The legacy of David Hosack reminds us of the profound interconnection between medicine, botany, and the natural world.
Personal Life and Death
Following Hosack's return from Scotland to America, he experienced the heartbreaking loss of his first son and wife, Catharine, in quick succession. These personal tragedies were compounded by devastating outbreaks of yellow fever that struck both Philadelphia in 1793 and New York in 1795 and 1798.
These difficult experiences fueled Hosack's unwavering dedication to advancing medical knowledge, improving healthcare for women and children, and training future physicians. He became a passionate advocate for the welfare of the less fortunate, ultimately contributing to co-founding the Humane Society.
Almost two years after his first wife's passing, Hosack married Mary Eddy, a Philadelphia resident who happened to be Thomas Eddy's sister – an influential philanthropist known for his prison reform efforts.
Together with Mary, David had nine children; seven survived into adulthood. Notably among them was Alexander Eddy Hosack (1805-1871), a pioneering surgeon who skillfully carried on his father's legacy following his untimely demise.
The devastating Great Fire of New York, which took place on December 15, 1835, destroyed approximately 530 to 700 buildings in New York City. The fire spanned a massive area of 17 city blocks, covering an estimated 13 acres.
As a result of this tragedy, Hosack suffered significant personal property loss valued at $300,000 back then ($8,500,000 adjusted for inflation in today's dollars). Sadly, Hosack passed away just one week later, on December 22nd, due to a stroke. He was laid to rest initially at New York Marble Cemetery but eventually reinterred at Trinity Church Cemetery alongside Alexander Hamilton by his descendants in 1888.
David's enduring influence serves as a source of inspiration for scientists, researchers, and nature enthusiasts alike. It is a constant reminder of the interconnectedness he brought between medicine, botany, and the wonders of the natural world.
References
Did you notice an error ?
Please help us make corrections by submitting a suggestion. Your help is greatly appreciated!