Top Lists
Who is Canva CEO Melanie Perkins Husband Cliff Obrecht? Business Turned Love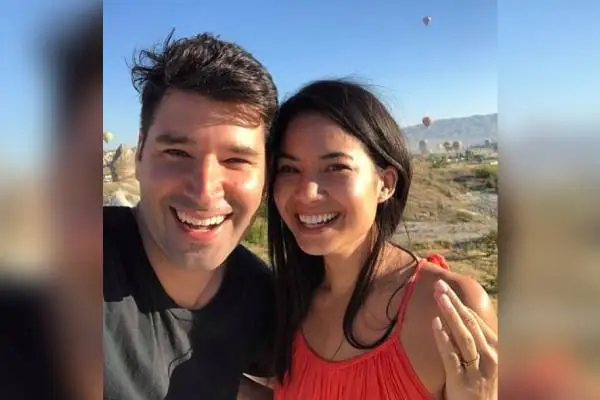 Canva CEO Melanie Perkins. Image Credit: Instagram.
Canva CEO Melanie Perkins is one of the wealthiest women in the world, with an estimated net worth of $3.6 billion. Her age does not coincide with her ability to perform well in the business world. Still, she has achieved everything a human being could hope for: name, fame, and money.
But what about her personal life? Is she successful in her personal life as well? Keep your enthusiasm at peak and come with us as we divulge some interesting facts about Melanie Perkins husband.
Brief Overview About the Chief Executive Officer
Melanie was born on May 13, 1987, in Perth, Western Australia. Her mother is an Australian native, whereas her father is mixed descent of Sri Lankan and Filipino.
Perkins used to get up every day at 4:30 a.m. to train because she wanted to be a professional figure skater when she was in high school. However, fate had something else in hand.
The Australian national attended the University of Western Australia after high school, specializing in communications, psychology, and business. Perkins also served as a private tutor for graphic design students.
The billionaire businesswoman dropped out of university to focus on her first business venture called Fusion Books at the age of nineteen and expanded it to New Zealand and France.
Perkins has also traveled extensively, and she attributes her life's transformation to a trip to India.
Meet Canva CEO Melanie Perkins Husband
Melanie Perkins is living her life to the fullest, with significant successes in her personal and professional life. The Australian billionaire is married to Cliff Obrecht, who is also the co-founder of Canva.
Melanie Perkins' spouse was born in Kingsley, West Australia, to Stan Obrecht and Mary Obrecht. His father is a government officer, whereas his mother is a schoolteacher.
Unlike his partner, Cliff graduated from the University of Western Australia in 2008 before beginning his professional journey. He is an expert in E-commerce, Online Advertising, Graphics, Management, and many more.
Furthermore, Obrecht was the founder of Fusion Books along with Canva CEO Melanie Perkins. And it is speculated that the couple were already dating before beginning their business together.
Beginning in Perkins's mother's living room in Duncraig, Obrecht would make cold calls to schools in an effort to gain new customers for Fusion Books. The printing of the yearbooks was frequently assisted by their parents. Fusion Books became Australia's largest yearbook publisher over a five-year period.
ALSO READ: 5 Unmissable Things About Pierre Boo And Nicky Champa Breakup: Dating Someone Else?
Melanie Perkins' Husband, Cliff, is Also A Billionaire
Like his wife, the Australian national is also a billionaire entrepreneur with an estimated net worth of $3.6 billion. He is also the co-founder of Canva and holds an 18% stake in the company.
Canva played a huge role in Melanie Perkins' partner's net worth as the company is valued in multi-billion dollars. Presently, he is employed as the Chief Operating Officer of Canva.
With a net worth of $3.43 billion, Obrecht first appeared on The Australian Financial Review Rich List in 2020. His and Perkins' combined net worth was estimated by The Australian Financial Review to be A$13.18 billion as of May 2023, ranking them ninth among the wealthiest Australians.
For humanitarian purposes, Cliff and Melanie have promised to donate more than 80% of their stake to the Canva Foundation.
Similarly, you might be interested in Nikki Haley Son Nalin Haley
A Billionaire's Proposal With $30 Ring
How often have you heard a billionaire proposing with a $30 ring? Melanie Perkins' then-boyfriend, Cliff, took a unique and eye-raising approach to profess his love.
When it comes to love, does it even matter the cost of the ring? Definitely not, as Perkins accepted the proposal with a resounding "yes," marking the beginning of a new chapter in Melanie and Cliff's lives.
Canva CEO Melanie Perkins husband proposed to her in Turkey's Cappadocia region when they were out on their holiday in 2019.
After being engaged for two years, the lovely couple exchanged vows in January 2021 on Rottnest Island, Australia. They are living a happy and modest lifestyle in their native land.
At present, the couple welcomed their first child in 2022 but has kept the details private. Thus, we would have to wait for an announcement from them in the near future. We wish the billionaire couple all the best in their personal and professional life.
FAQs
Q: What is Melanie Perkins' net worth?
A: Melanie is estimated to be worth $3.6 billion.
Q: Does Melanie Perkins have a child?
A: Yes, Melanie Perkins and her husband, Cliff Obrecht, have one child.
Q: What is Melanie Perkins' nationality?
A: Melanie Perkins is an Australian.
Did you notice an error ?
Please help us make corrections by submitting a suggestion. Your help is greatly appreciated!