Celebrities
McKinley Belcher Biography: From Television Triumphs to Silver Screen Success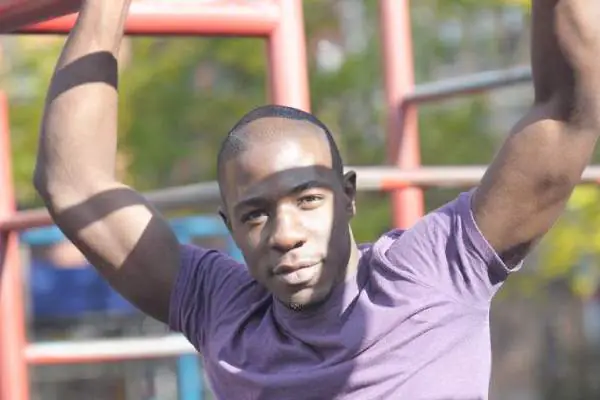 McKinley Belcher Biography. Image Credit: Instagram.
Full Name

McKinley Belcher III

Age

39 yrs

Birth Date

March 23, 1984

Country

America

Relationship Status

Married

Spouse

Blake fox

Nationality

American

Ethnicity

African-American

Profession

Actor

Awards and honors

Elliot Norton Award

Education

University of Southern California (MFA)

Height

6 feet 1 inch
There's nothing more beautiful and powerful than someone who chooses to be themselves. While the majority of people are biased against LGBT performers, there are actors like McKinley Belcher, who is an openly proud gay working to pave the way for a more inclusive and diverse future in Hollywood and beyond.
Having conquered the early stage of Broadway, Film, and TV, McKinley Belcher biography is a tale of a fearless advocate for equal representation in the top industry of entertainment. The American actor is best known for his portrayal of Samuel Diggs in the PBS TV series Mercy Street. Similarly, he has also appeared in the Fox genre drama The Passage and the Netflix crime thriller Ozark.
In this article, we will be going through the experience of the actor's journey as a black actor in America and the true experience of looking at the public self and the private self. The man with distinctive features has made significant contributions to the entertainment industry. So, let's jump right in.
Early Life And Education
McKinley Belcher III was born on March 23, 1984, in Atlanta, Georgia, the first son of McKinley Belcher Jr. and Pamela McGhee Belcher. His family later moved to Powder Springs, where Belcher attended Campbell High School in Smyrna, Georgia, and graduated in 2002. There, he was in the International Baccalaureate program and ran track and cross country.
Belcher went to Belmont University in Nashville, Tennessee, and graduated in 2006 with a B.A. in Communication Studies and Political Science. Likewise, he earned an MFA in acting from the University of Southern California's School of Dramatic Arts. There, he was the recipient of the Ava Greenwald Memorial Award. Similarly, he, along with his cast mates, also received a Helen Hayes Award for Outstanding Ensemble, Resident Play, for The Studio Theatre's production of Invisible Man in 2012.
Growing up in Georgia, Mckinley watched a number of plays and musicals in elementary school, but his first foray into acting was as a freshman at Belmont. Despite having no prior experience, he tried his luck in a few stage dramas and found himself cast in the role of the educated and wealthy George Murchison. However, it was the 2001 movie Antwone Fisher, starring Denzel Washington and Derek Luke, that helped shift his career focus.
Early Years and Theater Work
Throughout his career, McKinley Belcher has maintained a connection to the theater throughout his career, and his stage performances include roles in various productions, showcasing his talent in live theater. In 2013, Belcher appeared Off-Broadway in Romeo and Juliet at Classic Stage Company, and in 2016 won a Drama Desk Award for his performance as amateur boxer Fish in the ensemble of Marco Ramirez's The Royale at Lincoln Center.
Belcher played the dual roles of Teddy and Nicholas in the world premiere of Ken Urban's A Guide for the Homesick at the Huntington Theatre Company in 2017, winning both an Elliot Norton Award for Outstanding Actor and an IRNE Award for Best Actor. In 2019, Belcher played Rashad in MCC's off-Broadway production of The Light, for which he was nominated for an Outer Critics Circle Award for Outstanding Actor in a Play.
In the 2022-2023 Broadway production of Death of a Salesman, Belcher made history as Happy Loman, featuring the first African-American Loman family on Broadway alongside Wendell Pierce, Sharon D. Clarke, Khris Davis, and Andre De Shields.
Television Career
Belcher's breakthrough in television came with his role as Samuel Diggs in the PBS drama series Mercy Street, which aired from 2016 to 2017. His portrayal of a medical doctor during the American Civil War garnered critical acclaim and brought him recognition in the industry.
One of his most notable television roles was in the popular Netflix series "Ozark." He portrayed Trent Pierce, a recurring character known for his involvement in the criminal activities of the show's central characters. Belcher's performance in "Ozark" contributed to the show's critical and commercial success.
| | | |
| --- | --- | --- |
| Year | TV Shows | Roles |
| 2016-2017 | Mercy Street | Samuel Diggs |
| 2017-2022 | Ozark | Trent Pierce |
| 2019 | The Passage | Anthony Carter |
Table Source: IMDB
In 2022, Belcher worked with David Simon in HBO's 2022 limited series We Own This City, portraying real-life BPD veteran and Gun Trace Task Force officer Momodu Gondo. In 2022, Belcher joined the cast alongside Inaki Godoy, Mackenyu, Emily Rudd, and Jeff Ward in Netflix's live-action adaptation of the Japanese manga One Piece as Arlong.
Married Life With Artist
In the early days of Hollywood, being openly gay could lead to career ruin due to the prevailing societal norms and the fear of negative public perception. As a result, many gay actors were forced to hide their sexual orientation or lead double lives to maintain their careers. However, McKinley and his boyfriend-turned-husband are among the few people who work tirelessly for gay rights. After dating for many years, broadway actor McKinley Belcher married longtime boyfriend Blake Fox in an intimate black-tie ceremony.
Blake is a visual artist and photography expert from Long Island. The Broadway actor tied the knot with longtime boyfriend Blake in Hoboken, New Jersey. The ceremony took place at the Antique Loft, a 4000 square foot rooftop in downtown Hoboken, the same day they celebrated their 4-year anniversary after connecting on Instagram in the latter part of 2018.
The couple's wedding was made special by Belcher's Death of a Salesman co-star Andre De Shields, who served as the ceremony's marriage officiant.
ALSO READ: Belissa Escobedo Biography: A Glance into the Life of an Acclaimed Actress
Mckinley Belcher Net Worth
While there is a growing demand for LGBTQ+ representation in film and television, some actors may also feel pressured to conform to certain standards of appearance and behavior to maintain their public image. One such factor is an actor's earnings and wealth, and talking about Mckinley Belcher net worth, we can assume that the Georgian native might have earned a fruitful amount from his professional career.
| | | |
| --- | --- | --- |
| Year | Movies | Box-Office Collections |
| 2018 | Trial by Fire | $148,504 |
| 2019 | The Art of Racing in the Rain | $33.8 million |
| 2019 | Marriage Story | $2.3 million |
Table Source: Rotten Tomatoes
Gay actors have long been a part of the entertainment industry, making significant contributions to film, television, theater, and other forms of media. While the acceptance and visibility of LGBTQ+ individuals in the industry have improved over the years, there are still challenges and stigmas that many gay actors face.
In recent years, there has been a positive shift in attitudes toward LGBTQ+ actors in the entertainment industry. More actors are coming out and being embraced by both their peers and the public. Through McKinley Belcher biography, we have come to know that he appeared in several films, although his television work has been more prominent.
References
Did you notice an error ?
Please help us make corrections by submitting a suggestion. Your help is greatly appreciated!