Lawyers
Benjamin Brafman Biography: Meet the Prominent American Criminal Defense Mastermind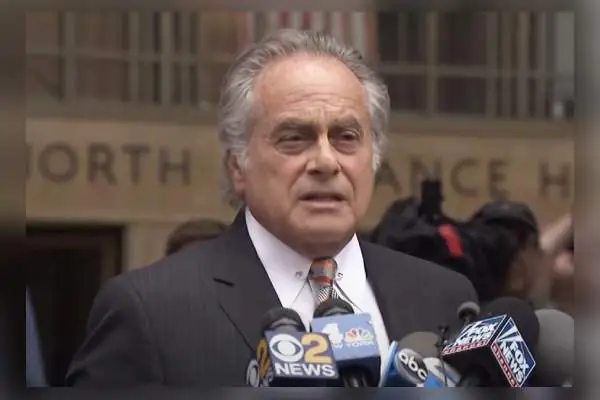 Benjamin Brafman Biography. Image Source: Social Media
Full Name

Benjamin Brafman

Age

75 yrs

Birth Date

July 21, 1948

Country

America

Relationship Status

Married

Spouse

Lynda Brafman

Nationality

American

Profession

Criminal Defense Lawyer

Children

David Brafman and Jennifer Brafman

Education

New York University School of Law

Height

5 feet 6 inch
At a time when only a handful of Orthodox lawyers practiced law, Benjamin Brafman rose to prominence as one of the most sought-after criminal defense attorneys in the United States. An individual with a relentless work ethic, Brafman is often cited as one of the last big-time defense lawyers.
Throughout his career, Brafman represented numerous high-profile celebrities and business tycoons, navigating the complex legal landscape to guarantee fairness in the face of adversity.
Stay with us till the end and learn about Benjamin Brafman biography, the New York-based criminal defense lawyer who advocates for his clients to ensure justice is served. Further, Ben has clasped the true goal of the sixth amendment, which is to ensure the right to legal representation.
Brafman's Parents Survived the Night of Broken Glass and Poland Invasion
Benjamin Brafman was born on July 21, 1948, in Brooklyn, New York, U.S, in a Jewish household family to holocaust survivor parents who fled from Europe to the U.S just before the start of World War II.
Brafman's father, Solomon Brafman, was from Vienna, Austria, where he survived the Night of Broken Glass (Kristallnacht), a violent riot against Jews carried out by the Nazis. On the other hand, Benjamin's mother, Rose Friedman Brafman, was from Poland, where her parents were murdered during the invasion.
Both Solomon and Rose arrived in the U.S. separately as refugees. After knowing each other, the couple later got married and started a family. They were married for fifty years until Rose's death.
View this post on Instagram
Benjamin's father, Sol, was a Combat Sergeant who fought with distinction for three years in the U.S. Army. For more than 50 years, Sol served as a well-respected leader of various well-known Jewish Organizations. Likewise, he served as a president and lifelong member of Beth Sholom Congregation, a conservative synagogue (Jewish house of worship).
Talking about Ben's mother, Rose was recognized as a talented seamstress in her local Jewish communities. Brafman grew up with three siblings, including two sisters, Malkie Aaron Brafman and Shevy Cooperberg Brafman. His older brother Rabbi Aaron Brafman was a well-respected Jewish scholar.
ALSO READ: Celebrity Divorce Lawyer Nancy Chemtob Biography
Education: Benjamin Had a Penchant for Criminal Law
Growing up as a proud Jewish, Benjamin attended an Orthodox Jewish Yeshiva Secondary School for boys. Afterward, he started doing odd jobs to support himself as a college student.
Benjamin waited tables and even performed stand-up comedy at some of the local Jewish hotels. He took night classes at Brooklyn College and eventually graduated with a Bachelor of Arts degree with a major in Anthropology. Political science classes majorly influenced Brafman in Brooklyn. Moreover, he later worked for a New York state assemblyman as well.
Among all the categories of law, Brafman liked criminal justice more. Therefore, he received his Juris Doctor degree and graduated with distinction from Ohio Northern University Law School. Similarly, he went on to receive a Master's degree in Criminal Justice at the New York University School of Law.
After graduating from NYU Law School, Brafman worked with a top defense firm, McGuire and Lawler, for two years. Later he became an assistant for a top lawyer Robert Morgenthau, serving in his district attorney office in Manhattan. There, he spent four years at the rackets bureau from 1976-1980, dealing with organized crime, police corruption, and fraud.
Within a short time, Brafman developed into a good trial lawyer and a seasoned veteran of the courtroom, winning 23 out of 24 cases.
Although he hasn't officially disclosed it, Benjamin Brafman net worth might be in the millions as of July 2023. The average salary range for a criminal defense lawyer is somewhere between $83,577 to $109,725. Therefore, Brafman, with his fifty years of law career, might have amassed a huge sum of fortune.
Benjamin Brafman's Wife is a Cancer Survivor: Matrimonial of Half a Century and Their Children
The New York-based lawyer, Benjamin Brafman's wife, was Lynda Brafman for over 50 years. Lynda is a former library science graduate of Yeshiva University-Stern College for Women.
Benjamin first met his wife Lynda in 1967 through her maternal grandmother, who belonged to the same synagogue as his. They began a romantic relationship two years later, in 1969, when Ben was 21 and Lynda was 17. After a few years of dating, Benjamin Brafman married Lynda Brafman in early 1972.
Benjamin and Lynda are parents of two children, a son named David Brafman, a Rabbi, and a school principal. Meanwhile, their daughter Jennifer Brafman worked as an artist and is a loving mother of six children.
Lynda worked for several years as the beloved preschool librarian at Hebrew Academy of the 5 Towns (HAFTR), a school in Lawrence, New York. Throughout her life, she stayed behind the media attention and was busily maintaining the household. However, Lynda was seen a few times accompanying her husband to events, including the Dixieland premiere during the 2015 Tribeca Film Festival at SVA Theater in New York City.
The Brafmans are known for their charities in their local communities, from helping to build a few Yeshivahs (schools for Jews) to donating to synagogues.
In their early marriage, Benjamin Brafman's spouse Lynda was diagnosed with breast cancer. Having two kids at home, Lynda underwent a mastectomy and chemotherapy before she was declared cancer free. Since then, the Brafmans has been a lifetime supporter of the Israel Cancer Research Foundation (ICRF). Benjamin frequently donates to the foundation as many Israeli doctors helped him to recover his wife's health.
From Puff Daddy, Jay-Z to Harvey Weinstein: Wicked Legal Prosecutor or a Mastermind?
One of the fundamental constitutional rights in the U.S. a person can have is a criminal defense lawyer. At the time of cultural hyperfocus on the court of public opinion, every alleged criminal is allowed a defense as afforded to them by the constitution. Even those accused or convicted of a criminal offense regain legal rights and deserve the protection of a top constitutional rights lawyer.
Now Benjamin Brafman, as one of the biggest names, has represented high-profile clients in the past, including Sean Combs (stage names: Puff Daddy, P.Diddy), Jay Z, Martin Shkreli, Dominique Strauss-Kahn, and many more. Many of Brafman's celebrity clients are accustomed to seeing their names in the paper, they fear that bad publicity can destroy their careers. Therefore, they hire the top defense lawyers possible.
During his 1999 trial, Brafman defended Sean Combs on illegal weapons and bribery charges. Nicknamed 'Uncle Benny' by Combs, Benjamin helped the singer to be free of criminal charges. The acquisition of Comb's charges raised Brafman's status as a top criminal defense lawyer. Similarly, he also represented Jay-Z when the rapper was accused of assaulting a record producer in a club in December 1999. He was later found guilty, but the rapper referenced the lawyer in one of his media appearances.
1. "Do you know Jay-Z's song about me?" Ben Brafman, the lawyer repping #HarveyWeinstein, asked 17 min after we met. For my @esquire profile (https://t.co/SuLKKS0fCP) he gave me an office tour; here are some highlights. First up: him & Hova. "I think I look better now," he said. pic.twitter.com/JRprb3vf9S

— Eric Sullivan (@EricSull) January 17, 2019
Brafman represented Dominique Strauss-Kahn in his 2011 attempted rape case and briefly worked with Michael Jackson on the child molestation charges brought against him in 2004. All of those charges were dropped. Similarly, he represented former pharmaceutical executive Martin Shkreli.
Now, Benjamin Brafman was the attorney who was hired in 2017 by Harvey Weinstein, the disgraced former Hollywood film producer. Weinstein faced multiple charges related to sexual misconduct and assault, brought forward by several women who had worked in the entertainment industry.
During the high-profile sexual assault trial in 2018, Brafman mounted a vigorous defense on behalf of Weinstein, challenging the credibility of the accusers and arguing that any sexual encounters were consensual. However, in January 2019, Brafman officially parted ways with his client and issued a joint statement. Further, in February 2020, Weinstein was found guilty of two felony sex crimes: the first-degree criminal sexual act and rape in the third degree.
Harvey Weinstein became the center of a major sexual misconduct scandal, sparking the "MeToo" movement in 2017. Afterward, his wife, Georgina Chapman, parted ways with Weinstein and officially filed a divorce case.  She was represented by another top attorney, Dan Rottenstreich, who eventually helped her win the case.
The Legal Legend: Most Sought-After American Jewish Lawyer
While Brafman has a reputation for being a tenacious advocate for his clients, he has achieved notable successes in the courtroom throughout his career. Brafman is one of few lawyers who focuses his reputation on the people who matter and not among the masses. No doubt, he is the go-to lawyer for many real estate bigwigs who end up in serious legal trouble.
In 1980, Benjamin Brafman opened his Manhattan law firm on Madison Avenue called Brafman & Associates, P.C. Arguably the most prominent criminal defense attorney in the country, he has taken on thousands of cases representing celebrities, property moguls, and other big names. Moreover, some of his past clients have included celebrities, politicians, and business executives facing charges ranging from white-collar crimes to more serious offenses.
This article about Benjamin Brafman biography might have given some prospects about the prominent criminal defense attorney. We are excited about what the lawyer has in store for us in the future, as it will undoubtedly be entertaining.
Did you notice an error ?
Please help us make corrections by submitting a suggestion. Your help is greatly appreciated!