Sports
Adam Hadwin Biography: Mastering The Greens And Forging A Golfing Legacy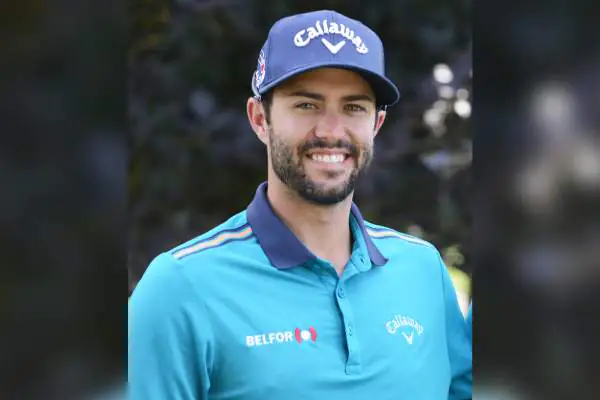 Adam Hadwin Biography. Image Credit: Wikimedia Commons.
Full Name

Adam Jerald Hadwin

Age

36 yrs

Birth Date

November 2, 1987

Country

Canada

Relationship Status

Married

Spouse

Jessica Dawn Kippenberger

Nationality

Canadian

Profession

Golfer

Children

Maddox Amelia

Awards and honors

PGA Tour wins

Education

Business Administration, University of Louisville

Net Worth

$19 million

Height

5 feet 8 inch
For a high-hand swinger, his worst day on the course still beats his best day in the office. And for the 2017 Valspar Championship winner, Adam Hadwin, he had the confidence and the ability to accept bad shots and put it all back together.
Dear readers, we have Adam Hadwin biography waiting in the downline view for a hardcore stack and tilt swing at your sight. One of the hottest prospects on the Canadian Tour in his early years, the professional golfer has left such a blemish that is almost impossible to erase.
The British Columbia resident Hadwin is an individual with a strong work ethic who steadily progressed up the professional ranks to the PGA Tour and made a fortune out of his career. Adam's tale is a trajectory of dedication and success on the golf course.
Early Years: Played Different Sports, But Golf Was in His Blood
There is no compulsion for anyone to follow in the footsteps of their heritage. However, one should always have respect for their origin. Likewise, Adam Jerald Hadwin was born into a family that cherished sports, and his father was a popular golfer who enjoyed success in his youth. Born on November 2, 1987, in Moose Jaw, Saskatchewan, Canada, Adam's parents are Gerry Hadwin (father) and Brenda Hadwin (mother).
As a hyperactive kid, Adam grew up playing several sports, including soccer, baseball, and hockey, but golf was his favorite sport. For information, his father Gerry, a golf professional, joined the Canadian PGA in 1979 and worked as a sales manager at Direct Sportswear and Design in British Columbia, Canada. Similarly, Gerry worked at Ledgeview Golf Club in Abbotsford for a long time, and in 2017, he was promoted to its director. Now we know why Adam was pulled towards golf from an early age.
The Canadian sportsman, as a teenager, played extensive golf at Ledgeview, and here's a fun fact: another famous Canadian golfer, Nick Taylor, was Hadwin's golf buddy there. At present, both of them are top players and are accomplished in their respective careers.
While Adam was playing with golf clubs, his younger brother was going through a severe condition. Adam's younger brother, Kyle Hadwin, at age nine, was diagnosed with Crohn's disease, a gastrointestinal disorder that affects one in 150 Canadians. To support Crohn's disease research, Hadwin supports several organizations, including the C.H.I.L.D Foundation.
Amateur At School Turned Pro After College
After moving to Ontario, Hadwin attended Vaughan Secondary School and quickly became one of the top junior golfers. In 2005, he attended the University of Louisville on a golf scholarship and graduated with a degree in Business Administration in 2009, along with an All-America Honorable Mention Honors. Long before joining PGA Tour, he had already shown the star potential.
Right after leaving University, Hadwin turned professional and joined the 2010 Canadian Tour. He went on to win the Rivermead Cup as the top Canadian finisher in the 2010 RBC Canadian Open in Toronto. Likewise, Adam won the Vancouver City Open, and in March 2011, he won the Pacific Colombia Tour Championship, marking his second Canadian Tour event victory.
Hadwin's first major championship was the 2011 U.S Open at Congressional Country Club, where he won $41,154 (USD). Similarly, the biggest paycheck in his career till 2011 came after he won the Rivermead Cup for the second straight year and received $228,000 in prize money. Slowly and steadily, the golfer's club was ready to take him to another level.
ALSO READ: Hudson Swafford Biography: Inside The Life of A Golfing Pro.
Breakthrough Moment, Earning a PGA Tour Card and Breaking Records
There comes a moment when every individual is presented with an opportunity. Such a breakthrough moment came in Adam Hadwin's career in March 2014 when he won at the Chile Classic on the Web.com Tour. This win not only showcased his talent but also served as a stepping stone to higher-profile events and competitions. Adam became the 13th Canadian to win on the Web.com Tour and took home a lucrative sum of $117,000.
On September 7, 2014, Hadwin won for a second time on the Web.com Tour after winning the Chiquita Classic. Likewise, he earned his PGA Tour card for the 2014–15 season by topping the combined regular season and Web.com Tour Finals money list.
Throughout his career, Adam has achieved numerous accolades and notable feats on the golf course. One of his most remarkable accomplishments came in 2017 when he shot a historic round of 59 during the third round of the CareerBuilder Challenge. This achievement made him only the eighth player in PGA Tour history to accomplish such a remarkable feat. The golfing world took notice, and Hadwin's star continued to rise.
On March 12, 2017, Hadwin won his first career PGA Tour tournament at the Valspar Championship and took home a staggering amount of $1,134,000 in prize money. Moreover, at the end of the season, Hadwin played in the 2017 Presidents Cup.
Married Life: Breaking The Myth
Here's a question. What methods have you applied or want to apply to bring love into your life? Some choose social media or a dating site, while some prefer to shoot the arrow in the live world. Before 2014, Adam Hadwin had a belief that you could never meet a soulmate on the internet, especially on dating apps. But years later, he put an end to his own theory; know why?
At present, Adam Hadwin's wife, Jessica Dawn Kippenberger, has been a supportive element in the golfer's life. She is a registered nurse and a hospitalist. Further, the couple welcomed their first child, a daughter, Maddox Amelia, on January 8, 2020. The family resides happily in British Columbia.
Now talking about their love story, Adam Hadwin met his girlfriend, now wife, on Tinder back in late 2014. They first met while Hadwin was in Wichita, Kansas, playing in an event. They went on a date, had dinner, and spent a fun evening in the city. After a few years of dating, Adam and Jessica married on March 24, 2017, in Scottsdale, Arizona.
Similarly, you might want to look at Canadian golfer Taylor Pendrith's Biography and Personal Life.
Net Worth
As per the sources, Adam Haldwin's net worth is $19 million, and through his decade-long career, the golfer has wo numerous tournaments that contributed to his wealth. For the 2022-2023 season, Hadwin earned over $6 million, competing in several tournaments at the PGA Tour.
As a professional golfer on the PGA Tour, Hadwin likely secured endorsement deals and sponsorships with renowned golf equipment manufacturers, apparel brands, and other industry-related companies. These partnerships have not only boosted his profile but also contributed to his financial success.
In conclusion, Adam Hadwin biography is a testament to the power of dedication and talent in the world of professional golf. His journey from a young golf enthusiast to a seasoned PGA Tour competitor showcases the grit, determination, and passion that define successful athletes. As he continues to make his mark on the golfing world, fans eagerly await more unforgettable moments from this Canadian golfing sensation.
References
Did you notice an error ?
Please help us make corrections by submitting a suggestion. Your help is greatly appreciated!