Celebrities
Nicole Fortuin Biography: Know The Actress, Dancer, and Theatre Maven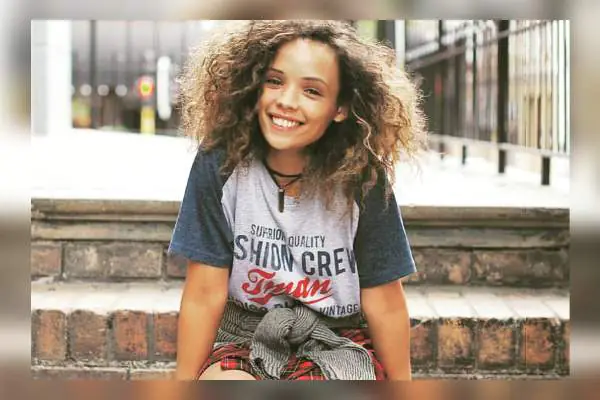 Nicole Fortuin Biography. Image Credit: Social Media.
Full Name

Nicole Fortuin

Age

31 yrs

Birth Date

April 30, 1992

Country

South Africa

Relationship Status

Not Confirmed

Nationality

South African

Profession

Actress

Education

B.A. in Theater and Performance, University of Cape Town

Height

5 feet 6 inch
It's the intoxicating world of entertainment where the job of pulling in the audience is an art of work. But for actress Nicole Fortuin, performing arts is about investigating and zooming into people's desires. Whether it be in the form of acting, dancing, or singing, Fortuin is a serendipitous genius who mesmerizes viewers with her talent.
Dear readers, not only will we present you Nicole Fortuin biography, but we will take you through the journey of a rising star who overcame the obstacles that life threw her way. Further, the Cape Town native's career is really one to watch on screen and stage.
Gifted in the acting and dancing department, Nicole Fortuin, who is from Belhar, marked her name in the film and TV industry with shows such as Roer Jou Voete and Alles Malan, along with television movies like Dead in the Water, Rage, and Late Bloomer. Fortuin is also known for her appearances in feature films such as A Cinderella Story: If the Shoe Fits, Flatland, Indemnity, etc.
Early Years: Saw The Abuse And Then Three World Championships
Like most families in Belhar, Cape Town, Nicole's family was also a well-to-do and happy family. However, there was a lot of alcohol abuse and tension between the members. Nicole Fortuin was born on April 30, 1992, in a small town in Cape Town, South Africa, to mother Diane Fortuin and father Leonard Fortuin. Likewise, she also has a younger brother named Paul Fortuin.
Nicole has openly talked about the history of all kinds of abuse and alcoholism in her family. Surrounded in the middle of such trauma, she wanted to separate from that environment. So, the young Fortuin immersed herself in dancing, singing, and theater, eventually finding solace in exploring her creativity.
As Nicole's family had never been involved in the entertainment industry, it was a little tough for her to begin. However, it was her mom, Diane's support and encouragement through which she followed her intrinsic voice.
Before she was 16, Nicole, as a dancer, attended three hip-hop world championships in Greece, Russia, and Los Angeles, respectively. So, how could she afford all that travel expenses? Well, as a talented dancer, Fortuin would always win personality awards from an early age, which helped in expanding her network. Later, she also developed a strong love for acting and embarked on a journey of a fruitful career.
From Dance, Drama, And Art School To UCT
From an early age, Nicole was already mastering the craft of performing arts. Hoping to pursue a career in the entertainment industry, she wanted to mark her debut as an actress, not a dancer. So, Nicole separately auditioned at a dance school, a drama school, and an art school.
Luckily, she was accepted into all three schools, but Fortuin wanted to learn the deep methods of acting. As a result, she attended the University of Cape Town (UCT), which is South Africa's oldest University.
From 2011 until 2014, Nicole studied theater and performance at UCT, and for the first three years, she was on the dean's merit list. Similarly, in 2013, she received the Gretel Mills Book Prize and class medal from UCT's drama department. Fortuin graduated with a B.A. in Theater and Performance in 2014, and she was immediately snatched to star in a South African TV series, Roer Jou Voete.
AlSO READ: Celeste Loots Biography: A Rising Talent in Hollywood Breaking Through One Piece.
Professional Career: Fame And Fortuin
While most people struggle to make a decent debut, Nicole Fortuin got the lead role of Maryke van Niekerk in the Golden Horn Award nominee drama series Roer Jou Voete. Previously, in college, she was already a star in the theater. Moreover, in 2015, Fortuin was cast as Aurora in Sleeping Beauty and had to move to Johannesburg to perform at Joburg Theater.
After receiving glowing reviews and applause for her work in South African television shows and movies, Fortuin became involved in international productions as well. Coming into this industry, she knew it would be tough, but the actress maintained her pace.
Nicole played the role of Natalie Jonkers in the 2019 South African drama film Flatland. Similarly, in 2021, she appeared in the movies Sons of the Sea as Tanya, Indemnity as Angela Abrams, and Klein Karoo 2 as Tarryn. Meanwhile, below is a table that shows some of Fortuin's memorable films.
| | | |
| --- | --- | --- |
| Year | Movies | Nicole Fortuin's Character |
| 2016 | A Cinderella Story: If the Shoe Fits | Georgie |
| 2016 | Van der Merwe | Tania |
| 2017 | Vaselinetjie | Older Nasrene |
Table Source: IMDb
Besides feature and short films, Nicole Fortuin has been making a significant impact in the television industry as well. From 2019-2011, Fortuin appeared in the main role of Lee-Ann in the South African drama series Alles Malan, for which she received critical acclaim. Previously, she appeared in season 2 of Swartwater (2017) and portrayed the character of Kat in the television film Dead in the Water in 2018.
| | | |
| --- | --- | --- |
| Year | Television | Nicole Fortuin's Character |
| 2021-2022 | Legacy | Eloise |
| 2021 | Blood & Water | Detective Petersen |
| 2022 | Late Bloomer | Lauryn |
Table Source: IMDb
The early 2020s are proving a lucrative year for Fortuin as she has some good projects in the pipeline. Let's go back to 2020 when she appeared as Tamsyn in the horror television movie Rage and as Gail Versveld in an episode of Projek Dina. Moreover, Nicole's ability, versatility, and dedication are a testament to the fact that this star is on the rise.
In 2023, Nicole appeared as Ririka in Netflix's live-action adaptation of One Piece, an epic show based on the epic Japanese manga series created by Eiichiro Oda. In One Piece, Fortuin acted in the first episode titled Romance Dawn alongside other actors, Inaki Godoy, Emily Rudd, Mackenyu Arata, and other supporting cast.
Where you come from can either help you or hinder you. The Afrikaans native actress' background is a positive thing for her career establishment. In the future, Nicole is set to appear in more local and international projects.
Net Worth and Personal Life: Married or In a Relationship?
The South African Rand is not like the United States Dollars, where we can manage a living out of smaller professions as well. As per reports, the average salary for actors in South Africa is less than the average salary for actors in the U.S. While a majority of big production houses are in America, performers can earn a significant amount of earnings from their experience and talent.
Having said that, the scenario of the entertainment industry and Nicole Fortuin net worth is somewhat of a complex matter. The actress has yet to give a blockbuster movie, and all of her previous films underperformed at the Box Office despite getting positive reviews for her acting. Nevertheless, Nicole earns a desirable amount of money from television, where she takes challenges and hardships.
Now, talking about the actress in her 30s, Nicole Fortuin's partner is either yet to come into her life, or she has been successful in maintaining their privacy. In a 2015 interview, Nicole revealed that she had a boyfriend named Joshua The I-am while studying at UCT. They were bounded by a mutual love of music, where Joshua used to create songs, and Nicole used to choreograph and direct the track. Other than her past romance with Joshua, an aspiring music producer, there is no detailed information available on Fortuin's current relationship status.
In the end, from early life to her journey into the entertainment realm, Nicole Fortuin biography has shown us that it's easy to get lost in the frenzy of Hollywood, but the Cape Town native has been keeping herself grounded and creative on screen and on stage.
References
Did you notice an error ?
Please help us make corrections by submitting a suggestion. Your help is greatly appreciated!