Net Worth
Find Out About Brittany Lincicome Career Earnings As A Golfer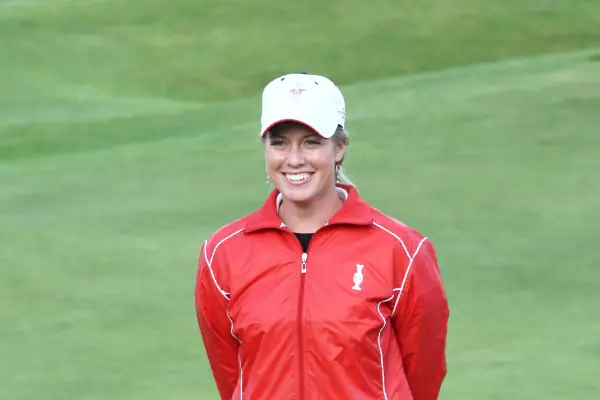 Brittany Lincicome Career Earnings. Image Credit: Wojciech Migda.
Amidst the swings of a golf club on the course, there are players who built both prestige and generous wealth. Among such talented golfers is Brittany Lincicome, who is one of the best LPGA golfers.
Known for her prodigious length off the tee, Lincicome is the winner of two major championships: ANA Inspiration (2015) and the Kraft Nabisco Championship (2009). So, how much are Brittany Lincicome career earnings, and is she a millionaire golfer?
Who is Brittany Lincicome?
Brittany Grace Lincicome was born on September 19, 1985, in St. Petersburg, Florida, U.S., to parents Tom Lincicome and Angie Lincicome. Likewise, her older brothers, Hunter and Bryan Vickers, also played golf in their young years.
At 19, Brittany turned professional in 2004 and has won several amateur events. Lincicome's driving average increased to 278.6 yards in 2006, making her the second-longest driver in the LPGA Tour.
In 2018, she was granted a sponsor's exemption into the Barbasol Championship on the PGA Tour, making her the fifth woman to play in a PGA Tour-sanctioned event since Michelle Wie in 2008.
Lincicome has also won the Ginn Open in 2007 and the ANA Inspiration Final Round in 2015. Similarly, she has played in various events without a cut, climbing through the Women's World Golf Rankings.
Lincicome resides in Gulfport, Florida, with her husband, Dewald Gouws, and their two daughters, Emery Reign Gouws and Sophia Grace Gouws.
Accolades and Achievements: One of the Best LPGA Golfers
Brittany Lincicome's career is adorned with numerous accolades and achievements. She is known for her exceptional driving skills, and this has led to her winning two major championships. In 2009, she clinched her first major victory at the Kraft Nabisco Championship, and she followed it up with another major win at the 2015 ANA Inspiration.
These accomplishments not only solidified Brittany's reputation as one of the best female golfers but also significantly contributed to her net worth through prize money and sponsorships. The Florida native journey from being an amateur golfer to becoming one of the longest drivers in women's golf is astonishing.
| | | |
| --- | --- | --- |
| Date | Tournament | Winner's Share (Earnings) |
| Jul 9, 2006 | HSBC Women's World Match Play Championship | $500,000 |
| Apr 15, 2007 | Ginn Open | $390,000 |
| Apr 5, 2009 | Kraft Nabisco Championship | $300,000 |
| Jun 5, 2011 | ShopRite LPGA Classic | $225,000 |
| Aug 28, 2011 | CN Canadian Women's Open | $337,500 |
| Apr 5, 2015 | ANA Inspiration (2) | $375,000 |
| Jan 29, 2017 | Pure Silk-Bahamas LPGA Classic | $210,000 |
| Jan 28, 2018 | Pure Silk-Bahamas LPGA Classic (2) | $210,000 |
Table Source: ESPN
Over the years, Brittany Lincicome has continued to perform consistently on the LPGA Tour, earning numerous top-10 finishes and establishing herself as a formidable competitor in the women's golf circuit. Her steady presence in professional golf has undoubtedly played a pivotal role in boosting her net worth.
ALSO READ: Decoding Hudson Swafford Net Worth: A Golfer's Journey to Financial Success
Revealing Brittany Lincicome Career Earnings
Lincicome started gaining recognition after she became a Rolex First-Time Winner in 2006, winning six successive games as the 39th seed at the HSBC Women's World Match Play Championship. As per the latest reports of Spotrac in 2023, the LPGA golfer is ranked 27 in the All-Time Money List Female Golfer.
Having said that, Brittany Lincicome career earnings from 384 events stand at $9,663,831. Meanwhile, some of the top-earning LPGA golfers are Annika Sorenstam, Karrie Webb, and Cristie Kerr, with career earnings of over $20 million.
| | | |
| --- | --- | --- |
| Year | Tournaments Played | Earnings |
| 2006 | 23 | $853,013 |
| 2007 | 22 | $871,384 |
| 2011 | 21 | $1,154,234 |
| 2015 | 26 | 933,521 |
| 2018 | 21 | $833,586 |
| 2023 | 13 | $57,505 |
Table Source: ESPN
In 2005, Brittany competed in McDonald's LPGA Championship, U.S. Women's Open Championship, Canadian Pacific Women's Open, etc. Since then, she has competed in over 300 events, winning an impressive sum of money. In 2023 alone, she competed in the KPMG Women's PGA Championship, The Chevron Championship, and the CPKC Women's Open tournament, among others.
On another note, you might also want to learn about another sportsperson Maurice Clarett's net worth and find out the reason that ruined his career.
Net Worth from LPGA: Earnings from Endorsements and Sponsorships
Brittany Lincicome's success in professional golf is undoubtedly reflected in her career earnings. Beyond her success on the golf course, Brittany's marketability and relatable personality have attracted various endorsement deals and sponsorships.
Brittany Lincicome has a net worth of millions, which she accumulated through her nearly two decades of golf career. Likewise, she also earns a substantial amount from endorsement deals, sponsorships, or appearances, which would further boost her net worth. Her sponsors include DEX Imaging, Barbasol, Abacus Sportswear, Titleist, Footjoy, STORE Capital, and SParms.
Lincicome's status as a two-time major champion and her engaging presence on social media has made her an appealing figure for brands seeking to connect with a diverse audience. No doubt, her continued presence on the circuit ensures a steady stream of income, enabling her to maintain her status as one of the top-earning female golfers.
FAQs
Q: How much is Brittany Lincicome career earnings?
A: Brittany Lincicome's career earnings are reported as $9,663,831.
Q: Is Brittany Lincicome married?
A: Brittany Lincicome's husband is Dewald Gouws.
Q: What is Brittany Lincicome world ranking?
A: Lincicome's year-end rank of 2022 was at No. 192, while in 2021, Brittany stood at No. 87.
Did you notice an error ?
Please help us make corrections by submitting a suggestion. Your help is greatly appreciated!