Sports
David Porecki Biography: Rugby Journey From Down Under to International Stardom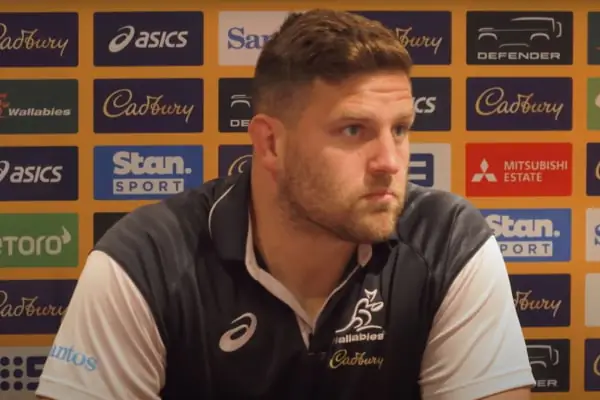 David Porecki Biography. Image Credit: Social Media.
Full Name

David Porecki

Age

31 yrs

Birth Date

October 23, 1992

Country

Australia

Relationship Status

Single

Nationality

Australian

Profession

Rugby Union Player

Education

Redlands, Sydney Church of England Co-educational Grammar School

Height

6 feet 1 inches
David Porecki, a dynamic presence in the rugby field, has captivated audiences worldwide with his awe-inspiring abilities and extraordinary journey from Australia to global acclaim.
Unveiling an innate passion for the game from early on, Porecki's odyssey through the world of rugby has propelled him from his humble beginnings to reaching unparalleled heights within the sport.
This David Porecki biography offers a captivating exploration into the Australian rugby union player's life and career, tracing every step he took along his remarkable trajectory toward becoming a revered figure on the international rugby stage.
Early Life and Rugby Roots
David Porecki (born 23 October 1992), a native of Sydney, Australia, was immersed in the rich rugby culture that thrived within his nation from an early age. As he grew up idolizing Australian rugby icons and immersing himself in the sport, his passion for the game deepened with each passing day.
Also called Dave by his friends, David attended Redlands School as well as Sydney Church of England Co-educational Grammar School. Through active participation in local rugby clubs during his formative years, Porecki laid the foundation for what would ultimately become an extraordinary journey.
View this post on Instagram
Renowned as "the epitome of versatility among Australian hookers," David Porecki stands out not only for his exceptional scrummaging proficiency and precise lineout execution but also for his unwavering commitment to the field, combined with relentless energy levels.
Considered a late bloomer by some standards, Dave ventured abroad to gain invaluable experience and nurture personal growth through a four-month stint before returning home half a decade later at 29 years old to achieve national recognition.
Rising Through the Ranks
Porecki's remarkable talent and unwavering determination quickly captured the attention of astute talent scouts, catapulting him into the highly coveted youth development programs of prestigious Australian rugby clubs.
With an insatiable hunger to succeed, Porecki dedicated countless hours honing his skills and immersing himself in invaluable experiences that showcased his immense potential across various levels of the game.
As a prodigious Manly junior, he first burst onto the scene in 2014 when donning the jersey for the North Harbour Rays during their inaugural season in the National Rugby Championship.
Immersed in a "petrol-money contract" with the Waratahs just a year later as part of his rookie provincial season, Porecki encountered relentless challenges as Tatafu Polota-Nau relentlessly pushed his limits at scrum training sessions, an experience that tested both physical prowess and mental fortitude.
Despite limited opportunities on-field – making a mere cameo appearance off-the-bench against formidable opponents Cheetahs lasting slightly over two minutes – fate intervened promptly, presenting Porecki with an enticing chance to ply his trade overseas amidst esteemed company within U.K's rugby realm.
Upon joining the English premiership team Saracens on a short-term deal to cover for the Rugby World Cup, Porecki faced uncertainty with his lineout throws. However, being eligible to play for England, the club enlisted the help of Simon Hardy, an expert in lineouts.
After observing Porecki's throws and providing constructive criticism, Hardy offered reassurance that he could improve. Porecki reminisced about their meeting, stating that Hardy acknowledged his initial struggles but also outlined a plan to enhance his skills.
During training sessions with Porecki, Hardy used unconventional methods, such as using a broomstick against Porecki's chest to ensure proper posture and boxing gloves to refine his technique.
The European Adventure
In 2016, Porecki embarked on a new chapter in his rugby career when he joined London Irish Rugby Football Club. It was during his first season with the club that they achieved great success by defeating Yorkshire Carnegie in the RFU Championship play-off final and securing promotion back to the Premiership.
Under Hardy's continued skillful coaching and with George Skivington as their forwards coach, Porecki experienced tremendous growth and development as a player. He reflected on this period fondly, acknowledging how pivotal it was for him to be immersed in such physically demanding aspects of the game like scrum, lineout, mauls, and overall physicality.
In 2019, despite having lucrative long-term offers from English clubs at hand, Porecki decided to take two weeks off to explore potential opportunities back home.
It turned out that RA director of rugby Scott Johnson held him in high regard and made an offer just before time ran out. Excitedly accepting the opportunity presented by returning to Australia, Porecki played his heart out for the Waratahs in 2020 and immediately displayed his skill and talent.
ALSO READ: David Ribbans Biography: The Rugby Odyssey From Somerset to Toulon
International Recognition and the Path to Stardom
After returning from a calf injury that had ruled him out of the 2021 international season, Porecki made a remarkable debut for the Australian rugby team on 2 July 2022, creating waves as he started in a victorious match against England at Perth Stadium.
This marked a significant milestone in his career as he earned his first Test cap at hooker position alongside Allan Ala'alatoa and Angus Bell. Throughout the year, Porecki showcased his talent by participating in 10 Tests, with two of them being impactful replacement appearances.
However, there were instances where concussion protocols prevented David from playing in away matches against Argentina and the thrilling victory over Wales in Cardiff. Additionally, he was strategically rested during the match against Italy in Florence to ensure optimal performance and prevention of fatigue-related issues.
We couldn't be happier for David Porecki, Redlander 2010, who has been named to make his international rugby debut for the Wallabies against England on Saturday in Perth. A wonderful achievement, well done David! #LetYourLightShine pic.twitter.com/VXTQFlRWFB

— Redlands (@Redlands_School) June 30, 2022
In September 2023, David was selected to be the captain of the national team, making him the 88th Wallabies Captain. His first game as captain was against Fiji in their World Cup game in France. Unfortunately, his team finished 3rd behind Wales and Fiji after winning 2 and losing 2 from their group.
Similarly, you might be interested in reading about the English rugby star Maro Itoje.
A Low-Key Lifestyle
Many celebrities and sports professionals are known for showcasing their lavish lifestyles and impressive achievements on various social media platforms. However, David Porecki deviates from this trend, as he refrains from indulging in social media. In fact, his only social media application, Twitter, has been inactive since November 2022. Consequently, there is limited information available about his personal life.
What we do know is that Porecki enjoys a lucrative career as a rugby union player for the Waratahs in Super Rugby and represents the Australian national team, the Wallabies.
While it can be estimated that David earns approximately $150,000 per year through his sporting endeavors, concrete details regarding David Porecki's net worth remain undisclosed at present. It remains uncertain if these specifics will emerge in due course.
As of November 2023, records indicate that Porecki leads a singular existence without any documented history of marriage or relationships to date. Perhaps fate will introduce him to someone remarkable along his journey through life. This is one chapter in David Porecki biography that's yet to be written.
As David Porecki continues to make strides in his rugby career, his future prospects hold immense promise. With each match, he gains valuable experience and further solidifies his place on the international stage. Porecki's ambition to excel at both the club and international levels fuels his drive to push boundaries and achieve greatness consistently. Fans around the world eagerly anticipate the continued rise of this rugby sensation.
Did you notice an error ?
Please help us make corrections by submitting a suggestion. Your help is greatly appreciated!