Top Lists
Who is Maurice Clarett's Wife? Is He Even Married?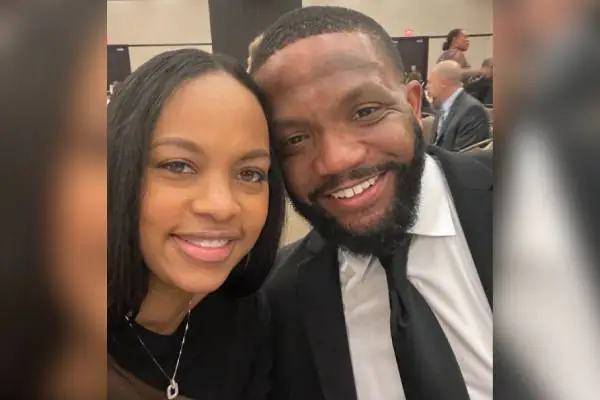 Maurice Clarett's Wife. Image Credit: Instagram.
Maurice Clarett is a former American football running back who played for the Omaha Nighthawks of the United Football League. He is a fighter not only inside the field but also in real life.
The footballer has seen some worst moments in his life when he was arrested and spent several years in jail, but he bounced back and is living a successful life. He would not have been able to get over his hard times if it were not for his family, who supported him in every corner of his life.
In this article, we will talk about the personal life of this former footballer and reveal the woman who stayed with him during his tough time and supported him in moving forward. Therefore, stay with us until the end to learn about Maurice Clarett's wife.
Brief Overview of the Former American Footballer
Maurice was born Maurice Edward Clarett on October 29, 1983, in Youngstown, Ohio, to Myke Clarett Senior and Michelle Renee Clarett. Michelle raised him as a single mother when Myke left home when Maurice was a toddler.
Clarett has two siblings, Marcus A. Clarett and Michael Graham Clarett Junior.
The American national attended Warren G. Harding High School and later went to Ohio State University, represented the college's football team, and helped them win a national championship.
Meet Maurice Clarett's Wife – Who Is She?
Even though life hits you hard, there is always one person who stays with you in your hard times and assists you in getting over that period. This American national also had the loving support of his better half, who was there for him in every difficult period of life.
Having said that, Maurice is living a happy life with his love and soulmate, Ashley Janell Evans. Evans and Clarett have been together since June 2005 and are living a blissful life in their fun-filled home. He never shies away from appreciating his lover and regularly shares about her on his Instagram handle.
Maurice first mentioned being engaged to Ashely in 2014 when he shared a picture with her on the occasion of Mother's Day. He thanked his wife and mother for their unconditional love and support.
Further, it is not sure whether the couple tied the knot or not, but in 2019, he mentioned that he was going to get married to his lover the next year, but there has been no official news or updates regarding their marriage.
ALSO READ: Find Out Mikel Azcona's Net Worth From His Racing Career
What Do We Know About Ashley?
At present, Ashley is known to the world as Maurice Clarett's fiancee. The lovely pair has yet to divulge any information regarding her personal and professional life. She likes to keep her matters away from the public and seems to be very private, as she has kept her social media accounts private.
Further, Evans can be frequently seen on her husband's Instagram handles, taking part in daily family activities and accompanying the former footballer on his public speaking. Further, she also takes part in some philanthropic works organized by her partner's agency.
Similarly, you might be interested in reading about Yann Ehrlacher's Net Worth and his professional career.
Does the Couple Have Any Children?
Yes, Maurica and Ashley are proud parents of three children: one daughter and two sons. They are living a happy life in Ohio, and their activities as a happy family can be reflected on Clarett's social media handles.
The couple's first child, a daughter, was born in 2006. Her name is Jayden Clarett. Maurice Clarett's daughter, Jayden, graduated from Columbus School For Girls in 2023.
Jayden is also an athlete and can be frequently seen hitting the gym with her father. Similarly, she became US Basketball Athlete of the Week in 2021, during her high school days.
Maurice Clarett's wife gave birth to their second child, a son, at the end of 2019. They named him Titan Clarett. Finally, the couple's second son was born in October 2022. The couple has yet to share his name.
In conclusion, we wish Maurice and his family all the happiness in the world and hope that they continue to live a blissful life. Their family life is filled with laughter and happy moments, which can be constantly seen on Maurice's Instagram posts.
FAQs
Q: What is Maurice Clarett's nationality?
A: Maurice Clarett is an American.
Q: When was Maurice Clarett born?
A: Maurice was born on October 29, 1983.
Q: Who is Maurice Clarett's wife?
Q: Clarett is living a happy life with his partner, Ashley Janell Evans.
Q: Does Maurice Clarett have any children?
A: Yes, the former American footballer has three children: one daughter and two sons.
Q: Why did Maurice Clarett get arrested?
A: Yes, Maurice Clarett was arrested for robbing two people at gunpoint in Columbus in August 2006 and served three years in prison until his release in 2010.
Q: How tall is Maurice Clarett?
A: Maurice is 6 feet tall.
Q: How much does Maurice Clarett weigh?
A: Clarett's weight is 230lbs.
Did you notice an error ?
Please help us make corrections by submitting a suggestion. Your help is greatly appreciated!