Net Worth
What Catapulted Jamie Siminoff Net Worth To New Heights? Shark Tank Reject and Ring Founder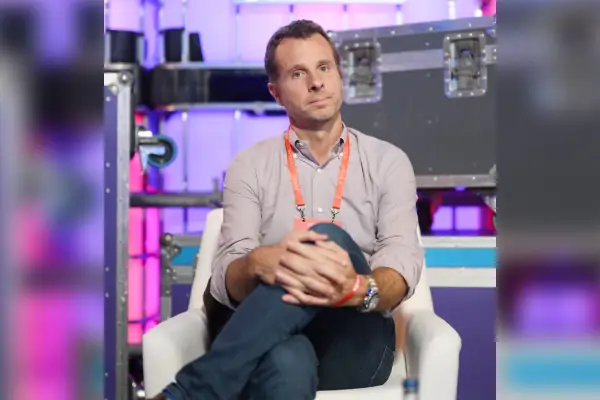 Jamie Siminoff Net Worth. Image Credit: Flickr.
Winners are those who dream courageously to navigate through seas of rejection. And in the world of technology and innovation, few names stand out as prominently as Jamie Siminoff. As the founder of Ring, a company that revolutionized home security, his journey from a humble beginning to an entrepreneur is nothing short of inspiring.
Besides being a brilliant entrepreneur, Jamie Siminoff net worth as of now tells us how wise of a multi-millionaire he is. In this article, we'll delve into Siminoff's financial riches, the story behind his success, and the factors that contributed to his rise in the tech industry.
Early Life and Entrepreneurial Spirit
Jamie Siminoff was born on October 18, 1976, in New Jersey, United States. Showing early signs of interest in technology, Jamie's DIY journey began at an early age. Therefore, he always had a desire to build things.
Siminoff's father co-owned a plant that forged steel pipes for oil refineries. Growing up in a technology-surrounding environment, the young lad became interested more in physics and math.
Jamie graduated from Morristown-Beard School in 1995, which is an independent school in Morristown, New Jersey.
Afterward, Siminoff attended Babson College in Massachusetts. There, he won the college's business planning contest and then made money drafting real briefs. After he graduated, he founded PhoneTag, the world's first voicemail-to-text company, and Unsubscribe.com, a service that helped email users clean commercial emails from their inboxes.
Likewise, Siminoff began working on a modular gardening system called SNAP Garden but noticed that he couldn't hear the doorbell while he was in the garage. Thus began an idea that would later revolutionize the security systems.
The Invention: From an Idea in a Garage to a Line of Security Devices
Jamie Siminoff's entrepreneurial spirit truly took flight when he invented the Ring doorbell, initially known as Doorbot, in 2011. The concept was simple yet groundbreaking: a doorbell equipped with a camera. He had created the world's first Wi-Fi video doorbell in his garage that allowed homeowners to see and communicate with visitors remotely through their smartphones.
This innovation aimed to enhance home security and provide homeowners with peace of mind. Ring has been successful in reducing burglaries in Los Angeles neighborhoods, with a 55% decrease in burglaries within six months. Likewise, Jamie's company has burned through multiple financing rounds, bringing its investment capital to $209 million and diluting Siminoff's ownership stake to 10%.
The Experience: Lucrative Career After Shark Tank
Jamie Siminoff, an American businessman and entrepreneur, knew he built something amazing. So, to bring his revolutionary idea to life, Siminoff sought investment in the popular TV show Shark Tank in November 2013. However, he didn't secure an investment deal and was left with rejection.
It was Siminoff's belief in his product that laid the foundation for the success that followed. His pitch in Shark Tank eventually garnered attention and later became a turning point in his journey. Despite the rejection, quitting was never an option for Siminoff.
Jamie revealed that he invested all of his money into the project, and going forward was only the option. Luckily, the publicity of being on Shark Tank actually saved his company. The appearance on the show drove more than $1 million in sales in just one month.
Shark Tank gave Jamie the capital injection to start on the path of getting that built and then attracting other investors. In 2015, billionaire Richard Branson invested in Ring after a guest on his private island used the doorbell system to speak remotely with a delivery person back home.
ALSO READ: David Baszucki Biography: From Electrical Engineer To Roblox CEO
The Acquisition: Ring's Success and Impact
Jamie Siminoff is mostly known as the founder and chief inventor of Ring.  Ring has seen incredible success and growth after Amazon acquired the company in 2018 for an estimated value of over $1 billion. Ring's success was nothing short of phenomenal.
Ring's impact on the home security industry cannot be overstated. It has transformed the way people approach home security and has become a household name. The company's products, including video doorbells, security cameras, and security systems, have not only provided convenience and peace of mind but have also helped reduce crime rates in various neighborhoods.
To combat crime in communities, Ring partnered with National Night Out and police departments across the country. Jamie's product, Ring, and the Los Angeles Police Department launched a pilot program aimed at reducing crime by providing residents with complimentary connected doorbells.
Similarly, don't miss to read the world's richest professor, David Cheriton's Net Worth.
The Story of Passion and Perseverance: Jamie Siminoff Net Worth
Although Amazon purchased his company for over $1 billion, the deal didn't make Jamie Siminoff a billionaire. Specifically, the genius investor still boasts an impressive number of financial stats. However, in May 2023, Ring's founder officially left Amazon and Ring as its CEO.
As of 2023, Jamie Siminoff's net worth is estimated to be around $300 million. His journey from struggling to secure an investment on Shark Tank to becoming a billionaire entrepreneur is a testament to his vision, tenacity, and innovative thinking. Siminoff's success is attributed to his numerous business ventures and professions, including his role as a speaker at various events.
FAQs
Q: How much did Jamie Siminoff sell Ring for?
A: Jamie Siminoff sold Ring for over $1 Billion.
Q: How much is Ring CEO worth?
A: Ring CEO Jamie Siminoff net worth is $300 million.
Q: Is Jamie still CEO of Ring?
A: Jamie Siminoff left both Ring and Amazon in May 2023 for new opportunities.
Q: What did Amazon pay for Ring?
A: Amazon paid over $1 Billion for Ring.
Did you notice an error ?
Please help us make corrections by submitting a suggestion. Your help is greatly appreciated!