Sports
Hamdy Abdelwahab Biography: Meet The Egyptian Wrestler and MMA Fighter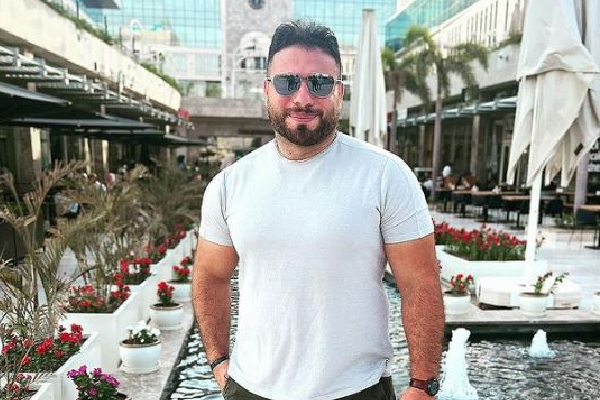 Hamdy Abdelwahab Biography. Image Credit: Instagram.
Full Name

Hamdy El-Said Abdelwahab

Age

30 yrs

Birth Date

January 22, 1993

Country

Egypt

Relationship Status

Married

Nationality

Egyptian

Profession

MMA Fighter

Education

Master's degree in Physical Education

Height

6 feet 2 Inch
Every new season, the Ultimate Fighting Championship (UFC) brings in new prospects to become future champions. One such future star is Hamdy Abdelwahab, an Egyptian wrestler and Mixed Martial Artist. He is currently signed under the UFC's heavyweight division. Previously, he participated in the men's Greco-Roman 98kg event at the 2016 Summer Olympics but got eliminated in the 16th round.
In this article about Hamdy Abdelwahab biography, we will take a closer look at his personal life, financial riches, and his professional career. The world of MMA has seen greater talents who come across around the globe. And Hamdy earned recognition as a future rising star. But what happened with his debut match, and what's the story behind his suspension? Stay with us to know more.
A Look Into His Early Years
Born as Hamdy El-Said Abdelwahab on January 22, 1993, in Cairo, Egypt, Hamdy developed an early interest in Greco-Roman wrestling style. The details of his parents and family history are undisclosed, but it is known that Hamdy belongs to a Muslim family.
Hamdy started wrestling when he was five years old. He continued wrestling until he reached the highest level of competition in the Olympic Games and World Championships. As for mixed martial arts, he started his career in 2019 and walked on the right path to build his future.
View this post on Instagram
As an amateur, Abdelwahab had the title for the WCFL championship from Tampa, Florida, two times in a row. Likewise, he won a silver medal in the 2010 Youth Olympic Games in Singapore. Hamdy is a 14-time gold medal winner in the African championships in Greco-Roman and freestyle wrestling. Meanwhile, he bagged a bronze medal at the 2014 World Championships in the USA.
Hamdy competed in the 2016 Rio de Janeiro Olympic Games in Greco-Roman wrestling in Brazil. Talking about his impressive feats, the Egyptian wrestler revealed that he want to be an idol someday.
ALSO READ: Revealing MMA Fighter Omari Akhmedov Net Worth: How Rich is He?
Early MMA Career
As for the UFC career, Hamdy always dreamed of entering the Octagon ring, and it was his biggest goal in life. Similarly, to be in the UFC is the dream of any fighter, as it's the biggest stage in the world. Did you know? Hamdy is the first Egyptian fighter in UFC history.
Abdelwahab attended college in Egypt, and he completed his master's degree in physical education. Before he started fighting, Hamdy used to work a lot of jobs, but all these jobs never stopped him from training and chasing his dream.
The Greco-Roman Olympic Wrestler, Hamdy Abdelwahab sharpened his fighting skills at Killer B Combat Sports Academy. He relocated to New Jersey, United States, to fulfill his dream of participating in the UFC.
| | | | |
| --- | --- | --- | --- |
| Year | Tournament | Opponent | Result |
| 2021(October 1) | Gamebred FC 2 | Matthew Strickland | Win (1-0) |
| 2021(December 17) | Gamebred FC 3 | Connor McKenna | Win (2-0) |
| 2022(January 21) | IKon FC 1 | Dustin Clements | Win (3-0) |
| 2022(March 19) | Gamebred FC: Freedom Fight Night | Tyler Lee | Win (4-0) |
| 2022(June 3) | IKon FC 3 | Matthew Strickland | Win (5-0) |
Table Source: Espn
The first Egyptian MMA fighter saw his breakthrough moment in July 2022 after he joined the UFC's heavyweight division. Hamdy Abdelwahab debuted in UFC in the fight against Don'Tale Mayes. Luckily, he won the match via split decision and impressed everyone with his busting combat skills. But wait, there's more to this victory.
Drug Test Controversy
With a height of 6 feet 2 inches and a weight of 120 kilograms, Hamdy Abdelwahab is a monster inside the octagon. Such distinctive physical features are necessary for a fighter to pin down the opponent with ease. However, fighters chose to opt for the alternatives, and among them, drugs and unspecified medicines top the lists.
In early February 2023, the UFC anti-doping partner, USADA, announced that Hamdy was suspended for two years after he tested positive for the anabolic agent methenolone twice. Similarly, the fighter was flagged for a tampering violation. After the results, Abdelwahab's debut win against Mayes was overturned to a No Decision (No Contest). Meanwhile, he will be eligible to compete again on July 30, 2024.
On October 22, 2022, at UFC 280, Hamdy was scheduled to fight American fighter Parker Porter. But, he was replaced by Slim Trabelsi after the former was removed from the event for unknown reasons.
No doubt, combat sports, as well as numerous outdoor sports, require intense stamina. Therefore, athletes, besides their training, look out for some alternatives to be at the top. And the most popular medium that most athletes do is performance-enhancing drugs. It's not uncommon in the sports world, and Hamdy Abdelwahab was no exception either.
Net Worth and Personal Life
Talking about Hamdy Abdelwahab net worth and earnings, he turned professional in 2021, and before UFC, he had just five MMA tournaments. Therefore, his net worth and earnings are substantially lower. Unfortunately, due to the drug test and his suspension, Hamdy will have to wait a little more to make enough money from fighting.
Generally, UFC fighters earn as low as $10,000-$30,000 and high as $500,000-$3 million per fight. Likewise, new fighters get the lowest paycheck.
Now, if we look at the suspended MMA fighter's personal life, he gets full support from his life partner. Yes, Hamdy Abdelwahab is a married man, and he has a lovely wife. However, the fighter has kept the details of his longtime girlfriend-turned-wife extremely private.
Hamdy Abdelwahab's wife appears to be of Arabic ethnicity, but she prefers to keep their marital affairs behind the limelight. Well, we wish all the best for the couple and in future we might be able to see some big reveal.
In conclusion, this article on Hamdy Abdelwahab biography has shown us that an individual has to go through a number of hardships in their life. Despite the struggles and obstacles, one should always keep moving forward.
Did you notice an error ?
Please help us make corrections by submitting a suggestion. Your help is greatly appreciated!